Fifth anniversary of ABB's YuMi® collaborative robot
2020-07-11 09:20:48 Click Count: 50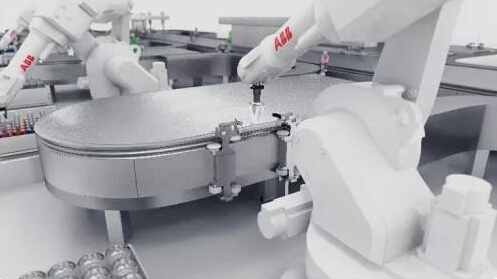 In 2015,ABB launched YuMi, a collaborative robot initially designed to assistworkers with light assembly tasks. Since then, YuMi has made its mark ina variety of industries, emerging in a number of applications andhelping to spark the imagination to Discover more about the potential ofrobotic automation.
YuMiis ergonomically designed with a range of safety features, including apadded, lightweight magnesium arm with no pressure points. YuMi can beinstalled next to human workstations and can work in collaboration withhumans. YuMi's newest product, YuMi, eliminates the need for traditionalsafety fences or cages, thereby increasing flexibility.
Forcollaborative applications where humans and machines work side by side,YuMi has set the standard for safety. From assembling electronic andelectrical components, to sorting candy, YuMi is on production lines allover the world. With its high sensitivity and 14-axis design, YuMiplays a key role in improving productivity and quality.

sales*mvme.cn ( change * to @ )



| | | | | |
| --- | --- | --- | --- | --- |
| GE | IS200TREGH1B | | HONEYWELL | 51304159-100 |
| GE | IS200TRLYH1B | | HONEYWELL | 51304584-100 |
| GE | IS200TRPGH2B | | HONEYWELL | 51305072-700 |
| GE | IS200TSVOH1B | | HONEYWELL | 51306803-100 |
| GE | IS200TTURH1B | | HONEYWELL | 900B01-0101 |
| GE | IS200VCRCH1B | | HONEYWELL | 900G02-0102 |
| GE | IS200VCRCH1BBC | | HONEYWELL | 900H03-0102 |
| GE | IS200VGENH1B | | HONEYWELL | R02S02L03 |
| GE | IS200VTURH1BAC | | HONEYWELL | TC-HAO081 |
| GE | IS2020RKPSG3A | | HONEYWELL | TC-IDA161 |
| | | | | |
| | | | | |
| ABB | TC513V1 3BSE018405R1 | | ICS TRIPLEX | T3481 |
| ABB | BX5001 GNT0156100R1 | | ICS TRIPLEX | T8431 |
| ABB | DI86-32 57275782D | | ICS TRIPLEX | T8403 |
| ABB | PXAH401 3BSE017235R1 | | ICS TRIPLEX | T3420A |
| ABB | 200-CICN 200-CIE | | ICS TRIPLEX | T8311 |
| ABB | CMIB-11C | | ICS TRIPLEX | T9832 |
| ABB | IMRIO02 | | ICS TRIPLEX | T9432 |
| ABB | CI630 3BSE011000R1 | | ICS TRIPLEX | T8151 |
| ABB | INIIT13 | | ICS TRIPLEX | T8423 |
| ABB | 3HEA800906-001 | | ICS TRIPLEX | T8461C |