013501-171-27 | TELEFRANK | Interface Module
013501-171-27 | TELEFRANK | Interface Module
1.0 USD
Min. Order:
1 Piece/Pieces
Place of Origin:
Fujian, China (Mainland)
Production Capacity:
55555
Packing:
New carton packaging
Country of origin:
AUSTRIA
Product Description
013501-171-27 | TELEFRANK | Interface Module
Shipping Date:
· In-stock products: Same day shipping Mon. through Fri. by 6:00 pm EST
· Order products: Shipping date is specified in the Product Details page
Carriers:
· US Orders: FedEx, UPS,
· International Orders: FedEx, UPS, TNT, Express Mail International
* Blind Shipping is available for approved customer accounts
* Orders can be picked up at our Own Location
Contact:Jessica Skype:jessica01235483
Email:

sales*mvme.cn (please change * to @)
Q Q:2851195444 TEL:86-592-5856209
Mobile Phone:

86-18030235311(WhatsApp)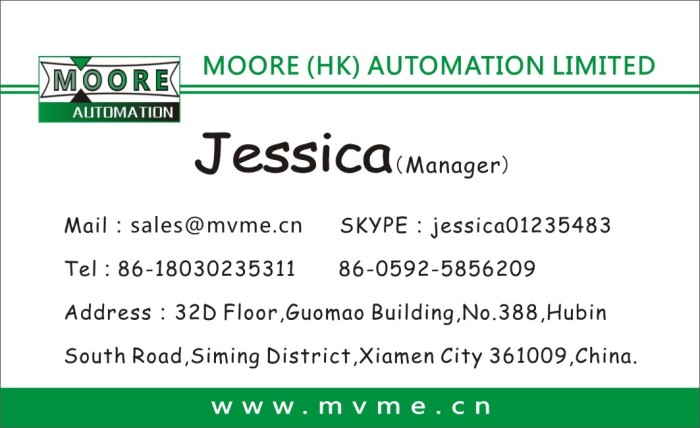 MOORE has a large number of industrial electronic components to choose from. New and discontinued. These range from 30 years to the latest technology. Investing in new technologies is not always necessary.
We are happy to help you keep the old equipment in good condition. Are you or your customers experiencing serious electronic equipment failures in your business?
Does the machine shut down and stop production? Therefore, a quick solution is in your best interest! Sometimes, it may be difficult to find the required components.
Our large stock usually enables us to help you, so your production can be restarted immediately!
Allen Bradley: Reliance,SLC500/1747/1746,Logix5000/1756,PLC-5/1771/1785
ABB: DSQC series,H&B Freelance,Bailey
Bently Nevada: 3500 System spare parts ,3300 System spare parts
Yokogawa DCS
Honeywell DCS
Westinghouse: 1C31234G01/1C31227G01/1C31166G01/1C31116G01/1C31189G01 etc DCS System spare
GE: IC693/IC697/IS200/DS200/IS215
Triconex: 3700A/3805E/3604E/3503E/3504E/3008/4119A/8312/3703E/3511/
Schneider 140 PLC series 140CPU67160/140CRP93200/140CPS11420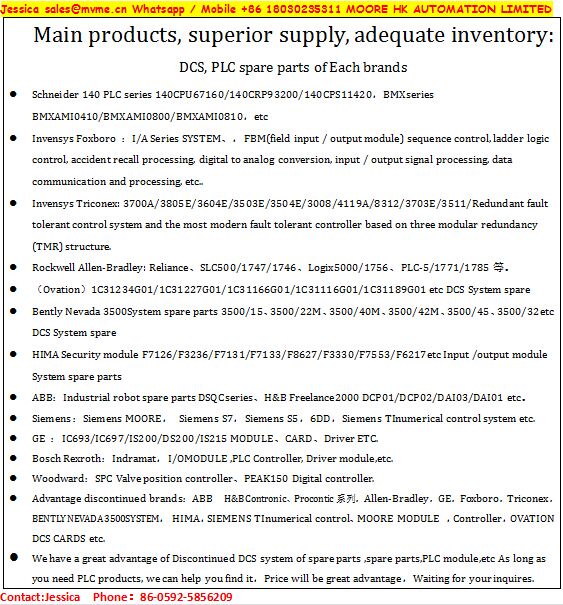 Pepperl + Fuchs IPH-FP-V1
Allen Bradley 193-EC3PB
Allen Bradley 1771-OWNA
Siemens 6ES5 355-3UA11
Siemens 6GK1543-0AA00
Danfoss 195N2191 VLT2900
Siemens 6ES7 951-1AJ00-0AA0
Siemens 6SL3055-0AA00-4CA4
Moxa NPort 6610-16 RS-232
Foxboro Model 83W-T02S1SSTJA-N
Sprecher + Schuh CA6-180-EI-11
Toshiba VFS11-4075PL-WN(2)
Allen Bradley 8520-ROPI
Zener MSC-3R3
Toshiba VFP7-4220P
Moeller DIL6AM
Zener MSC-M10
Allen Bradley 2801-YC
Bently Nevada 143729-01
Allen Bradley 6189-RDB7
Foxboro P0922YK (FBM224)
Bently Nevada 126398-01G
Allen Bradley 1783-SFP1GLX
Allen Bradley 1783-ETAP1F
Yokogawa AAR181-S50
Bently Nevada 176449-07
Allen Bradley 1764-24BWA
Pilz PSS DP-S
Fanuc A02B-0166-B501
Sprecher + Schuh CA6-140-11
Rosemount 3051CD4A02A1BB3DFE7H2L4P1
| | |
| --- | --- |
| GE | 0285A5665 |
| GE | 0285A5666 |
| GE | 0285A7595 MGM115 |
| GE | 0285A7100 ISM101 |
| GE | 0285A6763 AFM101 |
| GE | 0285A8150 AFM201 |
| GE | 0285A7104 ETM101 |
| GE | 0285A8145 AFM102 |
| GE | 0285A7159 ETM102 |
| GE | 0285A6764 VMM101 |
| GE | 0285A7102 ABM101 |
| GE | 0285A6778 IOM202 |
| GE | 0285A7109 PSM201 |
| GE | 0285A6778 IOM203 |
| GE | 0285A6777 IOM101 |
| GE | 0285A6772 ULM101 |
| GE | 0285A6776 ULM111 |
| GE | 0285A6773 ULM121 |
| GE | 0285A6774 ULM131 |
| GE | 0285A6775 ULM141 |
Our company has many products in stock,which are immediately available.The warranty is 1 years which apply to all the new products.If you purchase one more parts from us,we can make a discount to you.
If you have any question pls do not hesitate to contact us.We can supply all kind of the automaiton parts,if you want to purchase parts pls send the parts model to my mail, I will prompt reply you.
Hope anyone enquire from us.
---
---