05704-A-0121 | Honeywell | Interface Card
05704-A-0121 | Honeywell | Interface Card
1.0 USD
Min. Order:
1 Piece/Pieces
Place of Origin:
Fujian, China (Mainland)
Means of Transport:
Ocean, Air, Land
Production Capacity:
123456
Packing:
New carton packaging
Country of origin:
Germany
Product Description
05704-A-0121 | Honeywell | Interface Card
Contact person:Jessica
WhatsApp: +8618030235311
Phone: +8618030235311
E-mail: sales*mvme.cn (please change * to @)
Skype: jessica01235483
Wechat: hu18030235311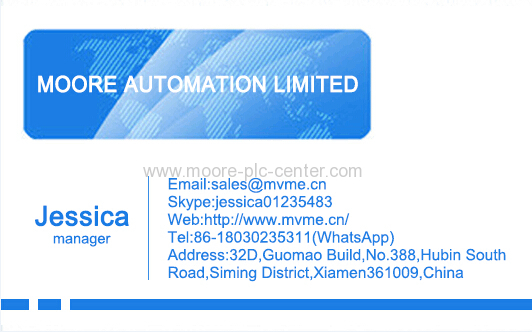 The CI865 is powered from the processor unit via the CEX-Bus and requires no additional external power source. No field device is powered from the CI865. Use the following procedure to connect the ControlNet to the BNC connector of the I/O systems and the CI865 module. For more information see Satt I/O Interface for AC 800M (3BSE042821*).
The BNC connector is located:
• Rack I/O - at the rear of the 200-RACN module.
• Series 200 I/O - at the front of the 200-ACN module.
• CI865 - at the front of the CI865 module
1. Select a suitable location for the tap within one meter from the ControlNet BNC connector. When selecting the tap location, keep in mind the routing of the drop and trunk cables. They should not be routed close to high-voltage cables. Avoid bending the trunk cable too much.
2. The tap can be mounted in various ways, for example using a DIN rail or screwed into a suitable structure. Even if the tap is not mounted on a DIN rail, the universal mounting bracket should be used to avoid galvanic connection to a conducting structure.
DSTK183 2639603-BX
DSTK150 26390603-A
DSRF182 57310255-AL
DSTK153 26390603-G
DSTK165 26390603-AN
BSTC176
YXU149B YT296000-MZ
CI590 3BHT340092R1
INFI90 INFI 90
1700RZ10005C
CI615 3BHT300024R1
DSQC346G 3HAB8101-8
IMDSO14 IMDS014
07DC91 GJR5251400R0202
NTRO02-A
INNPM22
NTRO02 NTRO02-A
PP846A 3BSE042238R2
NTDI0-A NTDI0
NTRO02-A NTRO02
IMSED01
IMDSI22
| | |
| --- | --- |
| ABB | AI895 3BSC690086R1 |
| ABB | AO801 3BSE020514R1 |
| ABB | DO801 3BSE020510R1 |
| ABB | DI803 3BSE022362R1 |
| ABB | AO845 3BSE023676R1 |
| ABB | AI950S 3KDE175521L9500 |
| ABB | AI930S 3KDE175511L9300 |
| ABB | AI950N 3KDE175523L9500 |
| ABB | AI910N 3KDE175513L9100 |
| ABB | AI910S 3KDE175511L9100 |
| ABB | AI931S 3KDE175511L9310 |
| ABB | AI930N 3KDE175513L9300 |
| ABB | AI931N 3KDE175513L9310 |
| ABB | CI920S 3BDS014111 |
| ABB | AO920N 3KDE175533L9200 |
| ABB | AO920S 3KDE175531L9200 |
| ABB | DX910S 3KDE175311L9100 |
| ABB | DI811 3BSE008552R1 |
| ABB | TU840 3BSE020846R1 |
| ABB | TU844 3BSE021445R1 |
Shipping Term : TNT,DHL,FEDEX,ETC
Payment Term : T/T
Warranty: 12 month
Moore supply: New+original+factory sealed+high quality

---
---