1336 BDB SP30D Fast Response
1336 BDB SP30D Fast Response
10.0~40.0 USD
Min. Order:
1 Piece/Pieces
Place of Origin:
Fujian, China (Mainland)
Means of Transport:
Ocean, Air, Land
Brand Name:
ALLEN BRADLEY
Product Description
ALLEN BRADLEY1336-BDB-SP30D Drive Board Module
Availability: In stock
Condition: Brand new
Warranty: One year
Price: Request quote
Fast quotation, quick shipping
We will solve your problem before and after sales
Warranty is guaranteed
Goods return is accepted
We do what we promise

Sale manager: Jessica
Skype: jessica01235483
Phone/WhatsApp: 86-18030235311
Email: sales*mvme.cn ( change * to @ )

Are you looking for cost savings and more effective optimization of spare
parts purchasing process? Through e-commerce promotion, we can optimize
your purchasing process.
To reduce your direct and indirect costs. Provide a series of links to any spare
parts you need. In addition, we have established links with more overseas suppliers.
Our e-commerce consultant will be happy to discuss with you your demand for
spare parts.+ Usability, +Responsibility: Our first task is your satisfaction!
Our supply chain platform ensures optimal delivery of industrial parts cycle.
Our Mission: Make it easier for customers to buy industrial components
Vision :Reliable Global Supplier of Industrial Spare parts
Purpose:MOORE's goal is to become the industry's "Standard"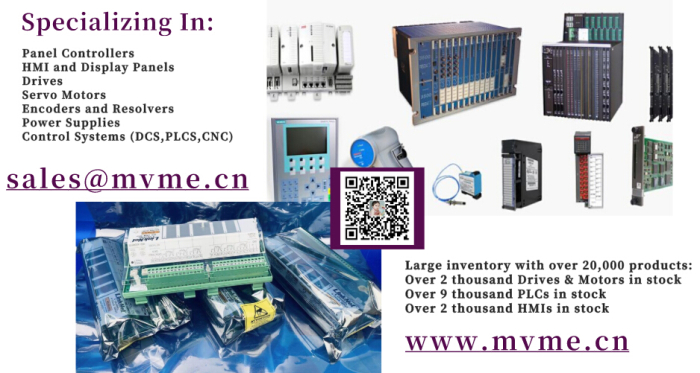 Q:How about the warranty?
A:All goods have 1 year warranty.
Q:What about the delivery time?
A:Normally in 1 Week.
Q: Other suppliers have a better price than yours?
A:To create the greatest benefit for clients is our belief, if you have
a better price, please let we know. We will try the best to meet your
price and support you.
Q:What about the shipment?
A:We can arrange shipment by DHL, FedEx, UPS,TNT, EMS with
competitive price, of course, customers can also use their own freight
forwarders.
Q:How about the terms of payment?
A:Generally through T/T, Paypal and Western Union also accept.
Q: Does we keeps goods in stock or only trading?
A: We have large warehouse for goods. Keep lots of goods in warehouse,
so could promise fast delivery
Jessica | sales*mvme.cn ( change * to @ ) | 86-18030235311


----(DCS)Distributed Control System
ABB/Invensys Foxboro/Invensys Triconex/Westinghouse/
Woodword/HIMA/Yokogawa/Honeywell/Emerson
----(PLC)Programmable Logic Controller
Rockwell Allen-Bradley/Schneider Modicon/GE Fnauc/
Siemens/Prosoft/Bachmann/Woodhead
----(TSI)
Bently Nevada/EPRO/ENTEK

| | |
| --- | --- |
| ALLEN-BRADLEY | MPL-B310P-MJ72AA |
| ALLEN-BRADLEY | MPL-B310P-MJ74AA |
| ALLEN-BRADLEY | MPL-B330P-SJ24AA |
| ALLEN-BRADLEY | MPL-B540K-MK72AA |
| ALLEN-BRADLEY | MVME 162-262 MVME162-262 |
| ALLEN-BRADLEY | N-2302-1-F00AA |
| ALLEN-BRADLEY | OCM-DPR-85-D-ST |
| ALLEN-BRADLEY | PM3326B-6-1-2-E 80026-529-01 80026-529-01-R |
| ALLEN-BRADLEY | PM3398B-6-1-3-E 80026-172-24 |
| ALLEN-BRADLEY | PM3398B-6-1-3-E 80026-172-24 80026-172-24-R |
| ALLEN-BRADLEY | PM3398B-6P-1-3P-E 80026-172-23 |
| ALLEN-BRADLEY | SP-110996 SP-105060 105066-02 |
| ALLEN-BRADLEY | SP-110997 SP-105044 105043-01 |
| ALLEN-BRADLEY | SP-122972 SP-122967 122969-01 |
| ALLEN-BRADLEY | SP-122972 SP-122967 122969-01 |
| ALLEN-BRADLEY | SP-142129 135232-04 |
| ALLEN-BRADLEY | SP-145472 145470 119711-02 |
| ALLEN-BRADLEY | SP-145472 145472 119711-02 |
| ALLEN-BRADLEY | SP-148540 148539 129736-05 |
| ALLEN-BRADLEY | SP-148540?148539 129736-05 |
| ALLEN-BRADLEY | SP-151140 |
| ALLEN-BRADLEY | SP-170023 170013 170016-01 |
| ALLEN-BRADLEY | SP-170025 SP-170130 170026-01 |
| ALLEN-BRADLEY | 1756-IF8 |
| ALLEN-BRADLEY | 1756-PA72/C |
| ALLEN-BRADLEY | 2711P-T15C4D8 |
| ALLEN-BRADLEY | 8601 |
| ALLEN-BRADLEY | 9300-4EDM |
| ALLEN-BRADLEY | OSAI OS5758-P OS5758 327133N |
| ALLEN-BRADLEY | BRU-105 |
| ALLEN-BRADLEY | MMC-BDP081PNA |

---
---