1756 DHRIO/D Allen Bradley Rockwell Module
1756 DHRIO/D Allen Bradley Rockwell module
140.0~200.0 USD
Min. Order:
1 Piece/Pieces
Place of Origin:
Fujian, China (Mainland)
Means of Transport:
Ocean, Air, Land
Brand Name:
Allen Bradley Rockwell
Product Description
Allen Bradley Rockwell 1756-DHRIO/D Communication Interface Module
Allen Bradley Rockwell 1756-DHRIO/D Communication Interface Module

Contact: Jessica
Skype: jessica01235483
Email:sales*mvme.cn (please chang * to @)
TEL: 86-18030235311
Q Q: 2851195444

FAQ

Q: Do you have a warranty?
A: Yes, We have 12 months warranty.
Q: Is it 100% brand new?
A: Yes. New and original.
Q: What is the type of payment? Paypal?
A: 100% T/T Payment in Advance.
Q: Which country or area can be shipped?
A: Worldwide.
Advantage brands :

TRICONEX(3008,3625,3508E.3721,3700A 4351B...)
BENTLY NEVADA(3500/42M ,3500/22M,3500/95.3500/05...)
HIMA(F3330,F3236 ,F6217,F7126,F8621A....)
FOXBORO(FBM203,FBM204,FBM217,FMB231...)
Allan-Bradley (1756,1785,1771,1746,1769..)
ABB(DSQC .....)
GE(IC693,IC697,IC695,IS200,DS200)
BACHMAN(CM202,DI232,MPC240,NT255,AIO288...)
We have tens of thousands of spare parts and spare parts warehouse . Products and

services to serve for installing of users control system,
Distributed control systems, programmable controllers, panel controller and drive!
Reduced maintenance costs!

We have a large inventory of control system components. We also made a lot of new
hardware and discontinued spare parts to help supporting your existing control systems.
We have experienced staff, extensive testing , all the spare parts which we sold are with
warranty period of one year, and they have undergone rigorous testing and certification!
Waiting for your inquiry.
TEL: 86-18030235311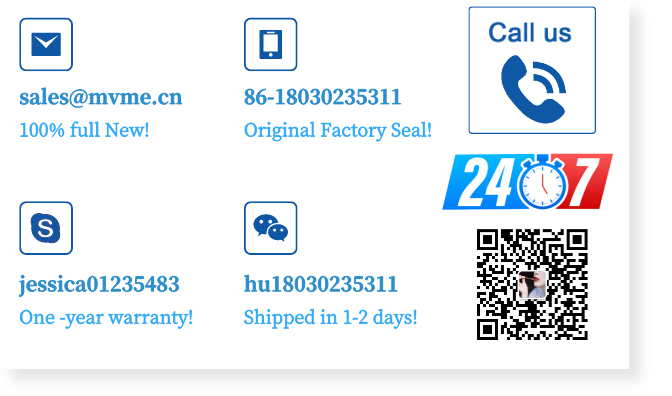 Rockwell Allen-Bradley:
1) ControlLogix 1756 series controller
2) CompactLogix 1769 series controller
3) SLC 500 1747 1746 Series Controller
4) PLC-5 1771 1785 series controller5)
5) ProSoft:MVI69/PS69/MVI56/MVI94/MVI71/MVI46)
6) ICS TRIPLEX trusted system
ABB:
1) AC800M series controller I/O module
2) AC800F series controller module
3) AC31 series controller module
4) 800xA series modules
5) Bailey INFI 90 module
6) DSQC robot module spare parts
7) Advant OCS system spare parts
8) H&B Freelance module
... ...
More advantageous models

Allen Bradley Rockwell

1746-IH16

1361-NO61-2-5

1408-EM3A-ENT

119524 129708-01

1394-AM07

142129 135232-04

1203-CN1

1394C-AM04

1440-SDM02-01RA

1203-GD1

1394C-AM07

1440-TB-A

1203-GU6

1394C-AM75-IH

1440-TBS-J

Allen Bradley Rockwell

1492-IFM40F

1732DS-IB8

1746-HS

1492-XIM4024-16R

1734 -IB8S

1746-HSCE

1503VC-BMC5

1734-ACNR

1746-HSRV

15-131623-00

1734-IB4

1746-HT

1606-XL480EP

1734-IT2I

1746-IA16



If you have any question pls do not hesitate to contact us.We can supply all kind

of the automaiton parts, if you want to purchase parts pls send the parts model
to me, I will prompt reply you asa I receive the mail. Hope anyone enquire from us.
---
---