1756 L72EROMS Top Quality & 24/7 Service
1756 L72EROMS Top Quality & 24/7 Service
1.0 USD
Min. Order:
1 Piece/Pieces
Place of Origin:
Fujian, China (Mainland)
Brand Name:
ALLEN BRADLEY
Product Description
Contact : Jessica | Email: sales*mvme.cn (Pls change * to @)
Skype : jessica01235483 | WeChat : hu18030235311
MobilePhone/WhatsApp : +86-18030235311
Product info
Manufacturer : Allen Bradley Rockwell (USA)
1756-L72EROMS Armor GuardLogix controller
Main products : PLC/DCS/ESD/TSI Module
Payment: 100% T/T for stock items before shipping
Worldwide shipping: DHL, UPS, FedEx, and TNT
Delivery: In stock,order now for immediate delivery
■ Condition : Customer Service
■ Warranty : Warranty one year
■ Price : 24 hours by email
■ Delivery time : In Stock
■ Packing : New in original package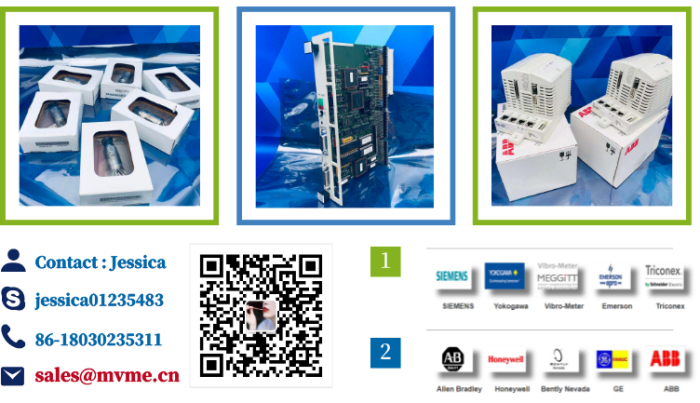 MOORE is best your choice
We are the supplier for industrial automation spare parts.We specialize in PLC
module, DCS card pieces, ESD system card pieces, vibration monitoring system
card pieces, steam turbine control system module, gas generator spare parts, We
have hundreds of parts in stock. Please call us if you need in urgent.
Below brands have special discount recently
■ ABB
AC800M series module,Industrial robots spare parts DSQCseries, Bailey INFI 90,
800xA, Advant OCS with Master Software, with MOD 300software Advant OCS,
Freelance -- Distributed Control System for Process Industry, Symphony Melody,
Satt OCS, Symphony DCI System Six, Harmony/INFI 90, Security system.
■ Emerson
DeltaV system Dual - Channel Redundant Security System Redundant Controller
Power Supply Module I/O unit Analog AImodules Analog AO module.
■ Woodward
SPC valve position controller 505/505E(9907-162, 9907-164, 9907-165, 9907-167)
digital controller, 2301A controller, 9905 series, 2301D-ST series.
Jessica - Online Time 8:30AM-18:00PM
[ Email : sales*mvme.cn (Pls change * to @) | Mobile : 86-18030235311 ]
More options
Siemens module

6ES7 153-2BA82-0XB0

39ACM24BAN 16139-76/09

6ES5300-3AB11

6ES7131-4BD01-0AA0

39ACM24BEN 16139-215/1

6ES5301-3AB13

6ES7132-0BL01-0XB0

39EAMCBN 16154-93/3

6ES5312-3AB32

6ES7195-7HF80-0XA0

39EAMCBN A5E00282025/05

6ES5312-5CA11

6ES7307-1KA00-0AA0

39MBXNAN 16180-1/14

6ES5420-4UA12

6ES7315-1AF03-0AB0

39MBXNAN 16180-1/17

6ES5420-4UA14

6ES7414-1XG02-0AB0

39RTMCAN 16207-61/10

6ES5434-4UA11

6ES7417-4XL04-0AB0

39RTMCAN 16207-61/11

6ES5441-4UA14

6ES7421-1BL00-0AA0

39RTMCAN 16207-61/13

6ES5454-4UA13

6ES7422-1BL00-0AB0

39SAMCAN 16133-71/04

6ES5465-4UA12

6ES7431-0HH00-0AB0

39SAMCAN 16133-71/13

6ES5470-4UC12

6ES7431-7KF00-6AA0

39SAMCAN 16133-71/8

6ES5734-1BD20

6ES7431-7KF10-0AB0

39SAMCAN 16133-71/9

6ES5928-3UB21

6ES7954-8LC02-0AA0

39SDM024DCCBN 16101-174/12

6ES5948-3UR23

6EW1810-3AA

39SDM024DCCBN 16101-174/8

6ES7151-1CA00-1BL0

6EW1860-3AA

39VIMCCN 16171-126/3

6ES7195-7HD10-0XA0

6FM1726-3BA00

39VIMCCN 16171-126/6

6ES7321-1BH02-0AA0

6GF1710-3AA

39VIMCCN A5E00282175/07

6ES7321-1BH82-0AA0

6GK1143-0TA00

6AR1304-0CA00-0AA0

6ES7321-1BL00-0AA0

6GK1543-1AA01

6AV3503-1DB10

6ES7341-1AH02-0AE0

6GK1905-0AE00

6AV3627-1LK00-1AX0

6ES7400-2JA00-0AA0

6GT2002-0AA00

6DD1611-0AD0

6ES7407-0DA01-0AA0

6GT2002-0ED00

6DD1660-0AE0

6ES7414-3EM07-0AB0

6NG4207-8PS02

6DD1681-0AE2

6ES7414-5HM06-0AB0
---
---