1764 28BXB Factory Support
1764 28BXB Factory support
10.0~40.0 USD
Min. Order:
1 Piece/Pieces
Place of Origin:
Fujian, China (Mainland)
Means of Transport:
Ocean, Air, Land
Brand Name:
ALLEN BRADLEY
Product Description
ALLEN BRADLEY 1764-28BXB Series B MicroLogix 1500 Base
Contact Jessica (sales manager)
Email : sales*mvme.cn (Pls change * to @)
Mobile : 86-18030235311
Skype : jessica01235483
WeChat : hu18030235311
Item Specifics
Brand/Manufacturer : ALLEN BRADLEY
Country of Origin : USA
Main Product : PLC/DCS/TSI/ESD Module
Customer Concern
100% full New! - Original Factory Seal!
Warranty: 12 months in globally!
Package: Original packing with cartons
Delivery time: Fastest Lead Times
Payment Methods: We can accept T/T
Minimum Order/Large Quantity/Long-term Supply.
Regular purchase with competitive prices, reliable supply.
Moore's Advantages
Rockwell Allen-Bradley:
1) ControlLogix 1756 series controller
2) CompactLogix 1769 series controller
3) SLC 500 1747 1746 Series Controller
4) PLC-5 1771 1785 series controller5)
5) ProSoft :MVI69/PS69/MVI56/MVI94/
MVI71/MVI46/31506)
6) ICS TRIPLEX trusted system
ABB:
1) AC800M series controller I/O module
2) AC800F series controller module
3) AC31 series controller module
4) 800xA series modules
5) Bailey INFI 90 module
6) DSQC robot module spare parts
7) Advant OCS system spare parts
8) H&B Freelance
General Electric GE :
1) IS200/DS200 series Excitation system card
2) IC693/IC695/IC697/IC698/IC200/IC660/IC670 CPU
module,Communication module, Analog Digital module
... ...
[ Email : sales*mvme.cn (Pls change * to @) ]
Moore Limited
Our Mission : Make it easier for customers to buy the industrial components;
Our Vision : Reliable global supplier of industrial spare parts;
Purpose : Zhongxinda's goal is to become the industry's "Standard" ("model").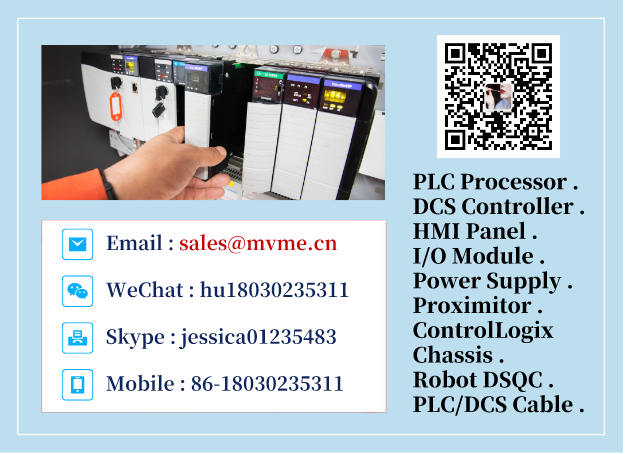 | | |
| --- | --- |
| ALLEN-BRADLEY | MFIXSUP0601 193112 |
| ALLEN-BRADLEY | MFIXSUP0601 193112 |
| ALLEN-BRADLEY | MOX12-P3509B 80026-173-23 80026-173-23-R 80026-173-23R |
| ALLEN-BRADLEY | MPL-A310F-HK22AA |
| ALLEN-BRADLEY | MPL-B230P-EJ44AA |
| ALLEN-BRADLEY | MPL-B310P-MJ72AA |
| ALLEN-BRADLEY | MPL-B310P-MJ74AA |
| ALLEN-BRADLEY | MPL-B330P-SJ24AA |
| ALLEN-BRADLEY | MPL-B540K-MK72AA |
| ALLEN-BRADLEY | MVME 162-262 MVME162-262 |
| ALLEN-BRADLEY | N-2302-1-F00AA |
| ALLEN-BRADLEY | OCM-DPR-85-D-ST |
| ALLEN-BRADLEY | PM3326B-6-1-2-E 80026-529-01 80026-529-01-R |
| ALLEN-BRADLEY | PM3398B-6-1-3-E 80026-172-24 |
| ALLEN-BRADLEY | PM3398B-6-1-3-E 80026-172-24 80026-172-24-R |
| ALLEN-BRADLEY | PM3398B-6P-1-3P-E 80026-172-23 |
| ALLEN-BRADLEY | SP-110996 SP-105060 105066-02 |
| ALLEN-BRADLEY | SP-110997 SP-105044 105043-01 |
| ALLEN-BRADLEY | SP-122972 SP-122967 122969-01 |
| ALLEN-BRADLEY | SP-122972 SP-122967 122969-01 |
| ALLEN-BRADLEY | SP-142129 135232-04 |
| ALLEN-BRADLEY | SP-145472 145470 119711-02 |
| ALLEN-BRADLEY | SP-145472 145472 119711-02 |
| ALLEN-BRADLEY | SP-148540 148539 129736-05 |
| ALLEN-BRADLEY | SP-148540?148539 129736-05 |
| ALLEN-BRADLEY | SP-151140 |
| ALLEN-BRADLEY | SP-170023 170013 170016-01 |
| ALLEN-BRADLEY | SP-170025 SP-170130 170026-01 |
---
---