1769 OA16 Manufacture Of Allen Bradley Rockwell
1769 OA16 manufacture of Allen Bradley Rockwell
1.0 USD
Min. Order:
1 Piece/Pieces
Place of Origin:
Fujian, China (Mainland)
Brand Name:
ALLEN BRADLEY
Product Description

Quick Contact
Jessica (manager) - Online Time 8:30AM-18:00PM
Email : sales*mvme.cn (Pls change * to @)
Mobile : 86-18030235311
WeChat : hu18030235311
Skype : jessica01235483
WhatsApp : 86-18030235311
Quick Details
Manufacturer (Brand) : Allen Bradley Rockwell (USA)
1769-OA16 Analog Output Module
Main product : PLC/DCS/TSI/ESD Module
Trust Moore
Moore solves the difficulties for its customers
Industry downtime can cost hundreds of thousands in lost revenue. Whether
you need a replacement part quickly, or backup stock, the Moore team are
on hand to find quality obsolete, new and factory automation and industrial
control parts. Our aim is to get your industrial machines back up and running
at the best price.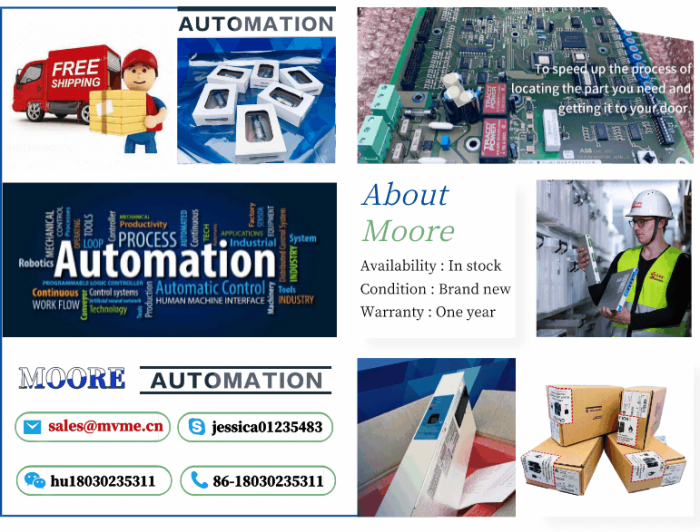 Main Business

(DCS) Distributed Control System
ABB : 3AUA0000110429, SYSCON2, 746924, 3BSE
Invensys Foxboro : FBM214, FBM242, B0123HE
Invensys Triconex : 3625, 3700A, 3604E
Ova tion : 5X00481G01, 5X00419G02, 5X00605G01
Woodword : 5462-758B, SST-PB3-PCU-2 SA1509-24
HIMA : F2-DO-16-02, F8650E F7131, Z7127 F3236
Yokogawa : SAI143-S03, S1 F9342L-02, AAR181-S00 S2
Honeywell : 51402497-200, 51403519-160,51199194-100
EMERSON : KJ4001X1-NB1,12P3368X012,1C31147G01
(PLC) Programmable Logic Controller
Rockwell :1734-IB8, 1734-OB8, 1769-L18ER-BB1B, 1756-IM16I
ICS Triplex : T8461, T8850, T8403, T8431, T8831, T8310
Schneider Modicon : 140DDI85300, 140CPS11420, 140CPU67060
GE : IS210AEPSG2B, IS220UCSAH1A, IS215ACLEH1A, IS210AEAA
Siemens : 6ES7331-1KF02-0AB0, 6ES7315-2FJ14-0AB0
Prosoft : MVI46-DFNT, MVI69-DFNT, MVI56-PDPMV1
Bachmann : MPC240/270(CPU), DI232, CM202, NT255AIO288
Woodhead : 9905-068 2301A, SSTESR2CLXRLL
_ Email : sales*mvme.cn (Pls change * to @) _ Mobile : 86-18030235311
_ Skype : jessica01235483 _ WhatsApp : 86-18030235311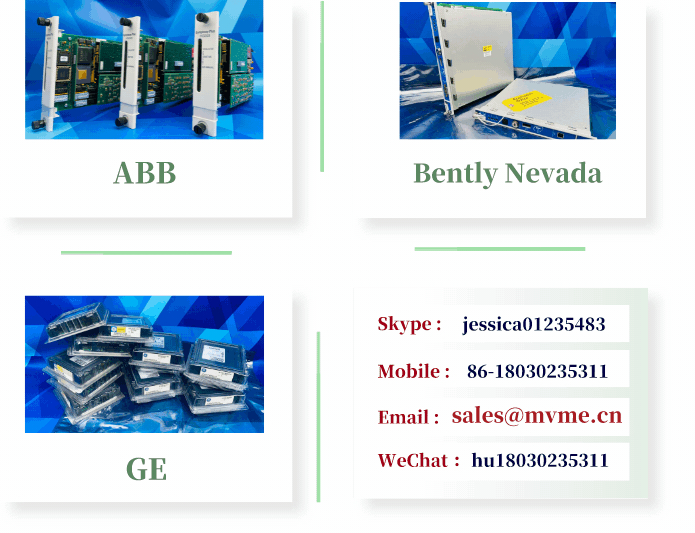 Recommend related modules
| | |
| --- | --- |
| ALLEN-BRADLEY | 1756-EN2T |
| ALLEN-BRADLEY | 1756-EN2TK |
| ALLEN-BRADLEY | 1756-EN2TSC |
| ALLEN-BRADLEY | 1756-EN2TXT |
| ALLEN-BRADLEY | 1756-EN3TR |
| ALLEN-BRADLEY | 1756-ENBT |
| ALLEN-BRADLEY | 1756-ENET |
| ALLEN-BRADLEY | 1756-ESMCAP |
| ALLEN-BRADLEY | 1756-EWEB |
| ALLEN-BRADLEY | 1756‐HSC |
| ALLEN-BRADLEY | 1756-IA16 |
| ALLEN-BRADLEY | 1756-IA32 |
| ALLEN-BRADLEY | 1756-IB16 |
| ALLEN-BRADLEY | 1756-IB16D |
| ALLEN-BRADLEY | 1756-IB16IF |
| ALLEN-BRADLEY | 1756-IB16ISOE |
| ALLEN-BRADLEY | 1756-IC16 |
| ALLEN-BRADLEY | 1756-IH16I |
| ALLEN-BRADLEY | 1756-IM16I |
| ALLEN-BRADLEY | 1756-IT6I2 |
| ALLEN-BRADLEY | 1756-IV16 |
| ALLEN-BRADLEY | 1756-IV32 |
| ALLEN-BRADLEY | 1756-L1M2 |
| ALLEN-BRADLEY | 1756-L55M12 |
| ALLEN-BRADLEY | 1756-L55M13 |
| ALLEN-BRADLEY | 1756-L55M14 |
| ALLEN-BRADLEY | 1756-L55M16 |
| ALLEN-BRADLEY | 1756-L55M22 |
| ALLEN-BRADLEY | 1756-L55M23 |
| ALLEN-BRADLEY | 1756-L55M24 |
| ALLEN-BRADLEY | 1756-L60M03SE |
| ALLEN-BRADLEY | 1756-L61S |
| ALLEN-BRADLEY | 1756-L62S |
| ALLEN-BRADLEY | 1756-L63 |
| ALLEN-BRADLEY | 1756-L63/A |
| ALLEN-BRADLEY | 1756-L63S |
---
---