1771-A2B | ALLEN BRADLEY | PLC 5 I/O Module
1771-A2B | ALLEN BRADLEY | PLC 5 I/O Module
666.0~999.0 USD
Min. Order:
10 Piece/Pieces
Place of Origin:
Fujian, China (Mainland)
Means of Transport:
Ocean, Air, Land
Packing:
New carton packaging
Delivery Date:
3 days after payment
Brand Name:
ALLEN BRADLEY
Product Description
1771-A2B | ALLEN BRADLEY | PLC 5 I/O Module
Contact: Jessica
Moore Automation
Tel / Whatsapp:+8618030235311
Wechat: hu18030235311
E-mail: sales*mvme.cn (please change * to @)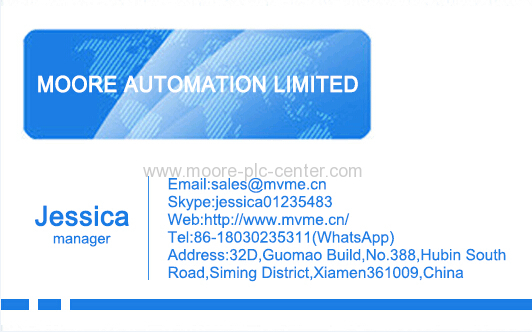 The Allen-Bradley 1771-A2B is an I/O chassis for 1771 I/O modules. The 1771 PLC-5 system is a modular system that needs a 1771 I/O chassis to allow the installation of various modules. Communication between I/O modules and either the processor module or the I/O adapter module is provided by the backplane.
The 1771-A2B chassis has 8 I/O slots. It has a dimension of 12.4 x 14.0 x 7.6 in. and weighs 10.3 lbs. For installation in a 1771 PLC-5 system, it uses a back-panel mounting method with adequate spacing and open enclosure. The chassis backplane has a power supply of 8A at 5V DC.
The 1771-A2B chassis has a universal configuration for chassis mounting and system design because of its consistent design. 1771 I/O modules are small, flexible, cost-effective, and provide a complete range of digital, analog, and intelligent I/O modules for various applications. The I/O modules come with wiring arms and remote termination panels, eliminating the need to for disconnecting the wire to replace the module. For troubleshooting and diagnostics, status indicators are present on the front of modules. For future expansion, it can be easily replaced with a larger chassis. It is intended for use in an industrial environment with a 0 - 60 °C (32 - 140 °F) operating temperature, 5-95 % noncondensing relative humidity, and a 30g operating shock.
330180-X1-CN
330100-50-00
81725-02
3300/16-13-01-01-00-00-00
3300/20-12-01-01-00-00
3300XL 8MM
135145-01
3500/34
330180-50-05
TM0180-08-00-15-10-02
TM0180-A08-B00-C02-D10
330104-00-24-10-02-00
330103-00-08-10-02-00
330851-04-000-023-10-01-05
330910-05-10-02-00
330930-065-02-00
P3403893-0351
3300/47
330101-00-16-10-02-00
330101-00-50-10-02-00
330101-00-30-10-02-00
330180-X1-05
330980-50-00
| | |
| --- | --- |
| ABB | DSQC697 |
| ABB | DO620 3BHT300009R1 |
| ABB | SNAT630PAC |
| ABB | PM645B 3BSE010535R1 |
| ABB | DI685 3BDS005833R1 |
| ABB | NTAC-02 |
| ABB | CI854AK01 |
| ABB | DSQC633 3HAC022286-001 |
| ABB | CMA131 |
| ABB | CMA126 |
| ABB | REF610 |
| ABB | IDS-DTU51 |
| ABB | RDCU-02C |
| ABB | IH510EM 3BSE001245R1 3BSC640008R1 IH581 |
| ABB | YPH107A 3ASD579001A9 |
| ABB | RF616 3BSE010997R1 |
| ABB | DSDP150 5716-0001-GF |
| ABB | SE96401981 CI526 |
| ABB | SC510 |
| ABB | SAFT121 PAC |
| ABB | DSTX180 |
| ABB | 07DI92 |

Payment Term : T/T
Shipping Term : TNT,DHL,FEDEX,ETC
Warranty: 12 month
Moore supply: New+original+factory sealed+high quality

---
---