1794 OB8EPXT Manufacture Of Allen Bradley Rockwell
1794 OB8EPXT manufacture of Allen Bradley Rockwell
140.0~200.0 USD
Min. Order:
1 Piece/Pieces
Place of Origin:
Fujian, China (Mainland)
Means of Transport:
Ocean, Air, Land
Brand Name:
Allen Bradley Rockwell
Product Description
Allen Bradley Rockwell 1794-OB8EPXT Flex I/O-XT Output Module
Allen Bradley Rockwell 1794-OB8EPXT Flex I/O-XT Output Module

Contact: Jessica
Skype: jessica01235483
Email:sales*mvme.cn (please chang * to @)
TEL: 86-18030235311
Q Q: 2851195444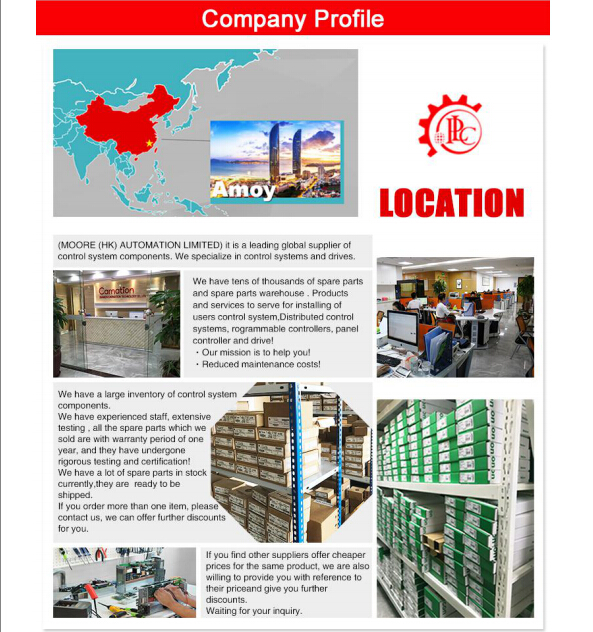 MOORE AUTOMATION LIMITED is a leading global supplier of control system components.
We specialize in control systems and drives. With many years of experience in the industrial
sector, we consistently deliver the highest quality of spare parts.
We have tens of thousands of spare parts and spare parts warehouse . Products and services
to serve for installing of users control system, Distributed control systems, programmable
controllers, panel controller and drive!
We have a large inventory of control system components. We also made a lot of new hardware
and discontinued spare parts to help supporting your existing control systems.
We have experienced staff, extensive testing , all the spare parts which we sold are with warranty
period of one year, and they have undergone rigorous testing and certification!
You might find you need spare parts in our data, we welcome you give valuable suggestions to us
with our products at any time.We have a lot of spare parts in stock currently,they are ready to be
shipped.If you order more than one item, please contact us, we can offer further discounts for you.
If you find other suppliers offer cheaper prices for the same product, we are also willing to provide
you with reference to their price and give you further discounts. If you have any other questions,
please contact us at any time. Waiting for your inquiry.
Rockwell Allen-Bradley:
1) ControlLogix 1756 series controller
2) CompactLogix 1769 series controller
3) SLC 500 1747 1746 Series Controller
4) PLC-5 1771 1785 series controller5)
5) ProSoft:MVI69/PS69/MVI56/MVI94/MVI71/MVI46)
6) ICS TRIPLEX trusted system
ABB:
1) AC800M series controller I/O module
2) AC800F series controller module
3) AC31 series controller module
4) 800xA series modules
5) Bailey INFI 90 module
6) DSQC robot module spare parts
7) Advant OCS system spare parts
8) H&B Freelance module
... ...
Recommended models:
Allen Bradley Rockwell / USA

1336F-BRF10-AA-EN

1756-A7

1756-L72S

1336F-BRF20-AA-EN

1756-BA1

1756-LSC8XIB8I

1336F-BRF20-AA-EN-HCS2

1756-BA2

1756-LSP

1336F-BRF20-AE-EN-L5E

1756-CN2

1756-M02AE

1336F-BRF50-AA-EN

1756-CNB

1756-M03SE

1336F-BRF75-AA-EN

1756-CNBR

1756-M08SE

1336F-BRF75-AE-DE

1756-CNBR/D

1756-M16SE

1336F-MCB-SP1C

1756-DHRIO

1756-OA16I

1336F-MCB-SP1F

1756-DMA31

1756-OA8D

1336F-MCB-SP1K

1756-DMD30

1756-OA8E

1336F-MCB-SP2L 164989

1756-DMF30

1756-OB16D

1336-L4 42336-200-51

1756-EN2F

1756-OB16E
---
---