330106-05-30-50-02-00 FAST SHIP SAME DAY
330106-05-30-50-02-00 FAST SHIP SAME DAY
33.0~66.0 USD
Min. Order:
1 Piece/Pieces
Place of Origin:
Fujian, China (Mainland)
Means of Transport:
Ocean, Air, Land
Brand Name:
Bently nevada
Product Description
Bently Nevada 330106-05-30-50-02-00 Rack Interface I/O Module 3500 PLC
If you manage to find the same parts cheaper through any other supplier, we will match that price,or provide you with a further discount.
Contact: Jessica
Moore Automation
Tel / Whatsapp:+8618030235311
Wechat: hu18030235311
E-mail: sales*mvme.cn (please change * to @)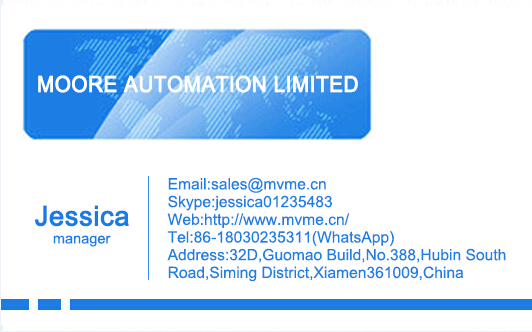 MOORE (HK) AUTOMATION LIMITED Xiamen Office is a company that professionally engaged in large system DCS spare parts supply.
We supply DCS, PLC, MOTOROLA MVME, Anybus, RTU, IPC, IPC, SCSI (50, 68, 80Pin), AnyBus (Gateway), etc.
We have different InStock products in high quality that we can supply promptly with a fair price.
We also provide safely expresses with responsibility and credit in a fast delivery period.
We look forward to cooperating with you for our beautiful future.
We currently stock over 12000+ branded products
E-mail: sales*mvme.cn (please change * to @)
SGD-04AS
SGMG-09A2A
SGDB-20AN
SGMG-03K3A-CA11
SGMG-20A2AB
JGSM-01
SGDA-04AS
JGSM-17
USAFED-02-DN11
SJDE-04APA
SJDE-01APA
SGD-02AN
SGD-04AN
SJDE-02APA
SGM-04A3NT12
SGM-02A3NT12
JUSP-ACP15GA
SGMAS-04AGA-SU22
SGDL-08AP
SGDC-10ARA
SGM-04A3SU12
SGMAH-02A1F4C
WESTINGHOUSE MAGNETIC TRIP MOLDED CASE 3P 200A 600V-AC CIRCUIT BREAKER B360897
NEW MERLIN GERIN MG24125 C60N MULTI9 TYPE B 2P 1A 480V CIRCUIT BREAKER D283656
SQUARE D QOB120 SERIES 2 1P 20A AMP 120V-AC MOLDED CASE CIRCUIT BREAKER B470086
CUTLER HAMMER HJD3250F HJD 200A TRIP 3P 250A AMP 600V-AC CIRCUIT BREAKER B377143
NEW SQUARE D RT-729 2P 15A AMP 240V-AC CIRCUIT BREAKER D442027
SQUARE D QOU 2P 20A AMP 240V-AC CIRCUIT BREAKER B275160
NEW ALLEN BRADLEY 1492-CB1F150 1P 15A AMP 277V-AC CIRCUIT BREAKER D385617
SQUARE D FHP36020 THERMAL MAGNETIC 3P 20A AMP 600V-AC CIRCUIT BREAKER B474520
NEW ABB S3N020TW SACE S3 ISOMAX MOLDED CASE 3P 20A 600V CIRCUIT BREAKER D429147
if you have a large purchase, we can make a discount.
specifications:
new+original +one year warranty

---
---