330780-50-00 100% Original New
330780-50-00 100% original new
33.0~66.0 USD
Min. Order:
1 Piece/Pieces
Place of Origin:
Fujian, China (Mainland)
Means of Transport:
Ocean, Air, Land
Brand Name:
Bently nevada
Product Description
BENTLY NEVADA 330780-50-00 PLC MODULE M *NEW IN BOX*
Contact person:Jessica
WhatsApp: +8618030235311
Phone: +8618030235311
E-mail: sales*mvme.cn (please change * to @)
Skype: jessica01235483
Wechat: hu18030235311
NEW+ORIGINAL+IN STOCK+ONE YEAR WARRANTY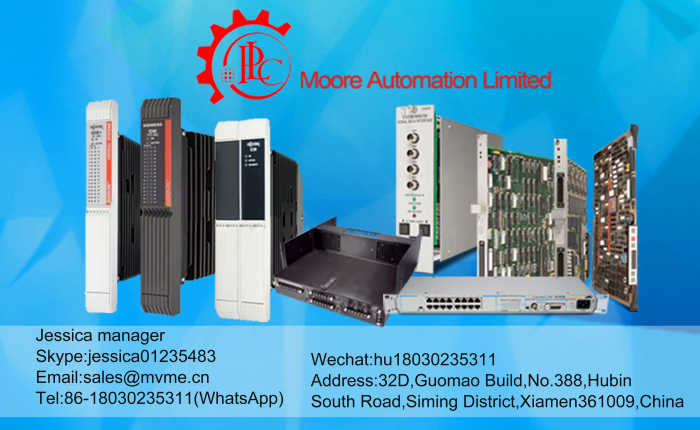 MOORE (HK) AUTOMATION LIMITED Xiamen Office is a company that professionally engaged in large system DCS spare parts supply.
We supply DCS, PLC, MOTOROLA MVME, Anybus, RTU, IPC, IPC, SCSI (50, 68, 80Pin), AnyBus (Gateway), etc.
We have different InStock products in high quality that we can supply promptly with a fair price.
We also provide safely expresses with responsibility and credit in a fast delivery period.
We look forward to cooperating with you for our beautiful future.
We currently stock over 12000+ branded products
Quote to you within the shortest possible time with our best price.
Give me a Inquiry, I will get you back immediately or in 9 hours.
If you have a large purchase, we can make a discount.
E-mail: sales*mvme.cn (please change * to @)
GYC101DC1-SA
GYG102CC2-T2E
GYC202DC1-SA-B
GYG152CC2-T2E
RYC751D3-VVT2
RYC401D3-VVT2
RYC751C3-VVT2
GYS401DC1-SA
IC693UDR005RP1
IC600MA500A
IC600FP801A
IC600FP999K
IC600-FP941K
IC600FP841K
IC600FP831K
IC600LX648L
IC600BF917N
IC600BF929K
IC600CB503L
ABB EH 700 MAGNETIC 480V-AC 600HP 715A AMP CONTACTOR B453931
GENERAL ELECTRIC GE IC2800Y123A3 K 120V-DC 600A AMP DC CONTACTOR D461620
GENERAL ELECTRIC GE IC2800Y124A3 L 120V-DC 900A AMP DC CONTACTOR D461332
ABB EH 175 EH 175C-L 3PH 3P 600V-AC 150HP 260A AMP AC CONTACTOR D476988
GENERAL ELECTRIC GE IC2812 B107A3 FIELD CONTACTOR D432163
CUTLER HAMMER A415SN000DM 180A 3PHASE 575V 200HP SOFT STARTER CONTACTOR B203448
WESTINGHOUSE M221-2H DC 125V-DC 50A AMP CONTACTOR D400725
NEW FISHER ES 2-1/2IN FLANGED 667 STEEL PNEUMATIC 300 CONTROL VALVE D389925
FISHER 33B-2 IRON PNEUMATIC FLANGED 2 IN 667 CONTROL VALVE D244915
Service: quotation will be sent in 9 hours
Skype + whatsapp + mobile = 24 hours /day Oneline.

---
---