51202329-202 | Honeywell | 1 Year Warranty
51202329-202 | Honeywell | 1 Year Warranty
1900.0~2000.0 USD
Min. Order:
1 Piece/Pieces
Place of Origin:
Fujian, China (Mainland)
Means of Transport:
Ocean, Air, Land
Packing:
New carton packaging
Product Description
51202329-202 | Honeywell | 1 Year Warranty
Moore Automation Limited is a high-tech enterprise specialized in professional sales of industrial automation components, and is committed to improving the level of world automation parts supply.
Contact: Jessica | Email: sales*mvme.cn (please change * to @)
Skype: jessica01235483
Mobile Phone: 86-18030235311(WhatsApp)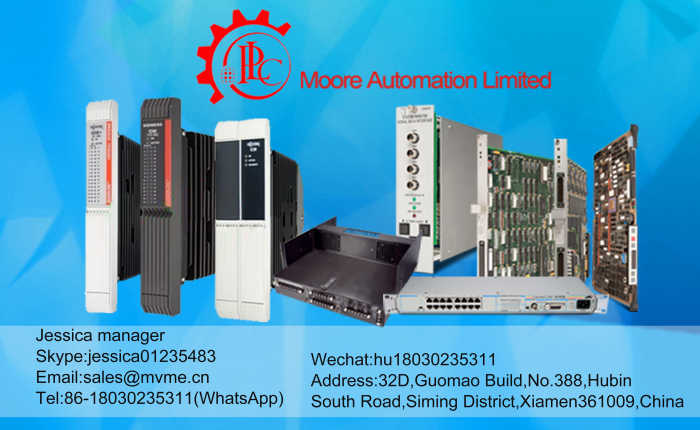 Amikon Automation is one of the largest components focusing on industrial automation PLC module and control system in the world
Its mission is to help customers improve productivity and reduce downtime.
Amikon Automation Company integrates many well-known brands in the field of industrial automation.
These include
HIMA Black Horse DCS ProSoft Module
ABB.DCS.AC800F/AC800M
ABB Robot Spare Parts, KUKA Robot Spare Parts
(AB) Rockwell ICS Triplex trusted system
TRICONEX/TRICON Card
WOODWA Woodward RD9907-164/9907-162/9907-165, 9907-167
GE Gas Turbine Spare Parts IS200 DS200 IS215 DS215
DEH Control Card Steam Turbine Spare Parts
Yokogawa CS3000 Series CP451-10 AAI543 AAI143 AAR145 CP345
Bentley 3500 Series Monitoring System Card/Pre-processor/Sensor
Emerson DeltaV Series CSI 6500/Philips/epro
Monitoring Card/Pre-processor/Sensor
51202329-202 | Honeywell | 1 Year Warranty
Email:sales*mvme.cn (please change * to @)
DSCS131/57310001-LM
DSSR116/48990001-FK
DSMD113/5736045-N
DSPC171/57310001-CC
DSMC112/57360001-HC
DSCA114 /57510001-AA
DSCA190V /57310001-PK
DSAO120 /57120001-EY
DSCS116/ 57520001-BZ
DSCA180F /57520001-KM
DSPC172H /57310001-MP
DSAV111 / 57350001-CN
DSDI110A /57160001-AAA
DSBC172 / 57310001-KD
DSMB175 /57360001-KG
DSBC173 / 57310001-KH
DSPB120 / 57340001-T
DSPC155 /57310001-CX
DSMB133 / 57360001-CY
6204BZ10100D
DO801 /3BSE020510R1
DSMB151 /57360001-K
6227BZ10200D+IC660ELB905
| | |
| --- | --- |
| HONEYWELL | SDO-0824 |
| HONEYWELL | FSC 10024/H/F |
| HONEYWELL | 8C-PDILA1 51454471-175 |
| HONEYWELL | TC-FPDXX2 |
| HONEYWELL | TC-PPD011 51309241-125 |
| HONEYWELL | TC520 3BSE001449R1 |
| HONEYWELL | TK-FTEB01 51309512-175 |
| HONEYWELL | TK-PPD011 51309241-175 |
| HONEYWELL | TK-PRS021 51404305-375 |
| HONEYWELL | TK851V010 3BSC950262R1 |
| HONEYWELL | FS-TSAI-1620M |
| HONEYWELL | FC-TSRO-0824 |
| HONEYWELL | FC-SDI-1624 |
| HONEYWELL | 942-M0A-2D-1G1-220S |
| HONEYWELL | 2108B2001 |
| HONEYWELL | 942-M0A-2D-1G1-220S |
| HONEYWELL | 51403988-150 |
| HONEYWELL | FSC 10024/H/F |
| HONEYWELL | 05701-A-0325 |
In stock
1 year warranty
Original and new packing
Delivery with DHL 3 days after payment

---
---