51405043-175 CC-PD0B01 | Honeywell | Digital Output 24V Module
51405043-175 CC-PD0B01 | Honeywell | Digital Output 24V Module
1900.0~2000.0 USD
Min. Order:
1 Piece/Pieces
Place of Origin:
Fujian, China (Mainland)
Means of Transport:
Ocean, Air, Land
Packing:
New carton packaging
Product Description
51405043-175 CC-PD0B01 | Honeywell | Digital Output 24V Module
Have in stock
New and original 100% guaranteed
If you payment successful,We will ASAP arrange ship this goods this day!
NEW AND ORIGINAL 100%, HAVE IN STOCK, FREE SHIPPING
Contact: Jessica
Email: sales*mvme.cn (please change * to @)
☆★☆★☆★☆★☆★☆
Skype: jessica01235483
Mobile Phone: 86-18030235311(WhatsApp)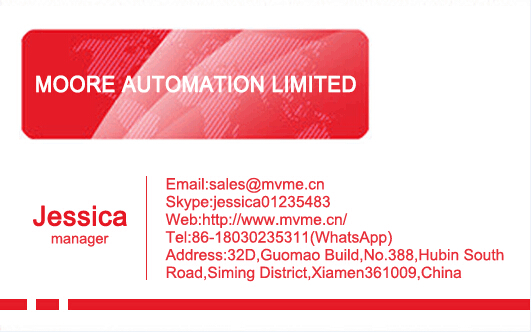 MOORE is one of the largest components focusing on industrial automation PLC module and control system in the world.
Its mission is to help customers improve productivity and reduce downtime.
MOORE Company integrates many well-known brands in the field of industrial automation.
These include
HIMA Black Horse DCS ProSoft Module
ABB.DCS.AC800F/AC800M
ABB Robot Spare Parts, KUKA Robot Spare Parts
(AB) Rockwell ICS Triplex trusted system
TRICONEX/TRICON Card
WOODWA Woodward RD9907-164/9907-162/9907-165, 9907-167
GE Gas Turbine Spare Parts IS200 DS200 IS215 DS215
DEH Control Card Steam Turbine Spare Parts
Yokogawa CS3000 Series CP451-10 AAI543 AAI143 AAR145 CP345
Bentley 3500 Series Monitoring System Card/Pre-processor/Sensor
Emerson DeltaV Series CSI 6500/Philips/epro
Monitoring Card/Pre-processor/Sensor
Listen Think Solve
"Listen Think Solve" aims to better demonstrate that Amikon Automation is committed to listening to customer needs, with senior spare parts supply chain experience.
Make every effort to help customers solve spare parts problems, so that there are no hard-to-buy spare parts in the field of industrial automation!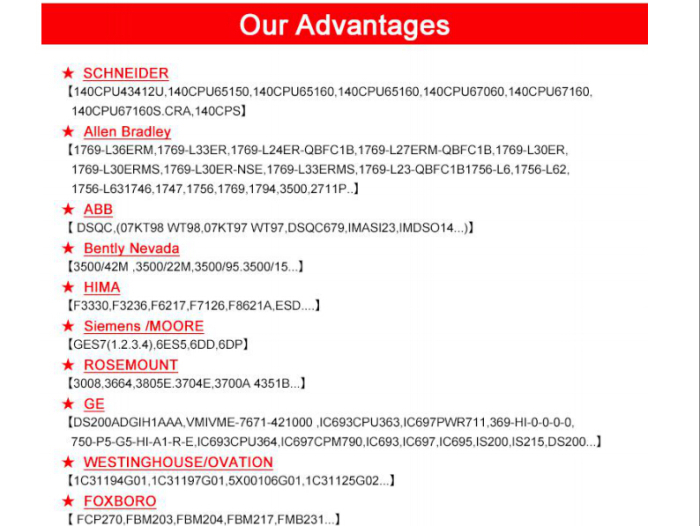 In the field of industrial automation, new technologies are rapidly introduced. Parts quickly become obsolete and scarce. In many cases, the original manufacturer can't even help.
The result is a decline in the availability of existing technologies and the professional services they need. This has led to investments in new electronic products and changes in the entire production line.
This is no longer needed, Amikon Automation is here to serve you! Not only do we provide new spare parts, but we can also supply electronic parts that are out of production.
You can focus on your business while ensuring that your electronic products and systems continue to operate sustainably.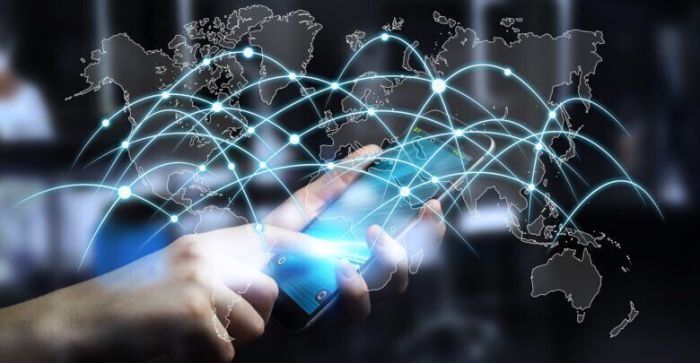 YPH108B/SPC
YPK113A
DSQC697
DO810 3BSE008510R1
DO810 3BSE008510R1
AI810 3BSE008516R1
AO810V2 3BSE038415R1
IMFCS01
07KP64 GJR5240600R0101
07NG63R1 GJV3074313R1
SA610 3BHT300019R1
CI520V1 3BSE012869R1
07EA61R1 GJV3074351R1
CS513 3BSE000435R1
AI835
IMDSI14
IMDSI14
7944831D
WT98 07KT98
AI801 3BSE020512R1
CI630 3BSE011000R1
200-CICN 200-CIE
| | |
| --- | --- |
| HONEYWELL | CC-TDOB11 |
| HONEYWELL | 51305430-100 |
| HONEYWELL | 51402797-200 |
| HONEYWELL | 51309218-175 |
| HONEYWELL | 51401052-100 |
| HONEYWELL | 51305072-200 |
| HONEYWELL | 51401583-100 |
| HONEYWELL | 51198947-100 |
| HONEYWELL | 51403393-100 |
| HONEYWELL | 51309276-150 |
| HONEYWELL | 51305348-100 |
| HONEYWELL | 51195199-010 |
| HONEYWELL | 51195153-005 |
| HONEYWELL | 51195153-902 |
| HONEYWELL | 51195153-001 |
| HONEYWELL | 51196041-100 |
| HONEYWELL | 51109693-100B |
| HONEYWELL | 51196694-928/U1 |
| HONEYWELL | 8C-TAIMA1 |
| HONEYWELL | 8C-PAIMAI |
| HONEYWELL | 8C-POODA1 |
Our services:
1.We can provide 1-year warranty.
2.The goods will be shipped out within about 3-5 working days.
3.Shipping methods: air by DHL/UPS/EMS/Fedex...
4.Small orders can be all accepted.
5.Contact us any time when you feel free.

---
---