5X00238G12 Shipping By DHL And TNT
5X00238G12 shipping by DHL and TNT
333.0~666.0 USD
Min. Order:
1 Piece/Pieces
Place of Origin:
Fujian, China (Mainland)
Means of Transport:
Ocean, Air, Land
Brand Name:
WESTINGHOUSE/OVATION
Product Description
NEW IN BOX WESTINGHOUSE 5X00238G12 INDUSTRIAL CIRCUIT
Contact person:Jessica
WhatsApp: +8618030235311
Phone: +8618030235311
E-mail: sales*mvme.cn (please change * to @)
Skype: jessica01235483
Wechat: hu18030235311
If you require more than one item, please let us know, as we could arrange a discount for you.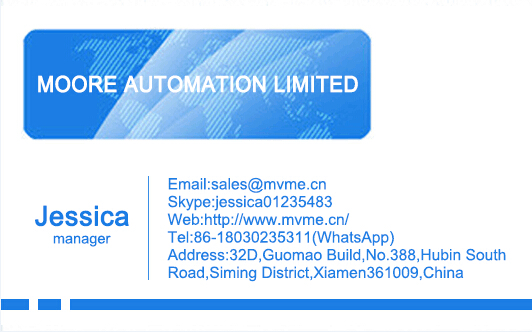 MOORE (HK) AUTOMATION LIMITED Xiamen Office is a company that professionally engaged in large system DCS spare parts supply.
We supply DCS, PLC, MOTOROLA MVME, Anybus, RTU, IPC, IPC, SCSI (50, 68, 80Pin), AnyBus (Gateway), etc.
We have different InStock products in high quality that we can supply promptly with a fair price.
We also provide safely expresses with responsibility and credit in a fast delivery period.
We look forward to cooperating with you for our beautiful future.
We currently stock over 12000+ branded products
1):All quote are basic on EX-WORK
2):Delivery time: 5-7 days
3):Payment Term:T/T
4):ship to you via DHL/TNT/UPS/EMS/Fedex.
E-mail: sales*mvme.cn (please change * to @)
5D2510.10+5C2001.22
4D1165.00-490
5C2001.22 +5D2510.10
4PP120.1505-31
4C2210.01-510 4D1042.00-K02
8V1022.00-2
8AC112.60-1
8MSA3S.E1-B6
SVFIL02/5 C0101700-03
8MSA3M.E1-B4
8MSA4S.R0-31
CS0174100020-04
8MSA3S.R0-AC02
8MSA2S.R0-J2
8MSA3L.E1-W0
8MSA3S.EI-30
CS0174100160-02
GENERAL ELECTRIC C609-R MOLDED CASE SWITCH 1P 20A AMP CIRCUIT BREAKER B273749
SQUARE D QOB260 2P 60A AMP 120/240V-AC MOLDED CASE CIRCUIT BREAKER B410412
NEW SQUARE D KAL26175 S2200 2P 175A 600V-AC MOLDED CASE CIRCUIT BREAKER D404282
ITE FJ3A225L 3P 225A AMP 600V-AC MOLDED CASE CIRCUIT BREAKER D434031
NEW KLOCKNER MOELLER FAZ-3N-B16 4P 16A AMP 277/480V-AC CIRCUIT BREAKER B433965
WESTINGHOUSE FD3080 3P 80A AMP 600V-AC MOLDED CASE CIRCUIT BREAKER B432446
ITE ET-4064 3P 50A AMP 600V-AC MOLDED CASE CIRCUIT BREAKER B435234
SQUARE D 997316 3P 100A AMP 600V-AC MOLDED CASE CIRCUIT BREAKER B435806
CARLINGSWITCH DF2-B0-46-610-131-C 2P 10A AMP MOLDED CASE CIRCUIT BREAKER B459583
ITE P120 PUSHMATIC 1P 20A AMP 120/240V-AC CIRCUIT BREAKER D418763
FUJI BU2EHC-030L ELECTRIC 2P POLE 30A AMP 480V-AC 250VDC CIRCUIT BREAKER B201784
WESTINGHOUSE FA3020 MOLDED CASE 3P 20A AMP 600V-AC CIRCUIT BREAKER B352038
In stock
1 year warranty
Original and new packing
Delivery with DHL 3 days after payment
---
---