6DS1300 8AB Factory Price
6DS1300 8AB Factory Price
140.0~200.0 USD
Min. Order:
1 Piece/Pieces
Place of Origin:
Fujian, China (Mainland)
Means of Transport:
Ocean, Air, Land
Product Description
Country of origin:
Germany
Siemens 6DS1300-8AB Monitor/Keyboard Interface Module

| | | | |
| --- | --- | --- | --- |
| MODEL | 6DS1300-8AB | PARAM DESCRIPT | Monitor/Keyboard Interface Module |
| PRODUCT SIZE | 20.3 cm x 5.1 cm x 25.4 cm | STOCK | Ask Request Quote |
| WEIGHT | 0.4 kg | ADDITIONAL INFORMATION | Monochrome - Black/white video |
| CONDITION | New and factory sealed | | |
| SHIP FROM: | Ship from China,Xiamen | | |

Sale manager: Jessica
Skype: jessica01235483
Phone/WhatsApp: 86-18030235311
Email: sales*mvme.cn ( change * to @ )

Allen-Bradley (1746,1747,1756,1769,1794,2711P..)
Triconex Invensys (3008,3664,3805E.3704E,3700A 4351B...)
YOKOGAWA (CP345,CP451-10,AMM12C,AAI141-S00...)
ABB (07KT98 WT98,07KT97 WT97,DSQC679,IMASI23,IMDSO14...)
Westinghouse (1C31194G01,1C31197G01,5X00106G01,1C31125G02...)
Bently Nevada (3500/42M ,3500/22M,3500/95.3500/15...)
Hima (F3330,F3236,F6217,F7126,F8621A....)
FOXBORO (FCP270,FBM203,FBM204,FBM217,FMB231...)
GE (IC693,IC697,IC695,IS200,IS215,DS200...)
BACHMANN (MPC240,CM202,DI232,MPC240,NT255,AIO288...)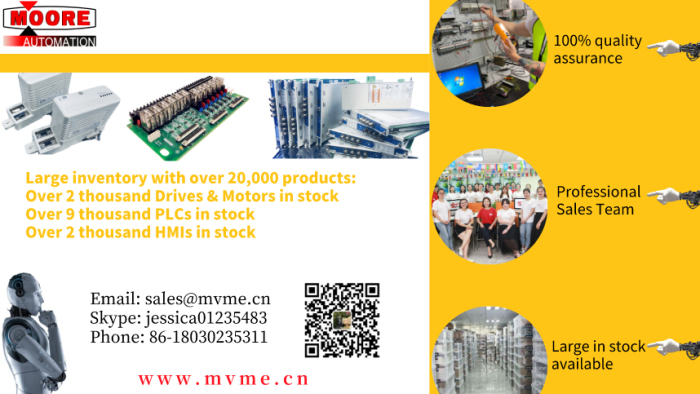 Sales department
24/7 hours service. Deal your request for any PLC DCS products promptly, patiently and professionally.
Engineering department
Ensure that there are no quality problems in the products. All products will be examed before shipment.
Financial department
Check payment and refund in time.
Warehouse department
Careful checking the goods listing and careful packing, shipping goods in time.
After-sales service department
Full-time after-sales service team, under the sales department, the user can put the timely response to service requests.
Jessica | sales*mvme.cn ( change * to @ ) | 18030235311
1.Q: How about the warranty ?
A: Moore provide 12 months warranty for all the goods from us , and you can refund the goods with any quality problem in 15 days.
2.Q: Other supplier have a better price than yours.
A: "To create more benefit fir clients"is our belief, if you have a better price , please let Moore know , we will try best to meet your price and support you.
3.Q: We have not cooperation before , how we can believe you ?
A: For our first order , you can pay after we prepare the goods.
4.Q: What about shipment ?
A: We have DHL,UPS,TNT... with competitive price , of course , customers can also use their own freight forwarders.

A5E00412608 Siemens Inverter rectifier board trigger board 132/160/200/250KW Charging board
AB Frequency converter 753 series detection board PN-157265
Source signal frequency converter YX3000-4T0370G/4T0450P 37KW
Ourui 37KW frequency converter F2000-G0370T3C
Inverton high voltage power unit GD5000-82-6-PU-03-L
NMB Fan 220R071D0531 Emerson CT inverter SPMD1403,SPMD1404 apply
A5E00412608 Siemens Trigger board Inverter rectifier board 132/160/200/250KW Charging board
Emerson Inverter Power Board UT46 lSS 02.00 7004-1063
AB Frequency converter fan R3G310-AN48-78
ABB Frequency converter ACS800-104-0440-7+E205+V991
VACON inverter/power board/619B/619E/vacon Drive plate
HARS 700/035PIII Power module
Hekang high voltage inverter / interface control board/B080405006/Interface main rboard/B080405021
Huichuan high voltage inverter main board CPU control board HD90-C1-MCB1
VACON frequency converter PC00487F/PC00487D/487H1/487J CM271101
Huifeng frequency converter F1000-G0150T3C
Hekang high voltage inverter, main power board B090604035
Hekang Optical fiber board high voltage inverter 502.SY0002.04/TC406266
Hekang High voltage inverter monitor display HC5/JM0/4.01
AB/Rockwell / VACON / inverter 690V / power board / drive board/487J/PC00487F
Siemens inverter G120 series 75kW power board capacitor board A5E00496050/A5E00496081
Intelligent optical high voltage inverter power unit drive board control board HVFDRV34
Main control board of Huichuan high voltage inverter interface board HD90-C2-IOB1
Main control board of Huichuan high voltage inverter interface board Optical fiber board HD90-C1-FB1
AB Frequency converter pf700 trigger module FS450R12KE3 349896-
ZINVERT Smart light high voltage frequency conversion ZINVU-29/17B1/ZINVU-85/17B1-69C-B0
ABB Frequency converter axial fan ZIEHL-ABEGG RH56E-4DK.6N.1R 230/400V 2.5KW
VACON AB Frequency converter axial fan fan R2E280-AE 52-17 230V 225W
ABB Frequency converter ACS800 Multi drive/rectifier unit/main board/power board/DSMB-02C
Huichuang High voltage inverter power unit control board HD90-P1-CCB1
ABB Frequency converter ACS800-07 Rectifier module control board DSSB-01C DSSB-01
Schneider inverter ATV610 Drive board power board NHA50381_00 NHA50388-03
Hekang high voltage inverter, signal board 502.SY0003.06,080907057
Siemens inverter drive board A5E00909988 MM430
Siemens High power rectifier SCR trigger board in TDB board of frequency converter A5E00109824
Trigger board of power supply driving board of invetion high voltage inverter power unit HU60A-B 3515.B07
Siemens inverter capacitor board A5E35156540
Danfoss inverter current detection board 130B6060 2/2 DT9 130B8792
Delta inverter vfd-f series 75KW VFD750F43A
European frequency converter 15/18.5KW EV500-0150C/D185P-T4
ABB Frequency converter ACS510 ACS510-01-157A-4 75KW
Reynolds soft starter JJR2075
VLT Automation Drive Module 130B6018/ DP450D1200T102001
If you have any PLC DCS inquiries, please contact us freely.
It will be a comfortable and happy business cooperation
Disclaimer:

Moore Automation Limited sells industrial automation parts, including new products
and discontinued products, and purchases such featured products through independent
channels. Moore Automation Limited is not an authorized distributor, distributor or
representative of the featured products on this website. All product names / product
images, trademarks, brands and logos used on this website are the property of their
respective owners. The description, description or sale of products with these names,
pictures, trademarks, brands and logos are for identification purposes only and do not
imply any association or authorization with any right holder.
---
---