6ES7341-1CH02-0AE0 SIEMENS Whole-hearted Service
6ES7341-1CH02-0AE0 SIEMENS Whole-hearted service
1.0 USD
Min. Order:
1 Piece/Pieces
Place of Origin:
Fujian, China (Mainland)
Production Capacity:
4444
Packing:
New carton packaging
Product Description
SIEMENS 6ES7341-1CH02-0AE0 COMMUNICATION PROCESSOR MODULE W/RS-422/485 24VDC
Quantity available: 33
Lead time: 2-3 working days
Minimum order quantity: 1 piece
Courier partners: DHL, UPS, TNT, FedEx and EMS
Type of payment: 100% Payment in Advance
Warranty: one year
Technical specification, manuals and data sheets: Available on request
To get our best price & fast quotation, pls send us e-mail now.
Contact:Jessica

Skype:jessica01235483
Email:sales*mvme.cn (please chang * to @)
TEL:86-592-5856209 86-18030235311
Q Q:2851195444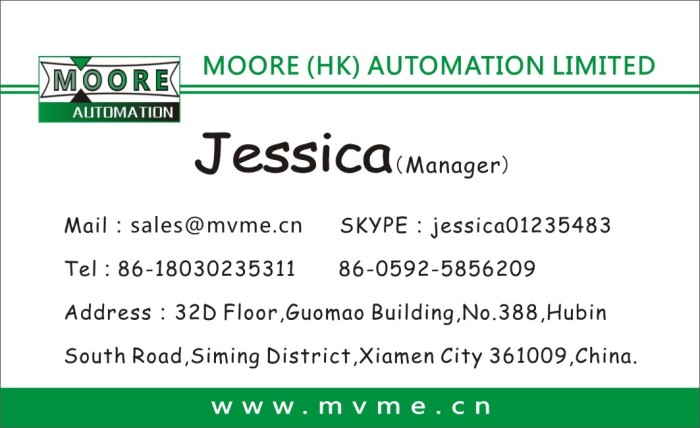 MOORE AUTOMATION LIMITED focuse on control systems, from legacy to leading edge.
We have a large inventory of high quality, surplus control system parts. We also distribute many new hardware and software products to help supporting your existing control systems or utilize the latest control technology. We have experienced staff, extensive test facilities and we can provide 1-year warranty for all of our surplus parts.
Advantage brands:
TRICONEX(3008,3625,3805E.3721,3700A 4351B...)
BENTLY NEVADA(3500/42M ,3500/22M,3500/95.3500/05...)
HIMA(F3330,F3236 ,F6217,F7126,F8621A...)
FOXBORO(FBM203,FBM204,FBM217,FMB231...)
Allan-Bradley (1756,1785,1771,1746,1769...)
ABB(OCS,DCS,BAILEY,H&B Freelance 2000,DSQC...)
GE(IC693,IC697,IC695,IS200,DS200...)
BACHMANN(CM202,DI232,MPC240,NT255,AIO288...)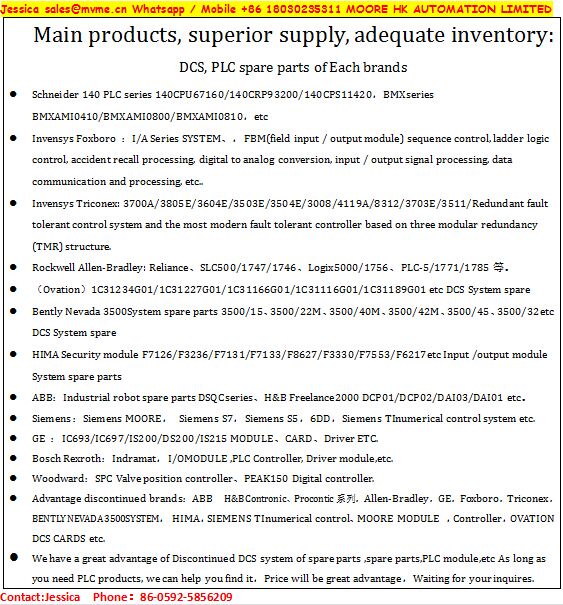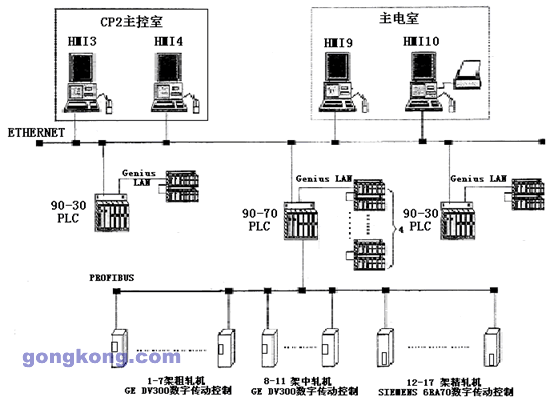 0038-H-000100-V01 0038-H-000100
18689 ISB50-03
3150
3200 6FX1118-1AA01 03202-A
3320
3450
3810
3830 6FX1122-1AC02 03831-A
06800-A
13679-555
14755-123
14755-27
150-3KB61
15499-146/8
15499-147/8
15669-36-5 15669-1-15
15736-69
15736-72 15484-11-4
15736-75 15484-11-4
15737-134
15738-119
15738-120
15738-71
15756-1
15768-112 15768-112 BBB
15768-113R 15768-113 BBB
15770-202 15770-202 BBB
15770-217 15770-217 BBB
15770-220 15770-220 BBA
15819-107 15819-107 BBF
15819-131 15819-131 BBG BBF BBD
15824-101 15824-101 BBC
15824-112 15824-112 BBC
15824-113 15824-113 BBC
15853-12 15853-12 BBB
15853-31 15853-31 BBB
15854-31 15854-31 BCF
15854-33 15854-33 BBB
15854-35 15854-35 BBB
15854-51 15854-51 BCF
15854-53 15854-53 BBB
15854-62 15854-62 BCF BCG
15854-63 15854-63 BBB
15854-64 15854-64 BBB
15854-69 15854-69 BDD
Siemens Simadyn Prozessormodul 6DD1602-0AE0 + Programms...
Siemens Simadyn D Prozessmodul PT32 6DD1606-4AA0
Siemens Simadyn D Prozessormodul 6DD1600-0AH0
Siemens Simadyn D Prozessormodul PM3 6DD1600-0AG0
Siemens Simadyn D Kommunikationsb?augruppe 6DD1660-0AH1 ...
Siemens Simadyn Prozessormodul 6DD1601-0AE0 neu !
Siemens Simadyn D Prozessmodul PT20 6DD1606-1AC0 neu !
Siemens Simadyn D Ein-Ausgabe-Mod?ul EM11 6DD1640-0AC0 n...
Siemens Simadyn D Prozessormodul PT2 6DD1606-1AA0 neu ...
Siemens Simadyn D Kommunikationsm?odul 6DD1660-0AK0 neu ...
Siemens Simadyn D Rgelsystem 6DD1681-0CA2 neu !
Siemens Simatic S7 Software Single License 6DD1801-4DA8
Siemens Simadyn Umsetzer SU11 6DD1681-0EA1
Siemens Simadyn D Kommunikationsm?odul C61 6DD1660-0AJ1
Siemens Simadyn D EB11 Koppelspeicherm?odul 6DD1611-0AD0...
★Invensys Foxboro:I/A Series system,FBM(input / output modules) Sequence control, ladder logic control , Recalling accident treatment, The digital-to-analog converter input / output signal processing, Data communication and processing and so on.

★Invensys Triconex: Redundancy fault tolerant control system, Based on the three module redundancy (TMR) structure of the most modern fault-tolerant controller.
★Westinghouse:OVATIONN system,WDPF system,WESStation system card.
★Schneider Modicon:Quantum 140 Series processor, control card, Power module and so on.
★Rockwell Allen-Bradley:Reliance,SLC500/1747/1746/MicroLogix/1761/1763/1762/1766/1764,CompactLogix/1769/1768,Logix5000/1756/1789/1794/1760/1788/PLC-5/1771/1785 and so on.
★ABB: Industrial robot parts of DSQC series,Bailey INFI90and so on.
★Siemens:Siemens MOORE,Siemens Simatic C1,Siemensnumerical control system and so on.
★Motorola:MVME162,MVME167,MVME1772,MVME177 series.
★XYCOM:I/O,VME Plate and processor an so on .
★GE FANUC: Module, card, drive various kinds of spare partsand so on .
★Yaskawa: Servo controller, servo motor, servo driver and so on .
★Bosch Rexroth:Indramat, I/O module, PLC controller, drive module.
★Woodward: SPC valve position controller, PEAK15 digital controller.
★BENTLY NEVADA 3500 series
Achieve the opposite bank of the dream !!!
We are a quality distributor of the Allen Bradley 22AB017N104 AC Drive and can offer you great prices. We can also help you source other hard to find or obsolete parts by Allen Bradley and other industrial component manufacturers. You will not beat our customer service. We are an unauthorized dealer of Allen Bradley and can provide you quantity discounts on this item.
---
---