942-A4M-2D-K220S | Honeywell | PLC MODULE
942-A4M-2D-K220S | Honeywell | PLC MODULE
1.0 USD
Min. Order:
1 Piece/Pieces
Place of Origin:
Fujian, China (Mainland)
Means of Transport:
Ocean, Air, Land
Production Capacity:
123456
Packing:
New carton packaging
Product Description
942-A4M-2D-K220S | Honeywell | PLC MODULE
Contact person:Jessica
WhatsApp: +8618030235311
Phone: +8618030235311
E-mail: sales*mvme.cn (please change * to @)
Skype: jessica01235483
Wechat: hu18030235311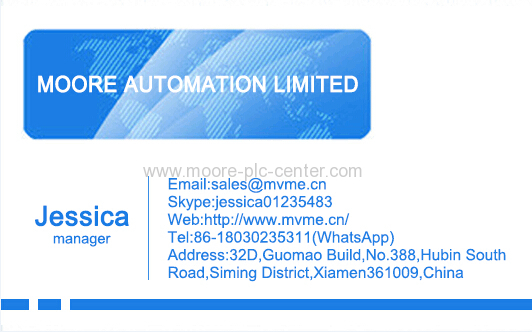  The generic blocks interpret/package all discrete/Boolean data as an individual bit, where the byte and bit number can be specified. Conventional logic polarity is assumed, whereby a "1" corresponds to an On/True condition and a "0" corresponds to an Off/False condition. Note that the use of logic blocks, such as the NOT block, can be used to effectively invert the polarity of the logical conditions.
 The generic blocks are capable of interpreting I/O data that is of a fixed format; I/O data of variable format cannot be interpreted. An example of a fixed format device is a 4-channel AI module that provides an 8-byte input data structure, with 2 bytes representing each channel. An example of a variable format data structure is a 6-byte output data structure where the first two bytes specify a numerical parameter identifier (selects one of several parameters) and the remaining 4 bytes represent the value that is being stored.
 The generic output channel blocks do not provide back-initialization capability to any regulatory control blocks that are connected.
EBE221.1-1
EBE240.1-2
EBE240.1-1
EBE200
EBE223.1-6
EM4-101-AA2
PS22-4A24VDC2A
PS316-208-1
PS316-212-1
EBE250A
EM4-201-DX2
EASY400-POW
EASY721-DC-TC
ETR4-11-A
819-DC-RCX
618-DC-RE
PS4-151-MM1
PS416-BGT-410
SN4-050-BI7
PKZM0-16
PKZM0-4
INP-400
CNT-200
| | |
| --- | --- |
| HONEYWELL | 51195199-010 |
| HONEYWELL | 51195153-005 |
| HONEYWELL | 51195153-902 |
| HONEYWELL | 51195153-001 |
| HONEYWELL | 51196041-100 |
| HONEYWELL | 51109693-100B |
| HONEYWELL | 51196694-928/U1 |
| HONEYWELL | 8C-TAIMA1 |
| HONEYWELL | 8C-PAIMAI |
| HONEYWELL | 8C-POODA1 |
| HONEYWELL | 8C-POIL51 |
| HONEYWELL | 8C-TCNTA1-C |
| HONEYWELL | 8C-PCIW02 (51454363-275) |
| HONEYWELL | 8C-IP0101 (51454362-175) |
| HONEYWELL | 8C-PAIH54 (51307070-275) |
| HONEYWELL | 8C-IP0102 (51454362-275) |
| HONEYWELL | 8C-PAIH51 (51454352-175) |
| HONEYWELL | 8C-PAIH52 (51307070-175) |
| HONEYWELL | 8C-PAOH51 (51454355-175) |
| HONEYWELL | 8C-PAON01 (51454357-175) |
Our company has many products in stock, which are immediately available. The warranty is 1 years which apply to all the new products
---
---