ABB DSQC5093HAC5687 1/05 Robot Parts
ABB DSQC5093HAC5687 1/05 robot parts
140.0~200.0 USD
Min. Order:
1 Piece/Pieces
Place of Origin:
Fujian, China (Mainland)
Means of Transport:
Ocean, Air, Land
Product Description
Country of origin:
SWEDEN
ABB DSQC5093HAC5687-1/05 robot parts
Contact:Jessica
Skype:jessica01235483
Email:sales*mvme.cn (please change * to @)
TEL:86-592-5856209
Mobile Phone:86-18030235311(WhatsApp)
Q Q:2851195444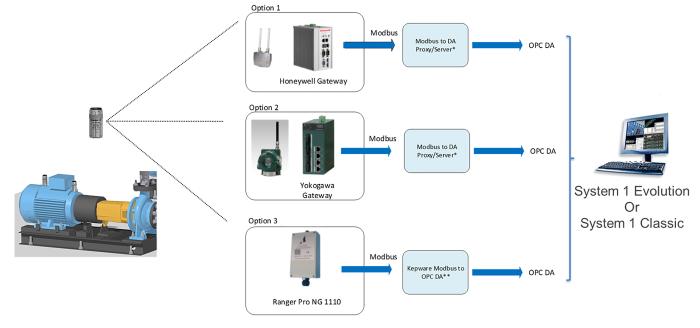 Moore Automation has supplied nearly 90 million stock components to customers worldwide Our experienced team of professionals provide more component expertise to provide you with efficient component solutions.
Whether it is customer service or delivery speed, we always strive for excellence and achieve better.
Shipping Term : TNT,DHL,FEDEX,ETC
Payment Term : T/T
Warranty: 12 month
Moore supply: New+original+factory sealed+high quality
Service: quotation will be sent in 9 hours
Skype + whatsapp + mobile = 24 hours /day Oneline.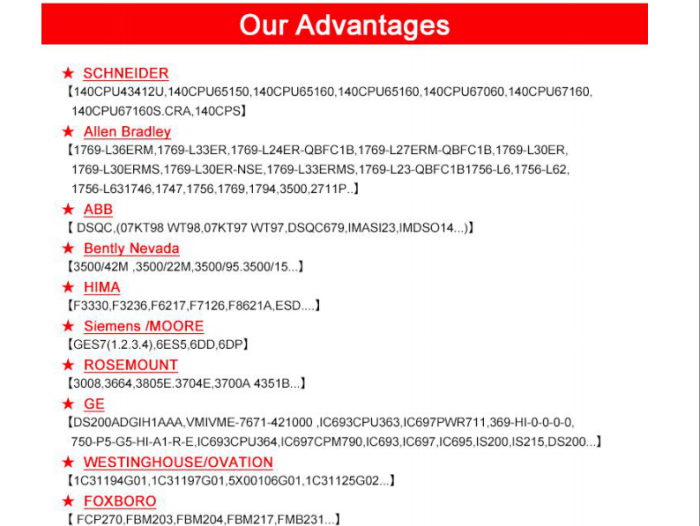 Payment Terms :
TT in advance ....
Shipment Terms :
Trading terms are Ex-works Xiamen
We will ship the goods within 3 working days after the payment received.
We can ship the goods to worldwide by DHL/FEDEX/UPS/TNT/EMS or other best possible way. Please also contact us directly if you have preferred ways.
After Service :
We offer guarantee of quality for 45-90 Days for all the parts we ship out .
1st, we will state the condition of the parts honestly when quote ;
2nd, we will test the quality of the goods before shipment ;
3rd, we will be responsilbe when the parts get in any problems .
Hope you enjoy the shopping !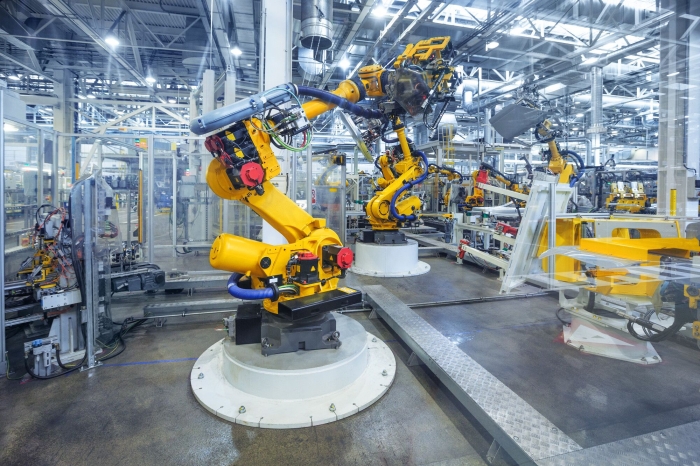 XH561 + XH562H
XF524A
XF523A
621-0007R
621-0010R
621-1100
XP502
51304427-100 MU-TDOR22
621-1160R
621-1160R
621-0007R
51304425-100 MU-TDPR02
51304441-125 MU-TDID12
51303997-100
T775E1056
51303982-400
51304685-200+51401598-200
51304483-100
51304518-200
XDL505
XD50-FCL
XD50-FC
51303979-400
51304518-150
51304685-150+51401598-150
51304685-100+51401598-100
XCL5010
51304493-250
51304493-150
51304419-100
51304501-100
51190916-104
51304493-100
51303979-550
51109693-100B
51201397-004
51401469-100
51304419-150
51201420-004
51201420003
RM7895 C 1012
51201420-005
51201420-002
51304487-100
51109806-002
51195479-200
51195153-005
51201397-002
51201421-100
51308111-002
W7704A1004
W7704D1016
51401216-100
XL50A-MMI-EP+XD50B-F
N2024-2POS
XFL523B
XFL524B
XSL514
T7412A1018
T7560A1000
T7560A1000
XSL511
DPT1000
DPT1000
DPS400
XSL513
DPS400
DPT50
XFL524B
XFL523B
621-9938RC
621-0025RC
HC900
XFL521B
TC-CCR011
TC-CCR013
51402573-150
51402573-250
TC-CCN013
6ES7221-1BH22-0XA0
6EP1436-1SH01
6EP1437-3BA00
6EP1334-2BA01
6ES5470-4UA13
6ES7-223-1PH00-0XA0
6ES7414-3XJ00-0AB0
6ES7222-1BF00-0XA0
7SJ5315-5EA02-1AA0/FF
7SJ6225-5EB20-1HH0/EE
7SJ5115-4CA02-2BA0/JJ
7UT5125-5CB01-0BA0/LL
7SJ6225-5EB90-1FE0/EE
6ES7193-4CB20-0AA0
6ES5430-4UA14
6ES5470-4UB13
RWD82
6ES7132-4HB00-0AB0
6ES5460-4UA13
6ES5451-4UA14
6ES5451-4UA14
6ES5430-4UA14
6GK1105-2AA10
6EP1336-3BA00
6ES7153-2BA02-0XB0
6ES5523-3UA11
6ES7331-7PF01-0AB0
6ES7400-2JA00-0AA0
3VU1640-0LS00
3TF3101-0AP0
6ES7960-1AA04-0XA0
6ES7153-2BA02-0XB0
6ES7153-2BA02-0XB0
6ES7392-1BJ00-0AA0
6ES5523-3UA11
6FM1706-3AB20 WF706
6ES7390-1AF30-0AA0
6ES7195-1GF30-0XA0
6ES5308-3UA12
6ES7972-0BB41-0XA0
6ES7313-6CG04-0AB0
6ES5 943-7UA22
C98130-A1215-C9-01
6EP1332-1SH42
6ES7216-2BD23-0XB0
RWD68
6ES7336-1HE00-0AB0
6ES7336-1HE00-0AB0
6ES7195-7HD10-0XA0
6ES7195-7HC00-0XA0
6ES5308-3UB11
6ES7153-2BA00-0XB0
6ES7326-2BF01-0AB0
6ES7326-1BK00-0AB0
6ES7277-0AA22-0XA0
6ES7332-5HB01-0AB0
6ES5422-8MA11
PTM6.2Q250
6ES5375-1LA41
6ES5373-1AA4
F3XP01-0H
F3XP02-0H
F3LC11-1F
F3XD64-3F
CP401-10
AAI841-S00
ADV551-P00/ATD5A00
PS31*A
F3YD64-1P
F3SP28-0S
AMM31T-S2
ADV551-P00/ATD5S-00
AAI141-S00 +ATA4S-00
F3YD14-5A
F3XD32-3F
AAI543 -S00 S1
ATA4D-00 S2
AAI143 -S00 +ATA4S-00
AAI143 -S00
AIP434-S1
CP133E-16-S3
AIP444-S1
ADV151-P00/ATB5S-00
AIP434-S1
K9403JA-02
AIP413-S1
AIP412-S1
RS71*C
RB401-S2
AIP412-S1
AIP444-S1
CP134E-00-S1
CP134E-16-S1
FC311-S1
CP334D-S3
CP133E-16-S3
CP133E-32-S3
CP133E-00-S1
CP133E-16-S1
NFDV157-S00
NFDV561-P00
NFDR541-P00
NFDV557-S00
YWP-AH /ASS9841DA-00 /S9840DA-00
NFCP100-S00 S3
NFAI135-S00
NFSB100-S00
NFPW442-10 S2
NFAI543-S00
S9610AT-01
ASS9791AT-0
AAM31 -S2
AMM52 S3
ASS9262AT-1
AIP512
AMM21 S2
AMM42T S2
AMM52T S2
AS-S9221DB /ASS9221DB-00 /S9221DB-00
EX1*A
S9940BG-02
ANDERSON GREENWOOD CROSBY PRV-4 RELIEF VALVE 30PSI 4 IN 1095GPM D569872
CONSOLIDATED 19126HF-2-CC-MS-33-FT-FT-LA 3950PSI RELIEF VALVE 3/4IN NPT D569699
CONSOLIDATED 19126HF 3950PSI RELIEF VALVE 3/4IN NPT D569829
CONSOLIDATED 19126HCF-2-CC-MS-33-LA 3/4IN NPT 3950PSI RELIEF VALVE D569854
CONSOLIDATED 19126HF-2-CC-MS-33-LA 3/4IN NPT 3950PSI RELIEF VALVE D569857
CONSOLIDATED 1920FT-1-CC-TD-34-LP-SPEC 50PSI 1-1/2IN RELIEF VALVE D565002
CONSOLIDATED 1920-00FT-1-CC-TD-34-RF-SS-LP 50PSI 1-1/2IN RELIEF VALVE D564998
CONSOLIDATED 1920FT-1-TD-SS-SPEC 1095LBS/HR 50PSI 1-1/2 IN RELIEF VALVE D565000
J.E. LONERGAN N204 IRON RELIEF VALVE 3825LB/HR 150PSI 3X2-1/2IN NPT D596076
CONSOLIDATED 1905-00HC-1-CC-MS-31-RF-LA 100PSI 1-1/2 IN RELIEF VALVE D567313
CONSOLIDATED DRESSER 1910HC-CC-MS-33-RF-LA 2IN 175PSI RELIEF VALVE D568067
FULFLO VSF8150AR STEEL FLANGED 2IN RELIEF VALVE D599031
APOLLO 10-618-21 2X2-1/2IN NPT BRONZE HOT WATER RELIEF VALVE 105PSI D574370
FARRIS 47BA10L-121/S3/SP 3/4X1 175PSI STAINLESS STEAM RELIEF VALVE D552539
DRESSER 1910-00EC-2-CC-MS-34-RF-GS-HP CONSOLIDATED 1 IN RELIEF VALVE D531341
FARRIS 1875-OL 2-1/2X4IN NPT 150PSI THREADED STEEL RELIEF VALVE D562110
FISHER 98HD 300 IRON FLANGED 400PSI 1IN RELIEF VALVE D591851
FARRIS DOW-26EA22/SP STEEL FLANGED RELIEF VALVE 1IN X 2IN 150PSI D593083
CROSBY 1E2 JLT-JOS-E-35-E 350PSI 2 IN STEEL FLANGED RELIEF VALVE D563754
APOLLO 19KHHK25 2IN NPT BRONZE SAFETY RELIEF VALVE 25PSI 594 SCFM D590935
CONBRACO 10-618-21 BRONZE THREADED RELIEF VALVE 2IN NPT 105PSI D574281
KUNKLE G010JHE01-AM 150PSI 2 IN NPT BRONZE RELIEF VALVE D527594
ANDERSON GREENWOOD 9516102A/SPL 1/2X1IN STAINLESS RELIEF VALVE D550259
CROSBY 10S-35D 2H3 15754 PPH 350PSI FLANGED RELIEF VALVE D560124
ANDERSON GREENWOOD JOS E 15 J 50PSI 1-1/2X2 IN FLANGED RELIEF VALVE D561706
SULLAIR 040276 140PSI 1-1/4 IN 1175CFM NPT THREADED RELIEF VALVE D533997
ANDERSON GREENWOOD 961102 MA RELIEF VALVE 75PSI 1 IN NPT 28GPM D579949
KUNKLE 230-A01-NC 1725PSI 1/4 IN NPT 76CFM THREADED RELIEF VALVE D556925
NEWFARRIS 2856 1-1/2X2-1/2IN NPT 150PSI 141GPM BRONZE RELIEF VALVE D524142
KUNKLE 230-A01-NC 1250PSI 1/4 IN NPT 56CFM THREADED RELIEF VALVE D557464
KUNKLE 230-A01-NC 450PSI 1/4 IN NPT 20CFM THREADED RELIEF VALVE D557462
CASH ACME 19505-0060 F95 2X2-1/2 IN NPT RELIEF VALVE 60PSI D583966
FARRIS 27GA46-F70 1-1/2IN X 2-1/2IN NPT 140PSI RELIEF VALVE D577836
CASH ACME F95 HOT WATER SAFETY RELIEF VALVE 2X2-1/2IN NPT 60PSI D597368
CROSBY VALVE & GAGE JOS46D 500PSI 1-1/2X 2 IN STEEL FLANGED RELIEF VALVE D560263
FARRIS 2741 2450PSI 3/4 IN 4927CFM NPT STEEL THREADED RELIEF VALVE D562711
JAYCO 150 BRONZE RELIEF VALVE 129CFM 15PSI 1-1/2IN NPT D597385
ABB P40 ND16 D 200670 R.4 2X1-1/2 IN IRON RELIEF VALVE D532805
HYDROSEAL 1FRV50F/C0 RELIEF VALVE 150PSI 1IN X 1/2IN NPT 199CFM D579930
IWAKI BV-2S6-15 BACK PRESSURE RELIEF VALVE STAINLESS 0.15MPA 15MM D583487
CONBRACO APOLLO 19MFEA75 1403LB/HR 1X1-1/4 IN NPT 75PSI RELIEF VALVE D584810
ANDERSON GREENWOOD 81PS1S8A12A-4 16GPM RELIEF VALVE 1IN FLANGED D578189
APOLLO RVW61-112100 10-617 100PSI 1-1/2X2 IN NPT BRONZE RELIEF VALVE D574417
CONSOLIDATED 19096MCG-2-CC-MS-33 450PSI 3/4 IN NPT RELIEF VALVE D564505
CONSOLIDATED 19096MCG-2-MS-SS 450PSI 3/4 IN NPT RELIEF VALVE D563556
APOLLO 19KDCA-165 SAFETY RELIEF VALVE 1014LB/HR 165PSI 1/2X3/4IN NPT D598944
KUNKLE 6010-FE BRONZE THREADED RELIEF VALVE 45PSI 1IN NPT D585486
FARRIS 2856-OL 1.5X2.5IN 150PSI BRASS THREADED RELIEF VALVE D563681
---
---