ABB PM866AK01 3BSE076939 R1 Processor Unit
ABB PM866AK01 3BSE076939 R1 Processor Unit
140.0~200.0 USD
Min. Order:
1 Piece/Pieces
Place of Origin:
Fujian, China (Mainland)
Means of Transport:
Ocean, Air, Land
Product Description
Country of origin:
SWEDEN
ABB PM866AK01 3BSE076939R1 Processor Unit
Contact:Jessica
Skype:jessica01235483
Email:sales*mvme.cn (please change * to @)
TEL:86-592-5856209
Mobile Phone:86-18030235311(WhatsApp)
Q Q:2851195444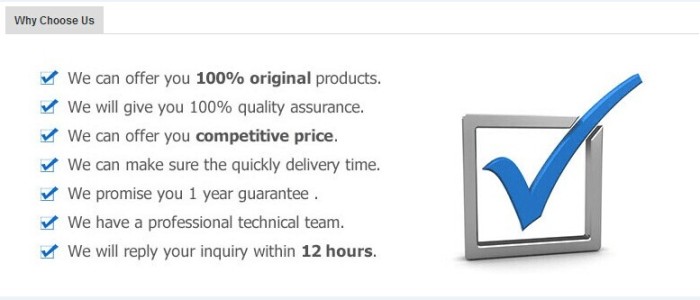 Moore has always been the best staff and spare parts together, a professional multilingual service team, insist on providing customers with first-class service.
Company's products cover distributed control system DCS card pieces, programmable logic controller PLC module SPS / CNC panel controller / drive / servo drives / robots and other parts.
Whether it's new spare parts, or outdated / discontinued parts Moore is committed to bringing the business back to business in the best cost and best quality possible way.
More than 100 excellent manufacturers, large spare parts inventory, adequate supply, faster customer support response
Partners across all continents and customers in 150 countries
Payment Term : T/T
Warranty: 12 month
Moore supply: New+original+factory sealed+high quality
Service: quotation will be sent in 9 hours
Skype + whatsapp + mobile = 24 hours /day Oneline.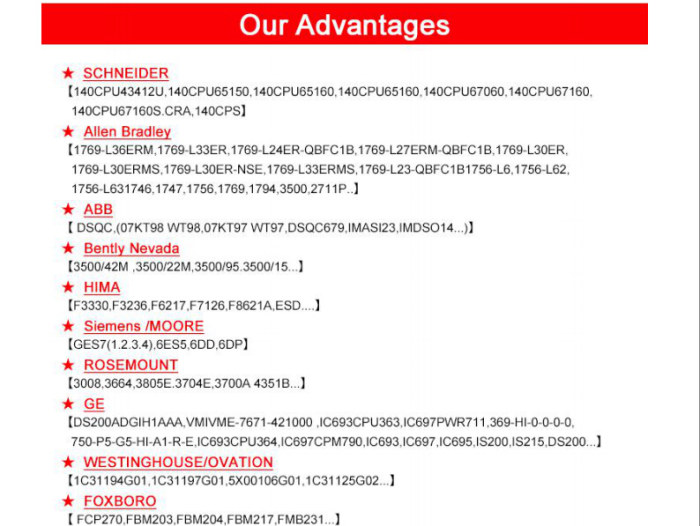 we supply:
plc : ab,abb,ge,schneider
dcs : abb,siemens moore,foxboro,westinghouse,yokogawa
esd : triconex,hima,bently,ics
excitation cards : abb,ge marke
if you have a large purchase, we can make a discount.
specifications:
new+original +one year warranty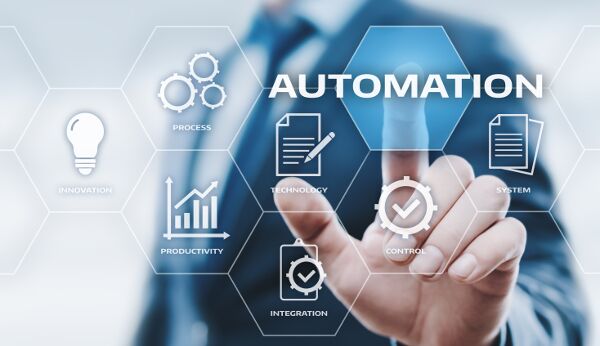 INICT13A
3BSE008514R1/ DO820
SPAM150CAA
INICT03A
INNPM11
IMDSI12
IMFCS01
IMMPI01
IMCIS22
TK518 3BSE003787R1
RB6O1 3BSEOO28O3R1
3BSE012868R1 CI626V1
3BHT300005R1 AI620
3BSE008062R1 PM633
3BHT300019R1 SA610
3BHT300008R1 AO610
TP854 3BSE025349R1
TU846 3BSE022460R1
TU844 3BSE021445R1
PS24-EX SA910S
IEMMU21
IEMMU01
SPAJ140C-AA
PHARPS32200000
IMFEC11
IMMFP12
3BSE030220R1 CI854AK01
3BSE023676R1 AO845
3BSE003785R1 /TK515
3BSC950030R1 /TK513
TB802A/3BSE013219R1
CI520V1 3BSE012869R1
3BSC950130R1 TK803V018
TK807F /3BDM000210R1
CI801 3BSE022366R1
TC516 /3BSE012632R1
A12-30-10
CI820V1 3BSE025255R1
TC530 3BUR000101R1
TC512V1 3BSE018059R1
DO86-16 / 57275758 F /5760852-8G
DI86-M8/8 /5761005-1F /57775840 E
UC86-8CH UC868CH 57275871 J 5760896-0G
AIO86-8/4 57275812 J 5760842-1F
MEM86-3X192K /5761639-3F /58031844 J /58171760
CPU86-NDP
USART86-8CH / 57088648 F /STROMBERG 5761309-2F
UIC-386
PCCLON-1
216DB61 HESG324063R100
216VE61B HESG324258R11
216AB61 HESG324013R100
216EB61 HESG324295R11
SD822 3BSC610038R1
TU811V1 3BSE013231R1
TU810V1 3BSE013230R1
3BSE013231R1 TU811V1
DI821 3BSE008550R1
07KT93 G /GJR5251300R0101
IMBLK01
DP820 3BSE013228R1
3BSE018104R1 & PM856K01
CI810B 3BSE020520R1
CI801 3BSE022366R1
R100.30-ZS
IMHSS03
INNIS21
CI840 3BSE022457R1
RVC12-5A
IMCIS02
DI830 3BSE013210R1
DI810 3BSE008508R1
INNPM01 INFI 90
316DB63 HESG 324322R20
316DB61 HESG 435680P1021
316VC61A HESG324503R6
IMASI02
IMDSO04
INNIS01
IMAS001
TU849/3BSE042560R1
TB815 /3BSE013204R1
ROM810
IMMFP02
TU842 / 3BSE020850R1
FTU223B
FTU120C
FSB126H
MICREX-F F55 NV1P-062
NB2-E90R3-AC
STC-J08A02
SDB-01A01
NB1-E8X
NB1-E56X-AC
QV28D
NJ-HC
NJ-P1
NB1U40X-01 /NB1U40R-11
NJ-Y8-R
NJ-X32-1
NJ-CPU-B16
FPC220P
NB2-E36R3-AC
NB1-P24-AC
NB1-P40-AC
FPU120H-A10
FTU133B
FTU443A
NJ-BP8
NW0P20T-31
NB2-P24R3-AC
FTU266B
NWOP60R-31
NJ-Y16-R16
NJ-X16-5
NB0U14R-31
NB1-E56-AC
NB1W40R-11
NB1-P56-AC
NB1W24R-11
NB1-E40X-AC
XF523A
621-0007R
621-0010R
621-1100
XP502
51304427-100 MU-TDOR22
621-1160R
621-1160R
621-0007R
51304425-100 MU-TDPR02
51304441-125 MU-TDID12
51303997-100
T775E1056
51303982-400
51304685-200+51401598-200
51304483-100
51304518-200
XDL505
XD50-FCL
XD50-FC
51303979-400
51304518-150
51304685-150+51401598-150
51304685-100+51401598-100
XCL5010
51304493-250
51304493-150
51304419-100
51304501-100
51190916-104
51304493-100
51303979-550
51109693-100B
51201397-004
51401469-100
51304419-150
51201420-004
51201420003
RM7895 C 1012
51201420-005
51201420-002
51304487-100
51109806-002
51195479-200
51195153-005
6ES7416-2XK04-0AB0
6ES7322-1BH01-0AA0
6ES7331-1KF01-0AB0
6ES7331-7PF01-0AB0
6ES7331-1KF01-0AB0
6ES7392-1AJ00-0AA0
6ES7223-1PH22-0XA0
6ES7331-7SF00-0AB0
6ES7322-1HH01-0AA0
6ES7322-1BL00-0AA0
6ES7331-7NF00-0AB0
6ES7321-1BL00-0AA0
6ES5103-8MA03
6ES7195-7HB00-0XA0
7RW6000-5EA00-0DA0/BB
7SJ6005-5EA00-0DA0/BB
6ES5095-8MA03
C79458-L7000-B17
3RV1031-4BA10
6GK5208-0BA10-2AA3
6ES5941-7UA13
6ES5700-1LA11
6ES5700-1LA12
6ES5300-5CA11
6ES5095-8MA03
6ES5524-3UA15+6ES5373-1AA41
6ES7315-2AG10-0AB0
6ES7331-7KF01-0AB0
6GK7443-1EX11-0XE0
6ES7331-7RD00-0AB0
6ES7216-2AD21-0XB0
6ES7216-2BF22-0XB0
6ES5305-7LA11
6ES7314-1AF10-0AB0
6ES5420-7LA11
6ES5942-7UA12
6ES5943-7UA11
6ES5441-7LA12
6ES5491-0LB11+6ES5240-1AA11
6ES5430-7LA11
6ES5458-7LC11
6ES5951-7LB13
6ES7922-4BF00-0AE0
6ES7223-1BF22-0XA8
6ES7953-8LF11-0AA0
6ES7211-0AA23-0XB0
6ES7212-1AB22-0XB0
6ES7212-1AB23-0XB8
6ES7953-8LG11-0AA0
6ES5451-7LA21
6ES7421-1BL01-0AA0
6ES5816-1BB11
6ES5375-1LA15
6ES5375-0LD11
6ES7953-8LF20-0AA0
6EP1332-1SH22
6ES7331-7PF01-0AB0
6ES7323-1BH01-0AA0
6ES7212-1BB23-0XB8
6ES7151-1AA05-0AB0
6ES7331-7NF00-0AB0
6ES7214-1BD23-0XB0
6ES7214-1BD23-0XB8
6ES7332-5RD00-0AB0
6ES7315-2AG10-0AB0
6ES7315-2AG10-0AB0
6ES7314-1AF11-0AB0
6ES7331-7SF00-0AB0
6ES7331-7RD00-0AB0
6ES7972-0BA12-0XA0
PC-GF 20/720-2001-01
6ES7223-1PH22-0XA0
6ES7216-2AD22-0XB0
6ES7322-1HH01-0AA0
6ES7222-1HF21-0XA0
6ES7222-1HF22-0XA8
6ES7357-4AH01-0AE0
3RP1505-1AP30
6EP1434-2BA00
WEIR DAM005XLM BEARING CARTRIDGE ASSEMBLY SLURRY CENTRIFUGAL PUMP D598798
HONEYWELL 0102660-1-0000-00001000-00 120V-AC ACTUATOR D514336
WEIR 59111 31IN OD 12IN EYE SLURRY PUMP IMPELLER 4-VANE D580528
FLOWSERVE GEB422246DB-C JS STAINLESS SPLIT PUMP SEAL D569456
EIM 9H5753FC-C 1/4HP 575V-AC 3PH ELECTRIC VALVE ACTUATOR D579678
SIEMENS 6DR5210-0EN00-0AA3 SIPART PS2 HART VALVE POSITIONER D566823
FLOWSERVE RG316SR7SN0GE00 AUTOMAX PNEUMATIC VALVE ACTUATOR D580127
SUDMO D630 2141403 SANITARY DOUBLE SEAT STAINLESS VALVE ACTUATOR D568754
MASONEILAN DRESSER SVI2-21123121 DIGITAL VALVE POSITIONER D583853
ATLAS COPCO 2906-0298-00 AIR COMPRESSOR SERVICE KIT D552484
NELES JAMESBURY QPX4C/K40 QUADRA-POWR X VALVE ACTUATOR D553767
DEZURIK 425939T CONSISTENCY TRANSMITTER PIPELINE MODULE D585020
GOULDS RC04113A011216 CD4MCU 10IN TAPER BORE STUFFING BOX COVER D567031
STURM 00412069490M0 6 VANE 23 IN OD 4-1/4 IN ID BRASS PUMP IMPELLER D524514
FLOWSERVE MY49112A130-D4 5-VANE 13IN OD STAINLESS PUMP IMPELLER D522044
AUMA SA07.5 VD63-2/45 ELECTRIC VALVE ACTUATOR 575V-AC D565896
FLOWSERVE 67128 3-5/8IN X 98IN STEEL PUMP SHAFT D594784
DRESSER L3382-2 13-1/2IN STEEL PUMP IMPELLER D598830
FALK 0706057 14F COUPLING GRID D558317
SCHUNK 358200 SRU 50.2 PNEUMATIC ROTARY ACTUATOR D596009
CHESTERTON 255-38 SHAFT SIZE 4.750 DUAL CARTRIDGE SEAL D584687
METSO NE724/S1A-CE01 NELES ELECTRO-PNEUMATIC VALVE POSITIONER D554568
FLOWSERVE RG314SR3SN0GE00 AUTOMAX PNEUMATIC VALVE ACTUATOR D579957
VANE STAINLESS PUMP IMPELLER C256 80AC 3194 19IN OD 2-5/16IN ID D581636
MOYNO S72111 3401862007 CAVITY PUMP ROTOR D591484
NELES JAMESBURY QPX3C/K35 QUADRA-POWR X VALVE ACTUATOR D555682
EIM 9H4603FC-E ROTARY VALVE ACTUATOR CONTROLLER ASSEMBLY D577857
FISHER DVC6010F FIELDVUE VALVE POSITIONER D574629
FISHER DVC6020F FIELDVUE VALVE POSITIONER D574628
MARPOSS 3602220005 HYDRAULIC SLIDE CYLINDER VALVE D586478
THERMO SCIENTIFIC 112980-01 HG LAMP KIT FOR MERCURY ANALYZER D588443
HARMONIC DRIVE CSS-25-50-2A-GR-SP GEAR REDUCER COMPONENT SET D591585
HARMONIC DRIVE SH-25-50-2A-GR-SP GEAR REDUCER COMPONENT SET D591582
SIEMENS 6DR5010-0NN00-0AA0 SIPART PS2 I/P POSITIONER D591042
FISHER DVC6020 FIELDVUE VALVE POSITIONER D586025
LIMITORQUE SMB-00 3PH 1700RPM 575V-AC ACTUATOR D562087
TOKAI MATIERIALS 300X60 5KB-D553 BRAKE PAD D592025
LIMITORQUE L120-10 230/460V-AC 3PH VALVE ACTUATOR D598493
WAUKESHA 060 U2 ROTARY LOBE PUMP GEAR CASE ASSEMBLY D546612
KOCSIS CMO-308084-A HYDROTOR HYDRAULIC MOTOR CRANKING STARTER D596584
GOULDS 3196 MT CENTRIFUGAL IRON PUMP POWER END D594038
FLOWSERVE EK1144 SL-5000 2.875 CW PUMP SEAL KIT D561392
ROTORK 11AFA10A 575V-AC 0.24HP 50LB-FT ELECTRIC VALVE ACTUATOR D562379
FISHER 29A3667X022 CONTROL VALVE SEAT RING D531461
INGERSOLL C06568-02-00-728 21 IN OD CENTRIFUGAL BRASS PUMP IMPELLER D532959
MORIN B-023U-D000 STAINLESS ROTARY VALVE ACTUATOR D591927
EL-O-MATIC ES1600.U1A04A.46K0 PNEUMATIC ACTUATOR VALVE REPLACEMENT PART D599271
EL-O-MATIC ES1600.U1A04A.46K0 PNEUMATIC VALVE ACTUATOR 116PSI D599521
---
---