ALLEN BRADLEY 1769-OB32 IN STOCK FOR SALE
ALLEN BRADLEY 1769-OB32 IN STOCK FOR SALE
10.0~40.0 USD
Min. Order:
1 Piece/Pieces
Place of Origin:
Fujian, China (Mainland)
Means of Transport:
Ocean, Air, Land
Brand Name:
ALLEN BRADLEY
Product Description
1769-OB32 ALLEN BRADLEY Module Factory Seal **New**
Contact:Jessica
Skype:jessica01235483
Email:sales*mvme.cn (please change * to @)
TEL:86-592-5856209
Mobile Phone:86-18030235311(WhatsApp)
Q Q:2851195444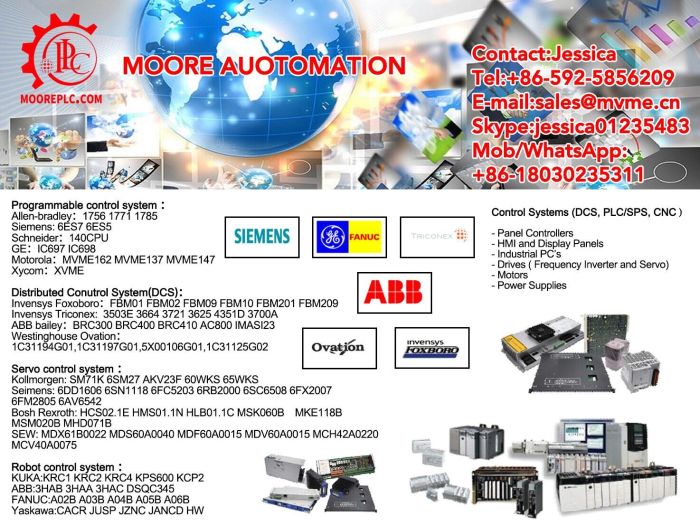 Moore Automation is China
A leading supplier of industrial automation components
Moore mission is to make your purchase of spare parts for any brand as fast and easy as possible. Our experienced sales team staff are ready to help you throughout the process. Let you save more time and money!
We provide new discontinued automation components for the factory (MRO).
Reduce your maintenance costs.
Extend the life of the control system.
We are based on a very basic but important principle;
Simplify the sales areas and distributors in the automation arena by providing impeccable, high-quality automation products!
We have a huge high-quality warehousing, to provide you with one-stop DCS PLC product procurement solutions to meet your needs.
The company is located in:
If you do not find the information you need to control the system components, please do not hesitate to contact me, I can find the source for you!
Moore common AFQ
How do I place an order?
We accept orders by phone, email and fax.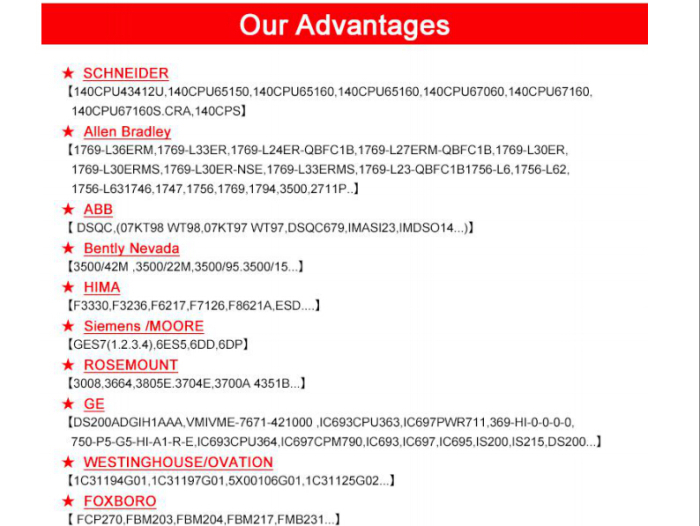 How do I get a quote?
Call me or send an email to me We will quote as soon as possible!
Can you sell worldwide shipping?
Yes, we do a lot of business internationally and can ship anywhere
When will my order ship?
We will include delivery time estimates when sending quotations, but most orders will ship within 12 hours.
How to get tracking number?
The tracking number is sent automatically when we ship it.
Are new and re-installations available?
Yes, in most cases, we can quote your new parts and manufacturers to remanufacture parts.
Warranty Policy?
Warranty period of one year from the date of shipment warranty!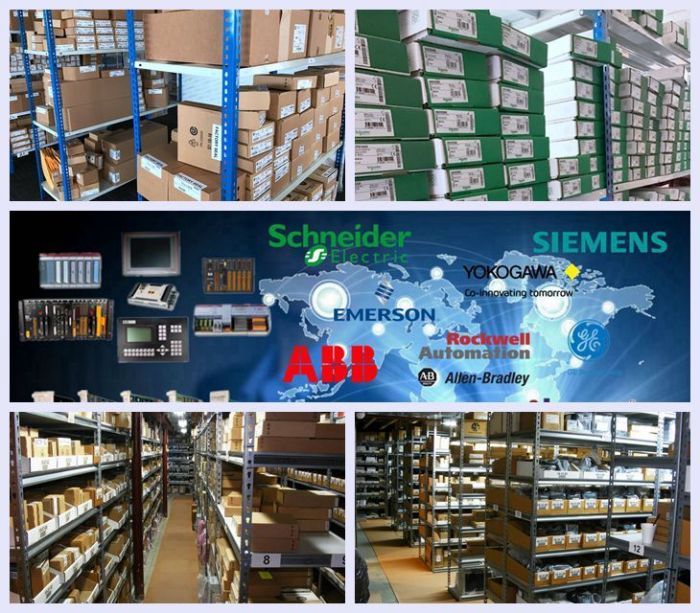 S-K50 S-K65
FXOS-14MR-001
FX2N-8EYR
A1Sx10
FX-232ADP
S-N65
S-N25
S-N35
A1SJ71AR21
FX2N-4DA
FX2N-4AD
A68-B
QJ71LP21S-25
F1-20MR
A2ASCPU
A1S62P
FX2N-4AD-PT
FX2N-16MR-001
FX2N-2AD
FX1S-20MT-001
FXON-8ER
FX1-16MR
FX2N-16EYT
FX2N-16EX-ES/UL
FX0N-16EYT
F1-12MR
FX2N-48MT
FX-EEPROM-8
Fx2N-2DA
FX1N-40MR-001
A1S64AD
A1S38B
A1SX41
A1SY42P
A2SHCPU
A2USHCPU-S1
FR-FH
A1SY10
A1SX42
A1SD75P2-S3
AX81
AY41
MY51
MY41
PM-120M
AX41
MY13
AY13E
A1S35B
EMU-D25 EMU-B3P5
A6TBXY36
A6TBXY36
FX0N-485ADP
FX2N-16EX
FX2N-32MR-001
FX2N-80MR-001
A1SH42
A1SJ71AT21B
A1SJ71UC24-R2
FX0N-8EX
A1SY42
A1SCPU
FX2N-64MR-001
AJ71E71S3
AD61
A68AD
AY80EP
A62DA
FX2N32MT-001
FX2N-32MT
FX2N-128MR-001
FX2N-64MR-001
FX2N-32CCL
A2NCPU
FX0N-16EX
FX2N-64MR
FX2-128MR
KCJ160A
KCJ-120B
R3-PS3-L
AJ71UC24
A38B
A1S61PN
FX2N-1RM-E-SET
A3ACPU
A616DAI
A616AD
P0902YU
P0400HH
P0500SR FBM07/12
AD194SR
P0700KN
P0500RY FBM4/39/44
P0902XA FBM41
P0902XB FBM42
P0972AJ
P0950CA
P0903NU+P0912CA
KO143AC-A+
CM400YK FBM09 FBM9
P0903ZE REV-0J
P0400YE FBM4
P0400DA FBM01
2500TF-FT
P0970NP G
P0904FH
P0903ZN
2500TF-AU0
2500TF-DU0
2500TF-MU0
2500TF-RU0
P0914YM
2500BF-F7EF00000
2500TF-ISPR
2500TF-ADO
P0800DC
AD194RG
AD194RY
AD194RU
AD200GB
AD194HH
P0961BS-OD
P0904BH B
FBM17 DM400YT
CP40B P0961BC
P0903ZE REV-0J REV-0G REV-0D
P0904HA
FBM14 CM400YQ
FBM12 CM400YN
FBM03 P0400YD
CM400YK FBM09
P0972PP
FBM06 P0400YG
AO2
P0400YE
FBM05 P0400YF
IPM6 CM902WX
P0903ZL
P0971WV
CM400YH FBM07
P0400DA FBM01
P0400VP CMP10
P0400DA FBM01
P0400YC FBM02
D241
2AX+A2+ECEPD00040
2AX+SSL
2AX+A4
FLOWSERVE BALL VALVE 1/2", 4466TBE4, .625IDx.84OD, SHIPSAMEDAY1560Z7
Deltron Ball Slide Positioning Stage 99-X, SHIPSAMEDAY N14
Swagelok Male Elbow 4mm Tube X 1/8" Npt SS-4M0-2-2RT, ZB36
FERRAZ SHAWMUT 68063 POWER DISTRIBUTION BLOCKS, 3-POLE, 600VAC, NNB, Rack D D25
Conxall Switchcraft 4282-9SG-300 MULTI-CON-X, 1540Q
Swagelok Male Run Tee 1" tube X 1-5/16-12, SS-1610-3TST, ZB24
VAT GATE VALVE KF-50, 01234-KA24-AVU1, A-1564408
Turck MICROFAST VBKBM 60/CS10404, U0897-68, VBKBM60/CS10404, Shipsameday 150B
Koganei Cylinder TDA6x40, ZCR2582, Shipsameday 1177A24
Newport process temperature controller, I-3253, i3253-DC, shipsameday 1625C
Koganei Filter Regulator FR30002A, Shipsameday 1177A13
Allen Bradley 1492-ACABLE050X, 1756-IF6I, TBNHA, plug Standard Shipsameday1180B
Spirax Sarco Steam Trap MST21, 1/2", CF16F, 1.4305, SHIPSAMEDAY1215A4
Ham let ball valve 1/2", H6800SSL1/2PSS, SHIPSAMEDAY 1215A9
Omron Controller Output CJ1W-OD231, Shipsameday 137G 31
Omron Controller Output CJ1W-ID231, Shipsameday 137G 32
MDC VACUUM (47) NW16 Centering Ring, SST, (9X) NW Blank Cap 136AE
MDC VACUUM NW16 CLAMP, KF-16, 701000, ALUMINUM SHIPSAMEDAY RACK E E55
Swagelok SS-1210-6, Union 3/4" Shipsameday X45
Bussmann Time Fuse NON-175, N0N-175, NON175, N0N175, Shipsameday1218N
ASF AIR PUMP 115V, 64654.07.0.374 SHIPSAMEDAY
Phoenix Contact Optosub-plus, 2799610, OPTOSUB-PLUS-K/OUT Shipsameday Free1179P
Phoenix Contact Optosub-plus, 2799584, OPTOSUB-PLUS-K/IN, Shipsameday Free1179N
Telemecanique 17532, LC1-D634B, LC1-D634, LX6-D40024, Shipsameday 1636Q
Parker CPI Ball Valve 1/2" PTFE, 8Z(A)-B8LJ-SSP, Shipsameday ZE32
Eaton Photo Electric Sensor, 4 In Perfect Prox, 13101AQD03, Shipsameday 1548H
Parker CPI Ball Valve 1/2", 8Z(A)-B8LJ-SSP, Shipsameday ZR3
Checkpoint AC-1208-BP2, 7463643 AC-1200-PR5 341794 258183 AC-1200-CPU 1619M
Z-world +9V, RS232, 101-0068, BL1300 CONTROLLER & 101-0066 ENCLOSURE, 1648A2
Parker Bulkhead Union Reducer 1" X 3/4", Shipsameday W/2-3days BB12
SWAGELOK Male Connector 1/4" T, SS-400-1-4, SS-400-1-6, SS-400-1-2 1549F1
Siemens input LOGO 24RC, 6xAC & 8xAC/DC & 8xAC, SHIPSAMEDAY RACK CC108
IFM E20160, FE-30-A-A-M6, Shipsameday W/2-3dayshipping 125J
Ferraz Shawmut Power 66113, SHIPSAMEDAY137G50
Varian Flexible Helium Hose 1/2" ID X 40"L, Samhwa Tech (elbow End) 157B
Varian Flexible Helium Hose 1/2" ID X 40"L, Samhwa Tech, SHIPSAMEDAY 157C
GE Fanuc Series Five Programmable IC655PER500C, Operator Inft Shipsameday 1215L
Tellabs 5310 T1 Interface Module T1DAJ021AA, 825310, ISS82, Shipsameday 1214A
ASCO RED-HAT EXPLOSION PROOF SOLENOID VALVE 8401, 260-304-1D, EF8401A101
Del-Tron Linear Slide , S1-1, S11, Shipsameday 132AT
SWAGELOK Ball Valve 1/2", SS-63TS8, SHIPSAMEDAY1635P7
SMC Compact Air Cylinder 5/8" Bore 1/4" Stroke, NCDJPB15-075D, 1631B3
Swagelok Male Nylon, 3/8"T X 1/2"NPT, NY-600-1-8, NY60018 Rack D D23
VERIFLO Diaphragm Valve 1/4" FVCR, 944LSFSFFM0T0HC, SHIPSAMEDAY 126A7
SWAGELOK Adapter KF to Swagelok, QF40 x 3/8" T, QF40X6SWG, SHIPSAMEDAY1635P8
SWAGELOK Adapter KF to Swagelok, QF40 x 1/4" T, QF40X4SWG, SHIPSAMEDAY1635P9
Intermational Mosfet P-ch 30V SI4435DYTRPBF, SI4435DYPBFCT-ND
Opteon Vision Camera 1:2.1 35mm 25.5, OPT26816, OPT 26816, SHIPSAMEDAY1616Y7
HP Smart Array 642 All, 291967-B21 & 313374-001
HP Smart Array 642 All, 291967-B21
Cutler-Hammer Circuit Breaker EHD3100
Globe Motor 409A709, 24V, SHIPSAMEDAY1616Y2
Automatic Valve - NOVI MI, 238D77C3-AA4, Shipsameday 141J
MILLIPORE FILTER Inline Gas, WG2FT1RR2, C6AM1941, ShipSameDayW31
SMC NVZM450-N01-34G, NVZM450N0134G, ShipSameDay 1651AF
Parker Veriflo Bellows Sealed Valve, 944AOPHPNCSFSMM, SHIPSAMEDAY 128B9
LOTOF28 ALLEN BRADLEY 800F-X01 800F-X10 800FM-LMP64 800FM-MP42, 800FM-F2 1621Z4
FOXBORO PS290AB 222F TRANSMITTER 870 REMOTE PREAMP SENSOR CONTROL1556FA
Ultra Motion 5-A.083-STZB17R-2.75-2-P-(2)1/2-20-2SW & MRS-.087-B 121Q
ITT Diaphragm Valve 90 PSI,1/4", .25-8-423-6-D-R2-36-A204, .25-A204
Maxim I/O Controller Interface IC 8Ch, DS2482S-800+, SHIPSAMEDAYY8
DUNIWAY Manual Right Angle Valve KF-25, SFAM-112-KF25
SEMIFLOW Mass Flow Controller 1/4" COMP, N2, 14 SLPM, SFC2010
GOULD SHAWMUT amptrap A120X20-1, Shipsameday 1327N
Sunx Photoelectric Switch FT-R80, 0810-2900-00, Shipsameday1629N3


---
---