Allen Bradley Rockwell 1794 OF4IXT Isolated Analog Output Module
Allen Bradley Rockwell 1794 OF4IXT Isolated Analog Output Module
140.0~200.0 USD
Min. Order:
1 Piece/Pieces
Place of Origin:
Fujian, China (Mainland)
Means of Transport:
Ocean, Air, Land
Brand Name:
Allen Bradley Rockwell
Product Description
Allen Bradley Rockwell 1794-OF4IXT Isolated Analog Output Module
Contact:Jessica
Skype:jessica01235483
Email:sales*mvme.cn (please change * to @)
TEL:86-592-5856209
Mobile Phone:86-18030235311(WhatsApp)
Q Q:2851195444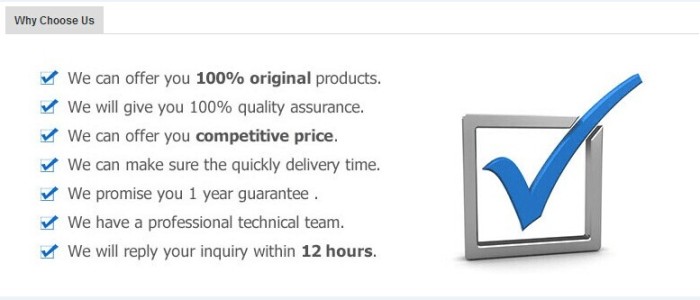 MOORE AUTOMATION LIMITED is a leading global supplier of control system components. We specialize in control systems and drives.
With many years of experience in the industrial sector, we consistently deliver the highest quality of spare parts.
We have tens of thousands of spare parts and spare parts warehouse . Products and services to serve for installing of users control system,
Distributed control systems, programmable controllers, panel controller and drive!
Shipping Term : TNT,DHL,FEDEX,ETC
Payment Term : T/T
Warranty: 12 month
Moore supply: New+original+factory sealed+high quality
Service: quotation will be sent in 9 hours
Skype + whatsapp + mobile = 24 hours /day Oneline.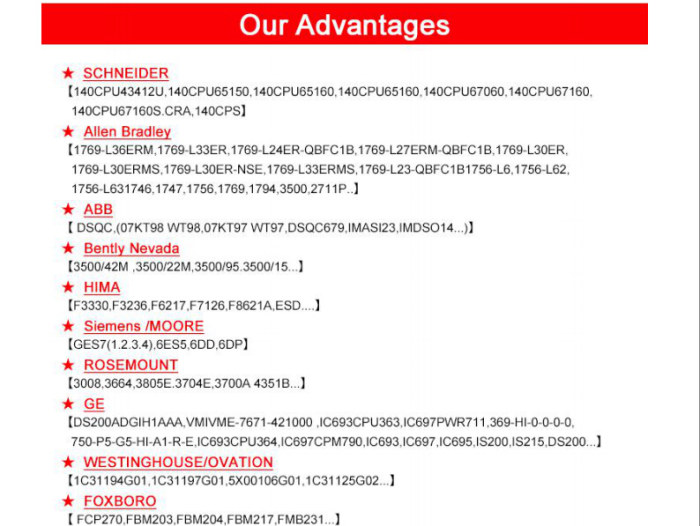 we supply:
plc : ab,abb,ge,schneider
dcs : abb,siemens moore,foxboro,westinghouse,yokogawa
esd : triconex,hima,bently,ics
excitation cards : abb,ge marke
if you have a large purchase, we can make a discount.
specifications:
new+original +one year warranty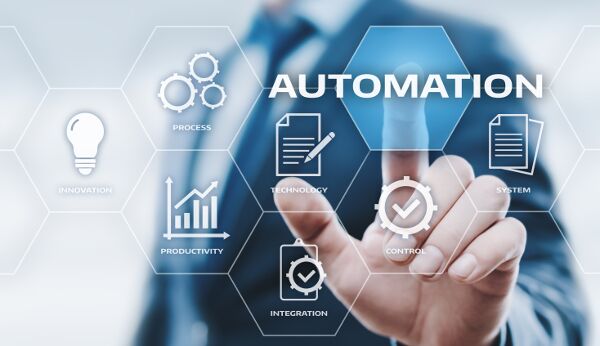 EBE223.1-6
EM4-101-AA2
PS22-4A24VDC2A
PS316-208-1
PS316-212-1
EBE250A
EM4-201-DX2
EASY400-POW
EASY721-DC-TC
ETR4-11-A
819-DC-RCX
618-DC-RE
PS4-151-MM1
PS416-BGT-410
SN4-050-BI7
PKZM0-16
PKZM0-4
INP-400
CNT-200
NET-440
POW-400
EBE-223.2-2 CPU-W
PS316.118-3
EBE201
EBE295.1-3
PS306-DC
PS416-BGT-420
PS416-MEM-442
EBE-252-1
PS3-DC
PS416-CPU-400
EASY205-ASI
618-AC-RC
LE4-108-XR1 LE4-206-AA2
AIO-400
PS416-OUT-400
PS416-INP-401
EBE211
619-AC-RC
NT11-SF121-ECV1-CH
NT631C-ST151-EV2S 3#
NT631C-ST151-EV2
NT631C-ST152-EV2 2#
NS8-TV10B-V1
C500-GPC03 3G2C5-GPC03
nt631c-st153-ev3
NT631C-ST153-EV3
H5S-FB
NT631C-ST141-EV2
NT631C-ST151-EV2S
NT20S-ST121-ECV3
NT631C-ST152-EV2
NT620C-ST141
NT631C-ST151B-EV2S
NT600M-MR641
NT631C-ST151B-EV2
NT631C-ST151B-EV2
NT631C-ST151B-EV2
621-0007R
621-0010R
621-1100
XP502
51304427-100 MU-TDOR22
621-1160R
621-1160R
621-0007R
51304425-100 MU-TDPR02
51304441-125 MU-TDID12
51303997-100
T775E1056
51303982-400
51304685-200+51401598-200
51304483-100
51304518-200
XDL505
XD50-FCL
XD50-FC
51303979-400
51304518-150
51304685-150+51401598-150
51304685-100+51401598-100
XCL5010
51304493-250
51304493-150
51304419-100
51304501-100
51190916-104
51304493-100
51303979-550
51109693-100B
51201397-004
51401469-100
51304419-150
51201420-004
51201420003
RM7895 C 1012
51201420-005
51201420-002
51304487-100
51109806-002
51195479-200
51195153-005
51201397-002
51201421-100
51308111-002
W7704A1004
W7704D1016
51401216-100
XL50A-MMI-EP+XD50B-F
N2024-2POS
XFL523B
XFL524B
XSL514
T7412A1018
TSXAST200
TSXMPT10
TSXAEM411
TSXDST3292
TSXP4730
TSXSCM2111
TSXADT201
TSXDET1612
TSXDSZ32R5
TSXDSZ32R5
ADU206
TSXAEM412
TSXDST417
TSXDST1635
TSX4740
TSXMPT10R
TSXDST1604
TSXDET1604
TSXDET1604
TSXDET824
TSXAEZ414
TSXMFP032P
140CPU43412A
6SE9221-0DC40
6FX1133-0BA01
6FC5548.0AB25.0AA0
1FK7063-5AF71-1GA0
6se7022-6tp50-z
6FC5510-0BA00-0AA1
6SE7022-6TP50-Z
SKD62
6SC6112-2VA00
6SE7014-0TP50-Z
6SE1200-1EA70-1
6FC5510-0BA11-0AA1
6SN1146-1AB00-0BA1
6SE7090-0XP87-3CR0
6SE7014-0TP50-Z
6SE7014-0TP50-Z
6SC6130-0FE00 /A30
6SC 6110-6AA00
6SN1123-1AB00-0BA1 + 6SN1118-0NK00-0AA2
6SN1130-1AA11-0GA0
6SN1130-1AA11-0BA0
6SN1123-1AA00-0BA1
6SL3055-0AA00-5BA2
6FC5211-0BA01-0AA1
6SN1123-1AA00-0AA1
6SN1123-1AA00-0BA1
6SN1123-1AA00-0BA1+6SN1118-0AA11-0AA1
6SN1123-1AA00-0AA1+6SN1118-0AA11-0AA1
JBK3
6SE7016-1TA84-1HF3
1FT5074-0AC71-2-Z
6FX1130-0BB01
6FX1121-2BB02+6fx1134-2bc01
6SC6100-0BA00
6SC6120-0FE00
6FC5511-0CA00-0AA0
6FX1118-4AB01
6FC3984-3RA
6FX1121-4BA01
6FX1128-1BA00 +6FX1821
6FX1126-7BA01 + 6FX1134-2BC01
6SC6100-0NA11+6SC6100-0SA11
570-281-9002.03+6FX1852-1BX03-4B+6FX1852-1BX02
6FX1120-7BB01
6FX1120-7BA01+6FX1126-6BB00+6FX1850-0BX02
6FX1120-5BA01
6FX1130-6BA00
6FX1192-4AB00
6FC5503-0AC00-0AA0
6SN1111-0AB00-0AA0
6SN1118-0NJ01-0AA1
6FX1112-0AA02
C98043-A1319-L4
C98043-A1352-L2
6FX1121-4BA03
6FX1121-2BA03 +6FX1822-7BX00-3H
6FX1154-8BB01
A5E00158598
1FK6083-6AF71-1AA0
6SE7090-0XX84-0FB0/A5E00098837
6SN1123-1AA00-0DA1+6SN1118-0AA11-0AA1
6FC5510-0BA00-0AA1+6FC5511-0CA00-0AA0
KUNKLE 20-E01-MG 15PSI 1 IN 14GPM NPT BRONZE THREADED RELIEF VALVE D558715
FULFLO VJF5R 1 IN STEEL FLANGED RELIEF VALVE D556322
GRIFFCO BPV050P BACK PRESSURE VALVE PVC 0-150PSI 50PSI 1/2 IN NPT D579308
MERCER 91-17D31V07I2 FLANGED RELIEF VALVE 1IN 60PSI D596608
CROSBY JR-U-CA RELIEF VALVE 18GPM 80PSI 1/2 X 1IN NPT D597652
CROSBY VALVE & GAGE JRS-A THREADED RELIEF VALVE 80PSI 1/2 X 1IN NPT D595642
CROSBY VALVE & GAGE JRSA THREADED RELIEF VALVE 150PSI 3/4 X 1IN NPT D596560
CONBRACO 11-701-21 100PSI 2 IN NPT 2414LB/HR BRONZE RELIEF VALVE D531147
FARRIS 1850 250PSI 1/2 IN NPT STEEL THREADED RELIEF VALVE D563806
FOSTER VI080BDO 10-28PSI 2 IN BRONZE THREADED RELIEF VALVE D563562
VIKING C-1 PRESSURE OPERATED RELIEF VALVE 1/2 IN NPT BRASS D569284
FISHER 298A-1 0.70 SPRING LOADED RELIEF VALVE 3-13PSI 1/4IN NPT D599436
LONERGAN L14B-C40-LS STEEL RELIEF VALVE 700PSI 1/2IN NPT D599794
FARRIS 1875-0L 30PSI 1/2 IN NPT RELIEF VALVE D567138
WATTS 1XL M6STD.Z21.22 150PSI 1/2IN NPT PRESSURE RELIEF VALVE D587869
CYRUS 803 STEEL RELIEF VALVE 246CFM 100PSI 1/2IN NPT D594755
CIRCLE SEAL P75-344 2440PSI 1/2 IN NPT BRASS RELIEF VALVE D561507
WATTS M3 174A 75PSI 3/4IN NPT BRONZE PRESSURE SAFETY RELIEF VALVE D594792
REGO PRV9434T CRYO-FLOW 375PSI 1/2 IN NPT BRASS RELIEF VALVE D567635
BELL & GOSSETT 4100 4100000 BTU/HR 30PSI 2 IN NPT IRON RELIEF VALVE D522943
WATTS M3 174A 150PSI 3/4 IN NPT BRASS THREADED RELIEF VALVE D567421
WL HAMILTON 1/2IN NPT 40PSI BRONZE THREADED RELIEF VALVE D552327
CASH ACME NCLX-5 TEMPERATURE PRESSURE 3/4 IN NPT RELIEF VALVE D562073
WATTS 100XL 150PSI 3/4 IN NPT BRASS RELIEF VALVE D562069
MANSFIELD 451 26662-005 PRESSURE RELIEF VALVE 75PSI 1/2 IN NPT BRASS D577178
LIMITORQUE SMB SIZE 4T 14.4HP 1900RPM L0218AR4 250V-DC VALVE ACTUATOR D555245
LIMITORQUE L120-190 4HP 575V-AC VALVE ACTUATOR D568990
LIMITORQUE SMB SIZE 2 8HP 3510RPM X0215 550V-AC VALVE ACTUATOR D555244
DODGE 132429 6 SLV RTL LINER ASSEMBLY BEARING D515854
DODGE 132594 SLEEVOIL 10XC LINER BEARING 10IN D497462
FLOWSERVE L120-190 LIMITORQUE DS204 250V-DC VALVE ACTUATOR D555272
LIMITORQUE SMA SIZE 3 4HP 250V-DC VALVE ACTUATOR D567728
ROSEMOUNT 3D39441G09 WORLD CLASS 3000 9FT ANALYZER HEATER PROBE D577132
LIMITORQUE SMA 550V-AC SIZE 1 VALVE ACTUATOR D568830
BECK 11-158-107432-01-01 ELECTRONIC CONTROL DRIVE ACTUATOR 120V 1PH D584153
METSO P4610370 KAJAANI MCA MICROWAVE CONSISTENCY TRANSMITTER DISPLAY D594724
EL-O-MATIC PS4000.U0A14A.00K0 PNEUMATIC VALVE ACTUATOR D597213
AUMA SA 10.1-FA10 GZ 25.1 GS250 ELECTRIC VALVE ACTUATOR D560956
AUMA SA07.5 GS200.3/GZ200.3 AD63-2/80 864:1 ELECTRIC ACTUATOR D562557
SIEMENS 6DR52100EN000AA0 VALVE POSITIONER D553034
FLOWSERVE L120-40 LIMITORQUE 1HP VALVE ACTUATOR D555066
DODGE 132954 SLEEVOIL BEARING LINER ASSEMBLY 4-15/16IN D521952
ROTORK SM-5120-N-1-48/300-90 VALVE DAMPER ROTARY ACTUATOR D538452
SIEMENS 6DR5215-0EN00-0AA0 SIPART PS2 ELECTRO-PNEUMATIC POSITIONER D554224
LIMITORQUE L120-40 1.8HP 1900RPM MSG0056Y 250V-DC VALVE ACTUATOR D555275
SIEMENS P1051AD 5-7/8IN ID PUMP STEEL BUSHING D511529
SIEMENS 6DR5215-0EN00-0AA0 SIPART PS2 ELECTRO-PNEUMATIC POSITIONER D554223
ROOTS DRESSER RK10AVBOO 10IN ROTARY LOBE BLOWER REPAIR KIT D583917
FLOWSERVE CSCPX1750EAXVS STAINLESS PUMP SEAL CARTRIDGE 1.75IN D561308
ROTORK 40AFA25A 575V-AC 3PH 5.9HP 500LB-FT ELECTRIC VALVE ACTUATOR D565521
EIM MDF3-4 M2CP 2000 ROTORY VALVE ACTUATOR CONTROLLER ASSEMBLY D566173
ROSEMOUNT 4847B61G04 OXYMITTER 4000 ANSI 6FT CELL REPLACEMENT KIT D592368
VALVCON LVWX2500KS2N115AC JAMESBURY VALVE ACTUATOR 115V-AC D554431
JOHN CRANE 1-82982 T1648LP TYPE 1648LP 3-1/4IN STAINLESS PUMP SEAL D528859
MOYNO SS A2D5020 15-1/4IN STAINLESS PUMP ROTOR D595422
EL-O-MATIC EL-2500 ELECTRIC ROTARY VALVE ACTUATOR D594705
SIEMENS 6DR5110-0NN01-0AA3 SIPART PS2 SMART VALVE POSITIONER D583320
SIEMENS 6DR5110-0NN01-0AA3 SIPART PS2 SMART VALVE POSITIONER D583495
CONTROLS ROTORK SM-1730-D-1-12/1200-90 ROTARY ACTUATOR 120V D569894
EL-O-MATIC PD4000.U0A00A.00K0 PNEUMATIC VALVE ACTUATOR 116PSI D594763
CONTROLS ROTORK SM-1730-D-1-12/1200-90 ROTARY ACTUATOR 120V D569896
SIEMENS 6DR5210-0EN01-0AA3 SIPART PS2 SMART VALVE POSITIONER D583322
ROTORK A14 0.6HP 575V-AC 120LB-FT 3PH VALVE ACTUATOR D565866
EL-O-MATIC PS2500.U0A14A.00K0 PNEUMATIC VALVE ACTUATOR 116PSI D594769
GOULDS RC04051A 1012 13IN TAPER BORE IRON STUFFING BOX COVER D579941
METSO NP704/B1S1A NELES PNEUMATIC VALVE POSITIONER D553381
EIM Q7N2-6 M2CP 2000 ROTORY VALVE ACTUATOR CONTROLLER ASSEMBLY D566468
PUMP IMPELLER 25IN OD 3IN THREADED ID 4 VANE D566179
ABB V18345-2020420001 TZIDC ELECTRO PNEUMATIC VALVE POSITIONER D597872
SIEMENS 6DR5210-0EN01-0AA3 SIPART PS2 SMART VALVE POSITIONER D583326
WEIR 38777 31IN OD 14-1/8IN EYE SLURRY PUMP IMPELLER 4-VANE D563691
FLOWSERVE 120CHTA59AX5 R-655-3 STEEL BALANCE SLEEVE D568833
DODGE 132225 SLEEVOIL SIZE 8 RT THRUST PLATE KIT D559923

---
---