BENTLY NEVADA 330180-91-00 *NEW IN BOX*
BENTLY NEVADA 330180-91-00 *NEW IN BOX*
33.0~66.0 USD
Min. Order:
1 Piece/Pieces
Place of Origin:
Fujian, China (Mainland)
Means of Transport:
Ocean, Air, Land
Brand Name:
Bently nevada
Product Description
BENTLY NEVADA 3300 XL PROXIMITOR 330180-91-00 NEW
Quantity available: 1
Warranty: In excellent condition 12 months.
Lead time: 3-7 working days.
Terms of payment: T/T.
NEW AND ORIGINAL FACTORY INDIVIDUAL INNER BOX AS PER PRODUCT SIZE
Contact:Jessica
Skype:jessica01235483
Email:sales*mvme.cn (please change * to @)
TEL:86-592-5856209
Mobile Phone:86-18030235311(WhatsApp)
Wechat:hu18030235311
For the new era in China, Siemens has its own understanding and footnotes:
· The new era is about - opening up new areas of growth and promoting the development of the next generation of technology;
· The new era is about "Internet +" - the realization of digitalization of the industry and the emergence of a connected world.
· The new era is about "Made in China 2025" - the digital transformation of China's manufacturing industry from "big" to "strong";
· The new era is about the "One Belt and One Road" - promoting global cooperation and seeking a higher level of openness, interconnection and common prosperity.
Shipping Term : TNT,DHL,FEDEX,ETC
Payment Term : T/T
Warranty: 12 month
Moore supply: New+original+factory sealed+high quality
Service: quotation will be sent in 9 hours
Skype + whatsapp + mobile = 24 hours /day Oneline.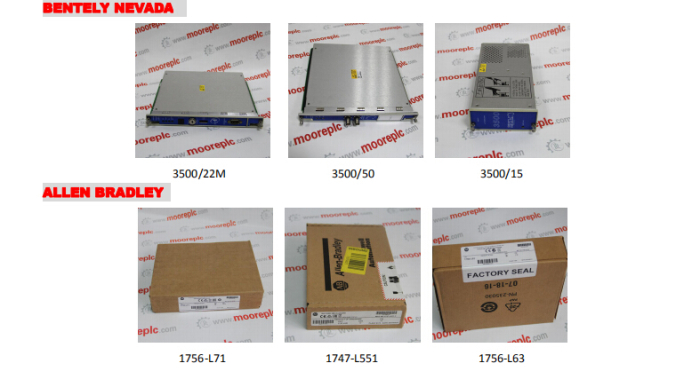 DCS Distributed Control System:
FOXBORO: I / A Series System: FBM (Field Input / Output Module) Sequence Control, Ladder Logic Control, Incident Recall Processing, D / A Conversion, I / O Signal Processing, Data Communication and Processing.
TRICONEX: Redundant Fault-Tolerant Control System, the most modern fault-tolerant controller based on Triple Modular Redundancy (TMR) architecture.
Westinghouse (Westinghouse): system, WDPF system spare parts.
Siemens: MOORE system spare parts.
Honeywell: TDC Series, QCS Series, S9000 Series Spare Parts.
ABB: ADVANT OCS, MOD30, MO300, Bailey INFI90, Masterview 850, AC460, S100, S800 system spare parts.
MOTOROLA (MOTOROLA): MVME147 / 162/166/167/172/177/187 Spare Parts.
XYCOM: VME series bus board, programmable human-machine interface.
PLC programmable controller:
Allen-Bradley (Rockwell): 1756/1771/1785 series, Reliance Ryan.
Schneider: Modicon Quantum 140 processor, I / O modules, power modules, and more.
Siemens: S5 / S7 Series 200, 300, 400; 6AV / 6GK Series spare parts.
Servo control system:
FANUC (Fanuc): servo amplifier A06B, drive A06B, input and output modules A02B / A03B, PCB A16B / A20B.
Siemens: 6SN / 6FC / 6FX series, offering sales of CNC systems (810, 802D SL, 810D, 840D)
Yaskawa (Yasukawa): servo controller, servo motor, servo drive.
ABB Robots, FANUC Robots, YASKAWA Robots, KUKA Robots, Mitsubishi Robots, OTC Robots, Panasonic Robots, MOTOMA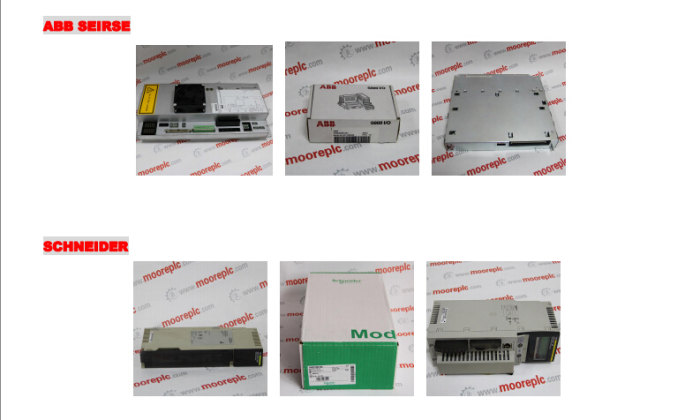 FXM5 10A-20A
DMV2342-25A
7004-0086 ISSUE
FXMP25
M825GB14
M155GB14
MD-430 ISS.5
7004-0357
MDA1 7004-0043
MDA 2B /MDA2B
9500-8504A
CHEETAH-11
LYNX 08
LYNX 16
9500-8501A
MDA75
3135-7102
GM6-DMMA
K7M-DR60S
G6Q-TR4A
GM6-B04M
GM6-PAFA
G6I-D24A
K7M-DR60U
G7F-ADHB
K3S-302S K3P-07AS K3X-210S K3Y-201S K3B-4MS
K7M-DR20S
DCF503A0050-0000000 /dcf503a0050
SDCS-PIN-22 + SDCS-PIR-21
57310001-KT /DSTC 176
DSTDW113 / 57160001-ZL / DSTD-W113
DSTA170 /57120001-FC
DSTD108 /57160001-ABD
DCS502-0140-41-1101010
DCS501-0700-41-1102010
DCS502-0075-41-1100000
3ASD573001A1
DCS501-0700-41-1102010
DCS502-0140-41-1101010
DCS502-0025-41-1101010
SDCS-FEX-1
SDCS-POW-1C
5366368-B
GM5251
GF5101
GM5001/ GM5201
AMM31T-S2
ADV551-P00/ATD5S-00
AAI141-S00 +ATA4S-00
F3YD14-5A
F3XD32-3F
AAI543 -S00 S1
ATA4D-00 S2
AAI143 -S00 +ATA4S-00
AAI143 -S00
AIP434-S1
CP133E-16-S3
AIP444-S1
ADV151-P00/ATB5S-00
AIP434-S1
K9403JA-02
AIP413-S1
LOADPOINT BEARINGS BL15/400 SPINDLE MOTOR DRIVER & DO3423/3MOTOR
INDRAMAT KDV2.2-100-220/300-220 AC
DeltaDrive DAC 030/FB102
Infranor SMTBD1/1a 220/08W-T-BS SMTBM20A
LOADPOINT BL15/400
RockLogic 3300A-8 ,P/N 2909-001
RockLogic 3300A-8 P/N 2909-001 Rev B
CINCINNATI MILACRON1-604-0222
SIEB & MEYER ColibriSD2S 0362141EC1007
Aerotech ART-315-G54 Precision Rotary Stage + BMS60_UFA
Parvex DSD13030
SIEB & MEYER SD2S 0362141EC
DeltaDrive BAG Bewegungstechnik AG HAC195M09/A4/TB/SE EB-1000
Aerotech ART315-G54Precision Rotary Stage + BMS60/ES13735-13
Schneider LXM62DU60D21000 SERVO DRIVE 2KW 12AMP 250-700VDC LEXIUM 5417
Rexroth Indramat HDS04.2-W200N-HS12-01-FW AC
Daiichi Components SE05A-10W-01 SpindleMotor Driver, MFG No. 08324001
Daiichi Components SE05A-10W-01 SpindleMotor Driver, MFG No. 04702008
Schneider LXM62DU60D21000 SERVO DRIVE 2KW 12AMP 250-700VDC LEXIUM 4364
Schneider LXM62DU60D21000 SERVO DRIVE 2KW 12AMP 250-700VDC LEXIUM 4366
Aerotech ES14693-102+ MTUC96 + MTUC288
Denso RC3-V6A Robot Controller Type VS-6354C & Operation
SIEB & MEYER Colibri021807102XV05
Lenze EMB9343-E
Danfoss VLT Type 3516 HV-AC 175H2911 Variable Speed Drive 3x0-380/400
DELTA TAU UMAC TURBOPMAC2 CPU 4-AXIS 2-AXIS
Keyence SL-V56H
ATLAS COPCO 9032010097-0001 FBU 12100
ETEL DSA2 DSA2P1643A
Aerotech MTUC96 + MTUC288
Aerotech MTUC96 + MTUC288
Pacific Scientific SC904-021-01
Kollmorgen AKM51H-BKC2EJ01 3PH PM
NIKKI DENSO NDS-501C
Kollmorgen S20660-VTS Brushless AC Servo Drive + ApplimotionInc C62-0549
Panasonic Matsushita MFA250LE4NSJ
Aerotech MTUC96 Magnet Track + MTUC288
BAG CH-5422 Oberehendingen DeltaDrive SAC90L30/3/TB/EY-2048
NIKKI DENSO NDS-501C DIGITAL S-PACK SERVO CONTROL xxxN430
ETEL DSA1 DSA1P6242B
Delta Tau PMAC-PC (DSP) 602191-103 & PMAC PV CPU 602705-107
NIKKI DENSO NDS-501C DIGITAL S-PACK SERVO CONTROL xxxN450
Lucas Egloff AG TFM 064-06-09-F DC
NIKKI DENSO NCR-CDA1A2A-801 SM201
KOLLMORGEN S71201-SENA-NA-0X9
Delta Tau PMAC-PC (DSP) 602191-103 & PMAC PV CPU 602705-103
SONY SRX4-CPU 1-637-878-12
NIKKI DENSO NDS-501C
YASKAWA ELECTRIC CACR-IR050505F
Parker Compumotor DR-1015B-115 Controller + YOKOGAWA DR1B-015G DD
CINCINNATI MILACRONPSR4/5-250-7500
AEROTECH BAI/BAS20 ,P/N BA20-320-S BA
Allen Bradley 1398-DDM-005X-DN , P/N 9101-1810
PARKER COMPUMOTOR DR-5015C-115-D0 Dynaserv Servo Drive Yokogawa SR1015C62
NIKKI DENSO NDS-501C DIGITAL S-PACK
Kollmorgen ServoStar310 S31061-SE-SB
YASKAWA CP-9200SH/SVA JACP-921900 87921-90005-S0203
Fuji RYE3.7D Server Driver 3.7KW 200-230V
YASKAWA ELECTRIC CACR-IR44SFBY8
Anorad 10/00 Axis Drive Controller Job500376
AEROTECH BA20 , P/N BA20-320 / ES13745-6BA
Omron SysDrive 3G3MX2-A2022
Loadpoint Bearings D03604
AEROTECH BA20 , P/NBA20-320-S BA
AEROTECH BA20 , P/NBA20-40-S BA
Colibri SHA-K021519
Allen Bradley 4100 Bulletin 4100-202-R 2-Axis
Cincinnati Milacron BDS4-210-23-414W32
YASKAWA ELECTRIC CACR-IR44SFBY8
IAI RCP2-RTCL-I-28P-30-360-P1-R01-TA Actuator Rotary & PCON-C-29PI-NP-3-0
Panasonic MQDB045D1A34
ALLEN BRADLEY OSS-500 9101-0316
Aerotech BM200E / ES13745-3 E13745-5
ABB 8E4215917920 3-PH AC PM SynchronousServo Motor & RotaryTRD-NA1024NW-2211
Parker Compumotor APEX6151 APEX
CINCINNATI MILACRON 3-542-1276A DV5 5-AXIS
Sanyo Denki PQM0A150EXXXST0 Type M 3PH 0-326V
Kollmorgen ServeoStar 346 S3060 1-SE-SB
DeltaDrive DAC 05/FB100
Schneider SH30702P01F2000
BAG Bewegungstechnik DeltaDrive SAC90L30/3/TB/CS/EY-2048/K
Berger Lahr MI 2498.10
KUKA 1FK7022-5AK71-1YH3-Z S24
Parker Digiplan DS420
Guzik Air Bearing Technology S312 MP Spindle Motor Air 10000rpm
TRUST AUTOMATION TA331
Newport UZM80CC
Guzik Air Bearing Technology S312 MP
Parvex DSD16002
Yokogawa SD1004C04-2SN Dynaserv Servo Drive + DM1C-004F
P&B Engineering MPR3E5
Anorad SMA8515LP-11, P/N 69350-LP
BR Automation 8MSA4X.R0-B5
Yamaha Motor KB8-M5810-030
Kollmorgen S20660-VTS
Yamaha Motor KB8-M5810-030

---
---