BS1-N018 | NISSEI | Memory Board Module
BS1-N018 | NISSEI | Memory Board Module
1.0 USD
Min. Order:
1 Piece/Pieces
Place of Origin:
Fujian, China (Mainland)
Production Capacity:
55555
Packing:
New carton packaging
Product Description
BS1-N018 | NISSEI | Memory Board Module
Shipping Date:
· In-stock products: Same day shipping Mon. through Fri. by 6:00 pm EST
· Order products: Shipping date is specified in the Product Details page
Carriers:
· US Orders: FedEx, UPS,
· International Orders: FedEx, UPS, TNT, Express Mail International
* Blind Shipping is available for approved customer accounts
* Orders can be picked up at our Own Location
✈ Contact: Jessica
✈ Email: sales*mvme.cn (please change * to @)
✈ Skype: jessica01235483
✈ Mobile Phone: 86-18030235311(WhatsApp)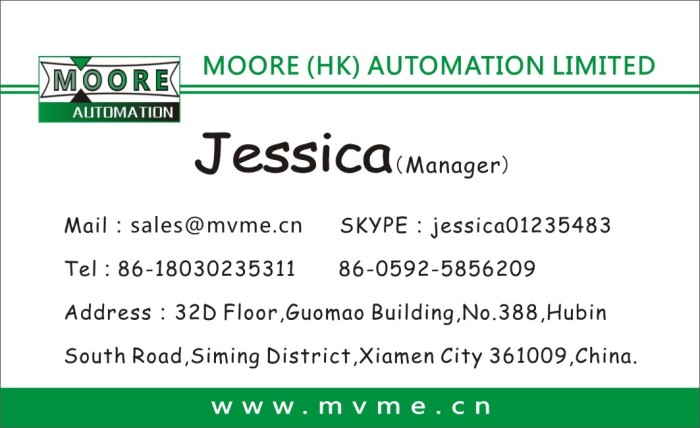 Are you looking for cost savings and more effective optimization of spare parts purchasing process?
Through e-commerce promotion, we can optimize your purchasing process.
To reduce your direct and indirect costs. Provide a series of links to any spare parts you need. In addition, we have established links with more overseas suppliers.
Our e-commerce consultant will be happy to discuss with you your demand for spare parts.
+ Usability, +Responsibility: Our first task is your satisfaction!
Our supply chain platform ensures optimal delivery of industrial parts cycle.
Warranty Service:
- 1 year
Condition:
- Brand New, working in perfect condition
Package includes:
- New And Original *1 piece
Pleast note: The title picture is just for reference. If you want to check the picture of real item, please contact us.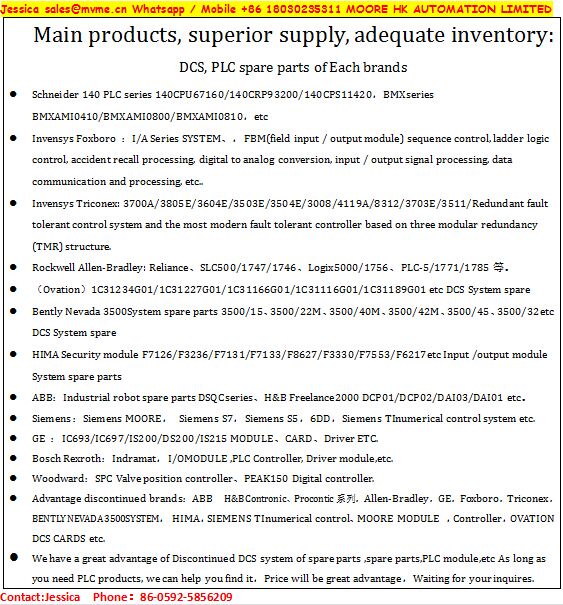 ProSoft Technology MVI56-PDPMV1
GE Fanuc A02B-0281-C071
Allen Bradley 1746-INT4 /B
Siemens 6SL3120-1TE26-0AA3
Allen Bradley 1747-L552 /C
Allen Bradley 2711P-B15C22D9P /A
Allen Bradley 2711P-B7C22A9P /A
Allen Bradley 20BD065A0AYNADD0 /B
Allen Bradley 1769-L33ERMS /A
Allen Bradley 1756-HYD02 /A
GE Fanuc A06B-6127-H207 /E
Allen Bradley 2711-K5A5 /F
Allen Bradley MPL-B4530F-MJ74AA /A
Allen Bradley 2098-DSD-HV220-SE /B
Allen Bradley 1394C-SJT05-T-RL /C
Allen Bradley 1494V-DS400 /A
Allen Bradley 1398-DDM-030X /A
Allen Bradley 1797-ACNR15 /C
Allen Bradley 2711-B6C5L1 /B
Allen Bradley 2711-B6C5L1 /C
Allen Bradley 1756-L63
Allen Bradley 2711P-T15C22D9P
Allen Bradley 2711P-T15C22D9P /A
Allen Bradley 1326AB-B430G-21 /C
| | |
| --- | --- |
| GE | DS200TBQCG1ABB |
| GE | DS200SLCCG3AFG |
| GE | DS200SLCCG3A |
| GE | DS200CTBAG1ADD |
| GE | DS200TCPSG1APE |
| GE | DS200TCQAG1BHF |
| GE | DS200TBQAG1ABB |
| GE | DS200TCPDG1B |
| GE | DS200TCQCG1BJF |
| GE | DS200TCQCG1B |
| GE | IC695PSD040F |
| GE | IC695ETM001-CD |
| GE | IC694MDL930A |
| GE | IC695ALG600-AB |
| GE | IC694MDL734A |
| GE | IC695CPU310-EM |
| GE | IC695CPU320 |
| GE | DS200TCQAG1BPR1 |
| GE | DS200TCQAG1A |
| GE | IC697CMM742 |
Our company has many products in stock,which are immediately available.The warranty is 1 years which apply to all the new products.If you purchase one more parts from us,we can make a discount to you.
If you have any question pls do not hesitate to contact us.We can supply all kind of the automaiton parts,if you want to purchase parts pls send the parts model to my mail, I will prompt reply you.
Hope anyone enquire from us.
---
---