Bently Nevada 3300 XL 8mm Proximity Probes 330103-00-25-10-02-00
Bently Nevada 3300 XL 8mm Proximity Probes 330103-00-25-10-02-00
1.0 USD
Min. Order:
1 Piece/Pieces
Place of Origin:
Fujian, China (Mainland)
Production Capacity:
1234
Packing:
New carton packaging
Brand Name:
Bently nevada
Product Description
Bently Nevada 3300 XL 8mm Proximity Probes 330103-00-25-10-02-00
Type of payment: T/T 100% Payment in Advance
Lead time: 2-3 working days
Minimum order quantity: 1 piece
Quantity available: 40
Courier partners: DHL, UPS, TNT, FedEx and EMS
Warranty: one year
Technical specification, manuals and data sheets: Available on request
To get our best price & fast quotation, pls send us e-mail now.
✈ Contact: Jessica
✈ Email: sales*mvme.cn (please change * to @)
✈ Skype: jessica01235483
✈ Mobile Phone: 86-18030235311(WhatsApp)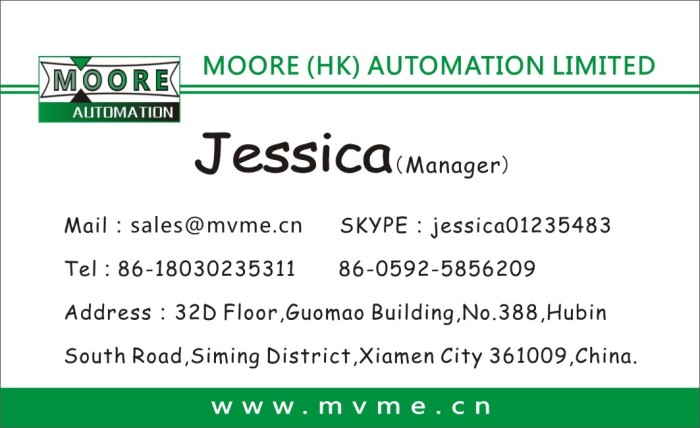 Our process
Finding a reliable and experienced supplier of automated parts can be a daunting task.
MOORE cooperates with more than 90,000 customers in 165 countries and regions around the world. With the help of the industry's leading service, speed and knowledge reserves, it's easy to buy automated spare parts.
Our sales team is on standby to help you with any form of consultation. You can ask questions by e-mail, telephone or using our inquiry form on the product page and the Contact Us page.
Generate quotation
We will reply to you within an average of 30 minutes and offer competitive quotations. Then, we will contact you to ensure that you are satisfied with the quotation and delivery date.
Place an order
If you feel satisfied, you can place the order immediately. After placing the order, you can enjoy new parts and get them into your hands.
One of our most advanced warehouse facilities will process and package your spare parts to ensure that you receive them in good condition.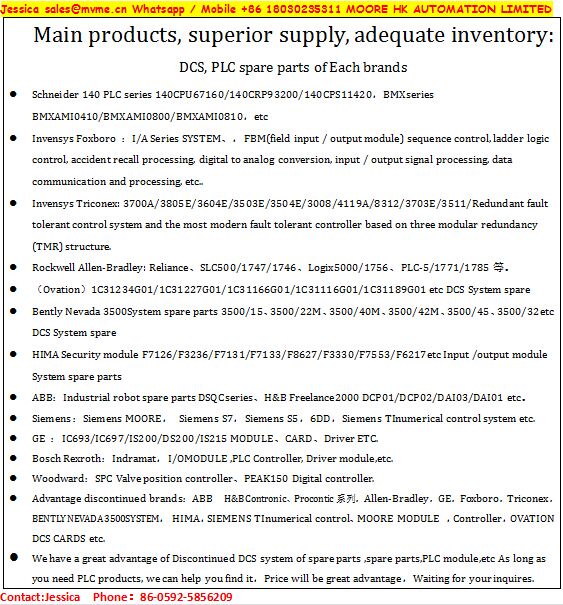 ABB DSXW 110 DSXW110 57120001
ABB 2CDS 281001R0034 S201P-C3
ABB ACS600 ACS60101006 S00C1200901
ABB 265DC FLSFSSKA6K1
ABB 265GS
ABB 265DS FCKC6BH
ABB 266MST LTKA6BH
ABB 265DS FCKC4B1
ABB 1SFL471001R8011 A145-30-11
ABB SAFT 121 PAC SAFT121PAC 57411503
ABB Stromberg 9217OX 5761149-9S
ABB Bailey infi90 NTU-7U0
ABB Bailey infi90 Bus Monitor Module 6637830E1
ABB Bailey infi90 IEPAS02
ABB Bailey infi90 AC Transfer Module 6637827B1
ABB Bailey infi90 IEPAF01
ABB Bailey infi90 IMQRS02
ABB Bailey infi90 IMCPM02
ABB Bailey infi90 INNIS01
ABB Bailey infi90
ABB Bailey infi90 NTCL01 6636997L1
ABB Bailey NTCL01 6636997D1
ABB Bailey infi90 IMFBS01
ABB Bailey infi90 IMCIS02
ABB ACS800-01-0011-7+K454 incl. CDP312R
| | |
| --- | --- |
| BENTLY NEVADA | 330105-02-12-05-02-00 |
| BENTLY NEVADA | 330703-000-040-10-11-00 |
| BENTLY NEVADA | 330705-02-18-10-02-00 |
| BENTLY NEVADA | 330180-90-05 |
| BENTLY NEVADA | 330180-51-00 |
| BENTLY NEVADA | 134652-01 |
| BENTLY NEVADA | 3500/60 |
| BENTLY NEVADA | 136188-01 |
| BENTLY NEVADA | 128240-01 |
| BENTLY NEVADA | 3500/15 AC |
| BENTLY NEVADA | 133442-01 |
| BENTLY NEVADA | 126632-01 |
| BENTLY NEVADA | 3500/94 |
| BENTLY NEVADA | 125720-01 |
| BENTLY NEVADA | 330180-50-05 |
| BENTLY NEVADA | 330180-50-00 |
| BENTLY NEVADA | 330130-080-00-00 |
| BENTLY NEVADA | 3500/90 |
| BENTLY NEVADA | 3500/15 |
Our company has many products in stock,which are immediately available.The warranty is 1 years which apply to all the new products.If you purchase one more parts from us,we can make a discount to you.
If you have any question pls do not hesitate to contact us.We can supply all kind of the automaiton parts,if you want to purchase parts pls send the parts model to my mail, I will prompt reply you.
Hope anyone enquire from us.
---
---