CH-308802 3BHE022455R1101 | ABB | Analog Output Module
CH-308802 3BHE022455R1101 | ABB | Analog Output Module
666.0~999.0 USD
Min. Order:
10 Piece/Pieces
Place of Origin:
Fujian, China (Mainland)
Means of Transport:
Ocean, Air, Land
Packing:
New carton packaging
Delivery Date:
3 days after payment
Country of origin:
SWEDEN
Product Description
CH-308802 3BHE022455R1101 | ABB | Analog Output Module
Moore Automation
Sales Manager:Jessica
Email:sales*mvme.cn (please change * to @)
Skype:jessica01235483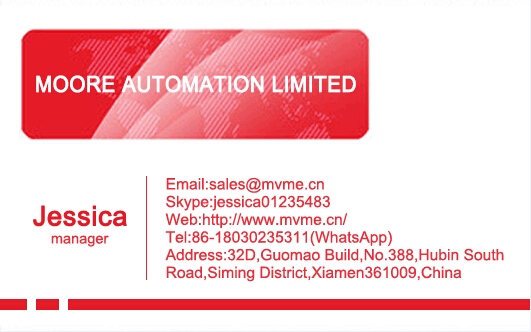 The CI860/TP860 can be used to connect an AC 800M controller to FOUNDATION Fieldbus High Speed Ethernet through TCP/IP via Ethernet. The TP860 Baseplate has one RJ45 Ethernet connector to connect the unit to the FOUNDATION Fieldbus High Speed Ethernet.
The CI860 expansion unit contains the CEX-Bus logic, a communication unit and a DC/DC converter that supplies appropriate voltages from the +24 V supply via the CEX-Bus.
The Ethernet cable must be connected to an Ethernet device. To operate FOUNDATION Fieldbus H1 devices with the CI860 these H1 devices must be connected via a FOUNDATION Fieldbus Linking Device (for example LD 800HSE) to adapt them to FOUNDATION Fieldbus High Speed Ethernet.
IC600BF843L
IC600BF827K
IC693CPU350
IC600CB524M
IC695ALG600-AB
IC600CB527M
369B1874G0014
IC693BEM331L
IC693PWR321Z
IC600CP620L+IC660PM500L
IC694DSM314-AA
IC694ALG442A
IC695PBM300-BA
IC200UDR005-BD
HE693THM889 HE693THM889C
IC693DSM314-AC
IC693ALG392
IC693CMM321
IC693PRG300
L90N00VFHF8LH6MLXXNXXR7C
A02B-0076-K001
IC660EBA026
| | |
| --- | --- |
| HONEYWELL | MC-TDOY22 51204162-175 |
| HONEYWELL | RP7517B1016-1 |
| HONEYWELL | 621-1100RC |
| HONEYWELL | 621-2100R |
| HONEYWELL | MC-TAIH14 51305887-150 |
| HONEYWELL | 51303932-476 MC-TSIM12 |
| HONEYWELL | 8C-PDODA1 51454472-175 |
| HONEYWELL | 8C-PAIMA1 51454473-175 |
| HONEYWELL | CC-PDIL01 51405040-175 |
| HONEYWELL | CC-PAIN01 |
| HONEYWELL | FF-SRS59252 |
| HONEYWELL | FSC 10024/H/F |
| HONEYWELL | MC-TDID12 51304441-175 |
| HONEYWELL | MC-TAIH04 51305900-175 |
| HONEYWELL | 51402573-150 |
| HONEYWELL | 80363969-150 MC-PAOY22 |
| HONEYWELL | TK-OAV061 |
| HONEYWELL | 51304516-250 |
| HONEYWELL | MC-TAIH02 51304453-150 |
| HONEYWELL | 51403422-150 |

Shipping Term : TNT,DHL,FEDEX,ETC
Payment Term : T/T
Warranty: 12 month

---
---