CP306-V CP306V | KONTRON | CPU Board
CP306-V CP306V | KONTRON | CPU board
1.0 USD
Min. Order:
1 Piece/Pieces
Place of Origin:
Fujian, China (Mainland)
Production Capacity:
1234
Packing:
New carton packaging
Product Description
CP306-V CP306V | KONTRON | CPU board
Type of payment: T/T 100% Payment in Advance
Lead time: 2-3 working days
Minimum order quantity: 1 piece
Quantity available: 233
Courier partners: DHL, UPS, TNT, FedEx and EMS
Warranty: one year
Technical specification, manuals and data sheets: Available on request
To get our best price & fast quotation, pls send us e-mail now.
✿ Contact: Jessica
✿ Email: sales*mvme.cn (please change * to @)
✿ Skype: jessica01235483
✿ Mobile Phone: 86-18030235311(WhatsApp)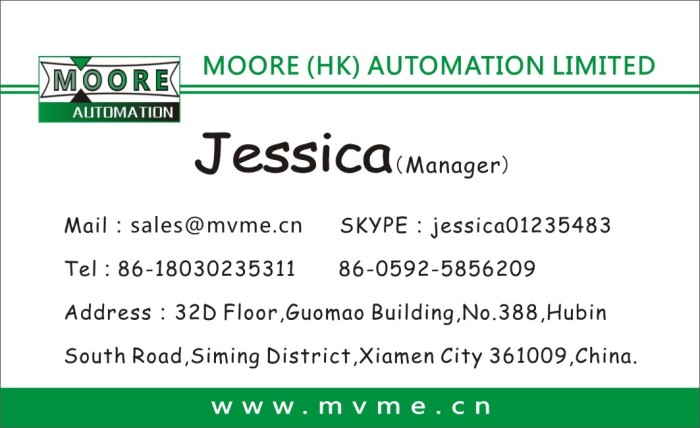 MOORE provides economical and efficient spare automatic control parts
for industrial automation market to meet your operation Budget. We provide a large stock of spare parts.
Improving the Availability of Process Automation Parts
We provide control systems to provide comprehensive control components for all your automation safety and process requirements.
Have the best order cycle support to achieve investment protection and maximum return on previous asset investments
Industrial Automation Control Systems and Components Provide Reliable Solutions for Your Business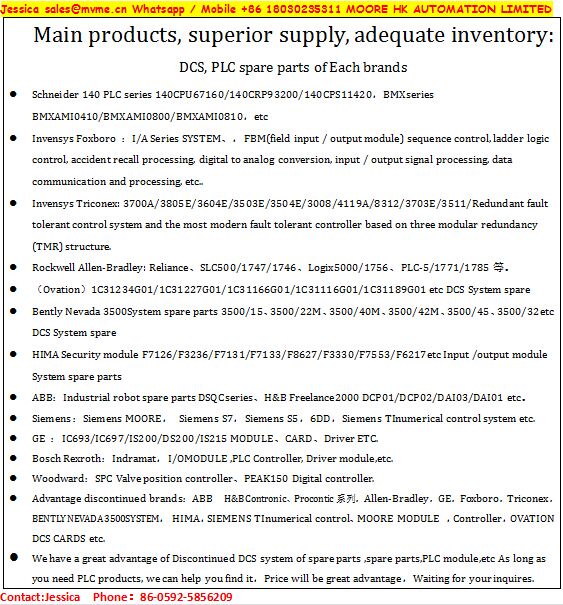 MKS 653B-25255
MKS TYPE 653B THROTTLE CONTROL VALVE 653B-21592
MKS 153 Control Valve 153D-12021
MKS 1651 Throttle Valve CONTROLLER 1651D-26571
MKS 653B-21592
MKS INSTRUMENTS 653B-13064
MKS FRCA-26350
MKS Mass Flow Controller 2160A-00500SV GAS: N2 Range: 500 SCCM w/ SS-4BK, 1C-496
MKS 653B-31001
MKS Instruments 252E-14578 Exhaust Valve Controller Type 252
MKS 600 Series Pressure Throttle Valve Controller 651CD2S1B
MKS Exhaust Throttle Control Valve Type 153 3
MKS INSTRUMENT - MASS-FLO CONTROLLER 1179B00714CR14V
MKS Mass Flow Controller 1559A-100V-RV
MKS 653B-2-50-2
MKS 651CD2S1N, 600
MKS Instruments 653B KF40 Throttle Control Valve 653B-1-40-1 653B-14814
MKS MFC 649B-30957 Gas:He Range : 50 SCCM PRESSURE CONTROLLER NNB VLV-I-228=2M15
MKS 153D-12021 Throttle Control Valve. SERIAL NO 961521022
MKS Instrument 653B-4-100-1-S
MKS 1476A13VR1AM
| | |
| --- | --- |
| ABB | PM851K01 |
| ABB | DSDI110A 57160001-AAA |
| ABB | DSAI155 57120001-HZ |
| ABB | DI811 3BSE008552R1 |
| ABB | NBIO-21CU 3BHB011947R0121 |
| ABB | SAFT190 APC |
| ABB | SAFT132 CBS |
| ABB | NTRO02-A |
| ABB | NTAI06 |
| ABB | NI0CP-01 |
| ABB | DSQC346G 3HAB8101-8 |
| ABB | NTDI0-A |
| ABB | DSQC608 |
| ABB | DSCA 160A |
| ABB | DSAX110 57120001-PC |
| ABB | PP835A |
| ABB | DSQC227 |
| ABB | DSQC 104 |
| ABB | DATX130 3ASC25H214 |
| ABB | DAPU100 3ASC25H204 |
Our company has many products in stock,which are immediately available.The warranty is 1 years which apply to all the new products.If you purchase one more parts from us,we can make a discount to you.
If you have any question pls do not hesitate to contact us.We can supply all kind of the automaiton parts,if you want to purchase parts pls send the parts model to my mail, I will prompt reply you.
Hope anyone enquire from us.
---
---