DS200CDBAG1ACA DS200CDBAG1A | GE | I/O Module
DS200CDBAG1ACA DS200CDBAG1A | GE | I/O Module
1.0 USD
Min. Order:
1 Piece/Pieces
Place of Origin:
Fujian, China (Mainland)
Means of Transport:
Ocean, Air, Land
Production Capacity:
123456
Packing:
New carton packaging
Product Description
DS200CDBAG1ACA DS200CDBAG1A | GE | I/O Module
Moore Automation
Sales Manager:Jessica
Email:sales*mvme.cn (please change * to @)
Skype:jessica01235483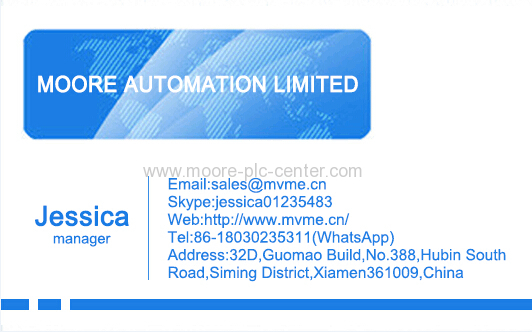 The IC200ALG326 is an 8-Channel, 13-Bit Current, Analog Output module from the GE Fanuc Versamax Series. The single-ended channels of the IC200ALG326 are all in one group.
The analog output module offers eight 4mA to 20mA analog current-sourcing outputs. When configured in the 0-20mA mode, a current output signal value of 0mA links to a %AQ value of 0 counts, and 20mA corresponds to a %AQ rate of +32,000 counts. In 4-20mA range mode, a value of 0 %AQ counts corresponds to an output current of 4mA. A value of +32,000 %AQ counts corresponds to an output current of 20mA. Installation of the IC200ALG326 in a PLC rack will result in conversion of negative value commands 0mA regardless of the range designated. If the IC200ALG326 is controlled by a Network Interface Unit, it changes any negative value commands to the low end of the range.
The IC200ALG326 output range is default but can easily be configured in conjunction with a jumper to modify the output range. The use of a jumper also allows outputs to keep their last states or default if backplane power or communications are interrupted or the PLC is not operating. The outputs will continue in their last state or default, until different output data is received from the backplane or until field power is detached. If hot insertion of a module is done incorrectly, the operation of other modules on the same backplane may be disturbed.
DSSR-122
6248BP10811A/6248BP10821A
6234BP10910/6234BP10920
6248BP10811/6248BP10821
6248BP10811A/6248BP10821A
CS31 ICSE08B5
DAI03
DAO01
CS31 ICSK20F1
DDI01
DLM02
DLM01
57520001-EV
57330001-Y /DSBB110A
57520001-DS
DSTC452
57160001-TE
57310001-EZ
57120001-MN
57160001-TA
6233BP10810/ 6233BP10820/ 6233BP10830
DSRF150
IMASM02
| | |
| --- | --- |
| GE Fanuc | 0285A7100 ISM101 |
| GE Fanuc | 0285A6763 AFM101 |
| GE Fanuc | 0285A8150/ AFM201 |
| GE Fanuc | 0285A7104/ ETM101 |
| GE Fanuc | 0285A8145 AFM102 |
| GE Fanuc | 0285A7159 ETM102 |
| GE Fanuc | 0285A6764/ VMM101 |
| GE Fanuc | 0285A7102/ ABM101 |
| GE Fanuc | 0285A6778 IOM202 |
| GE Fanuc | 0285A7109 PSM201 |
| GE Fanuc | 0285A6777 IOM101 |
| GE Fanuc | 0285A6778/ IOM203 |
| GE Fanuc | 0285A6772/ ULM101 |
| GE Fanuc | 0285A6776 ULM111 |
| GE Fanuc | 0285A6773 ULM121 |
| GE Fanuc | 0285A6774/ ULM131 |
| GE Fanuc | 0285A6775 ULM141 |
| GE Fanuc | 0285A7512 UTM101 |
specifications:if you have a large purchase, we can make a discount.
new+original +one year warranty

---
---