DS200SVAAG1A | GE | DCS Module
DS200SVAAG1A | GE | DCS Module
1.0 USD
Min. Order:
1 Piece/Pieces
Place of Origin:
Fujian, China (Mainland)
Means of Transport:
Ocean, Air, Land
Production Capacity:
123456
Packing:
New carton packaging
Product Description
DS200SVAAG1A | GE | DCS Module
Contact:Jessica
Email:sales*mvme.cn (please change * to @)
Phone:+8618030235311
Skype:jessica01235483
Wechat:hu18030235311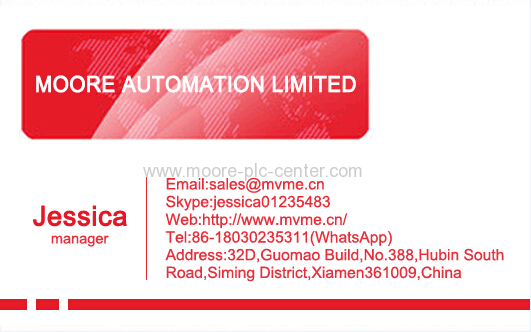 The GE Fanuc IC693ACC303 is a 32K removable EEPROM memory card for series 90 of GE Fanuc Micro PLC Handheld Programmers. It is a storage device that communicates with the Handheld Programmer and it can store program logic statement, registers and configuration data. All the program data, which is essential to develop, debug and monitor ladder logic programs, can be stored in the card and moved to another device. When it is not scanning I/O, the Programmer can read, write and verify that data. Also to write to the card, the user has to turn the write protect screw on the bottom of the card. It is easy to store all contents of RAM to the memory card by pressing the write key of the GE Fanuc Micro PLC Handheld Programmer, while in program mode.
After storing data on IC693ACC303, then it is possible to move the memory card to a handheld programmer with a compatible CPU. After turning on the device, the user can choose whether to use the values on the RAM or the memory card. Thus, it is possible to transfer a program and run it from any of the HHP with GE Fanuc 90-20 or 90-30 series CPUs. To read the card from another device, first transfer the card. Choose program mode and press the Read key to read from the IC693ACC303. Select one of the elements of the program using +/- keys, or press enter key to load all the data of the program. When moving the card to a different model, the program changes to fit the new device.
DSRF185 / 3BSE004282R1
SB171 / 3BSE004802R0001
SB171 / 3BSE004802R0001
DSDI120A / 57160001-ACA
DSAI130 / 57120001-P
DSAO110 / 57120001-AT
PM152 / 3BSE003643R1
PM151 / 3BSE003642R1
PM153 / 3BSE003644R1
PM154 /3BSE003645R1
DI810 3BSE008508R1
41A030BJ00001
3BSE008510R1 DO810
CI520 / 3BSE001800R1
IMCOM03
INBTM01
IMCPM02
INLIM03
INPCT01
IMDSI02
| | |
| --- | --- |
| GE | IC697CMM711Q |
| GE | SN85110243 |
| GE | IC697RLG320 |
| GE | IC697ALG230 |
| GE | IC697MDL740 |
| GE | IC697MDL653 |
| GE | IC697BEM733H |
| GE | IC697ALG440 |
| GE | IS200EMCSG1A2 |
| GE | IS200EHPAG1A |
| GE | IS200EDCFG1A |
| GE | IS200EXAMG1A |
| GE | IS200EACFG2A |
| GE | IS200ECTBG1A |
| GE | IS200EPCTG1A |
| GE | IS200EXHSG3A |
| GE | IS200DDTBG2A |
We can supply all kind of the automaiton parts, if you want to purchase parts pls send the parts model to my mail, I will prompt reply you as I receive the mail.

---
---