EP-3496J-Z3+EP-3556B One Year Warranty
EP-3496J-Z3+EP-3556B one year warranty
1.0 USD
Min. Order:
1 Piece/Pieces
Place of Origin:
Fujian, China (Mainland)
Means of Transport:
Ocean, Air, Land
Production Capacity:
123456
Packing:
New carton packaging
Product Description
NEW FUJI EP-3496J-Z3+EP-3556B PLC In Good Condition
Moore Automation
Sales Manager:Jessica
Email:sales*mvme.cn (please change * to @)
Skype:jessica01235483
model:EP-3496J-Z3+EP-3556B
Origin: United States
Packing: brand new
Delivery time: spot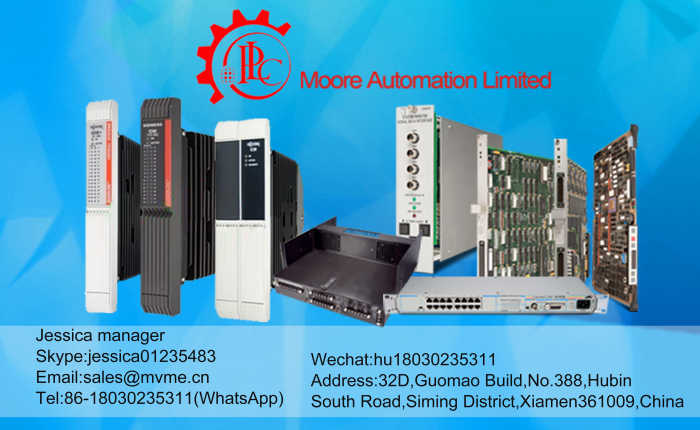 Moore Automation Limited is a high-tech enterprise specialized in professional sales of industrial automation components, and is committed to improving the level of world automation parts supply.
Best Quality Assurance:
1.High quality
2.Prompt Delivery
3.We provide numorous brand-name parts.
4.We have experienced staff and extensive test facilities.
5.There are many prompt goods that can be provided
6. We only provide the original new items, 100% make sure the best quality!
Email:sales*mvme.cn (please change * to @)
DSPB120 / 57340001-T
DSPC155 /57310001-CX
DSMB133 / 57360001-CY
6204BZ10100D
DO801 /3BSE020510R1
DSMB151 /57360001-K
6227BZ10200D+IC660ELB905
6214BZ10110C/6214BZ10110F
6216BZ10000A
6215BZ10000A
3BSE008580R1 / PM810V1
CI810A /3BSE013262R1
CI810V1 / 3BSE008584R1
PM150 3BSE003641R1
H-AA8608 / TAI16AIR
DSRF185 / 3BSE004282R1
SB171 / 3BSE004802R0001
SB171 / 3BSE004802R0001
DSDI120A / 57160001-ACA
DSAI130 / 57120001-P
DSAO110 / 57120001-A
APPLETON LB27 FM7 UNILET 3/4 IN CONDUIT FITTING WITH COVER D469039
KILLARK GECTT-3 OUTLET BODY 3 WAY NPT 1 IN ALUMINUM CONDUIT FITTING B453171
NEW CROUSE HINDS ESW-210-BS IRON 3/4 IN CONDUIT FITTING B286362
NEW THOMAS&BETTS OCAL BLUE COATED BODY 3/4IN CONDUIT FITTING D329776
NEW APPLETON FSR OUTLET BOX 3/4 IN SINGLE GANG IRON CONDUIT FITTING B380848
LOT 2 NEW CROUSE HINDS LL297 CONDUIT FITTING 3/4IN NPT IRON BODY D201431
CROUSE HINDS BLB-8 2-WAY L-SHAPED 3 IN CONDUIT FITTING B281514
NEW CROUSE HINDS GUAT37 3 WAY IRON 1IN CONDUIT FITTING D365546
NEW KILLARK EYS-2 ELECTROLET SEALING 3/4 IN CONDUIT FITTING B295467
NEW ALLEN BRADLEY 1490-N9 HUB 3/4 IN NPT CONDUIT FITTING B234691
NEW KILLARK FS-3 SINGLE GANG 1 IN CONDUIT FITTING B419690
Shipping Term : TNT,DHL,FEDEX,ETC
Payment Term : T/T
---
---