EPRO PR6423/002-031-CN CON041 Eddy Current Sensor
EPRO PR6423/002-031-CN CON041 Eddy Current Sensor
2030.0~2120.0 USD
Min. Order:
1 Piece/Pieces
Place of Origin:
Fujian, China (Mainland)
Means of Transport:
Ocean, Air, Land
Product Description
Country of origin:
Germany
EPRO PR6423/002-031-CN CON041 Eddy Current Sensor


Sale manager: Jessica
Skype: jessica01235483
Phone/WhatsApp: 86-18030235311
Email: sales*mvme.cn ( change * to @ )

1.Allen-Bradley 1756/1769/1771/1785 Series
2.ABB 800xA/Bailey INFI90/DSQC Series
3.Bently Nevada 3500/3300 Monitoring System
4.Schneider Series Quantum 140 series
5.General Electric IC693/IC697/IC698/IS200/DS200 Series
6.SIEMENS MOORE/S5 Series
7.Westinghouse: WDPF/MAX1000 system spare parts
8.Invensys Triconex: Redundant fault-tolerant control system, Most modern fault-tolerant controller based on Triple Modular Redundancy (TMR) architecture.
9.Honeywell TDC2000/TDC3000/Experion HS Series
10.YOKOGAWA CS3000 System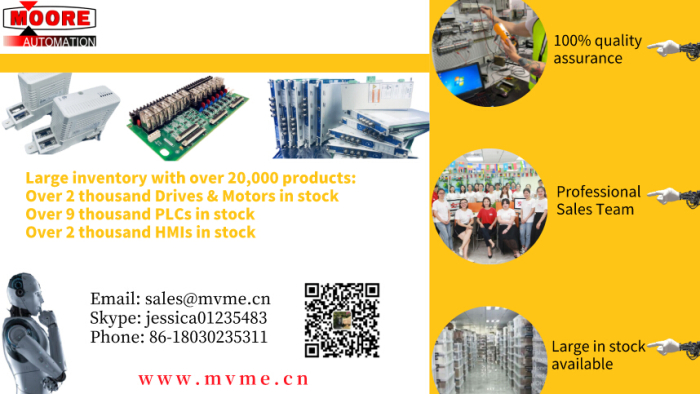 1)100% full New! - Original Factory Seal !
2) Warranty: 12 months!
3) Package: Original packing with cartons.
4) Delivery time: Shipped in 3 days after payment
5) All the goods will be tested before shipment
Shipping:
UPS,Fedex,DHL and other Express for choose.
If you have special requirments please contact us without any hesitation.
According your requirements,we can flexibly arrange it.
Jessica | sales*mvme.cn ( change * to @ ) | 18030235311

Q1:Are these items new and origin?
A1:Sure,it is new and original package.
Q2:How about the warranty?
A2:All of items are provide one year warranty.
Q3:Which payment terms you can do?
A3:100% T/T for stock items before shipping. 30%T/T advance and 70% balance against before shipping for indent.
Q4:How about the shipment?
A4:We have many couirer partner,like DHL TNT FedEx.

INVT High voltage inverter power unit Power Supply Drive plate Trigger board HU60A-B 3515.B07
A5E00145212Siemens Frequency converter S120 series 90kw 110kw Drive plate Trigger board main board
130B6038 DT/05Danfoss Frequency converter power Power supply board
Siemens TD400C monitor 6AV6 640-0AA00-0AX0
Vacon (VACON) Inverter fan Drive transformer PP10057 FR10
AB700 series Power Supply Drive plate 316279-A03
INVT High voltage inverter power unit communication main board control Drive plate HU60A-A 3515A V05
A5E00173192Siemens Frequency converter M440-430 rectification SCR trigger board Starting board charging board
Schneider Frequency converter ATV71 main board 15KW 16252990112A03
ABB Multi drive inverter ACS800 Rectifier unit transformer RT500-30605 0-230V 500VA
Schneider Soft start ATS22 Power supply board BBV14407_A01
Zhiguang High voltage inverter control Communication board Interface board master controller configuration HVFOUTP31
Lipp High voltage inverter main board Drive plate LP-00-11A-C
Danfoss Frequency converter power Power Supply board 130B6024 DT5
AB Frequency converter 160KW 20DC300A0ENNBNANE
European Frequency converter 15/18.5KW EV500-0150C/0185P-T4
Schneider Soft start Drive plate BBV14423-A02 BBV14424-A02
Danfoss VLT5000 series Inverter drive board 175Z1213 DT15R0
ABB Frequency converter ACS800 reactor E202612 H:ki F-1 ACHO5720 64409689
EP-4640A-C2Fuji Frequency converter 6MBI450UE-120-04 power Drive plate
Delta Frequency converter VFD-B series VFD110B43A 380v 11kw
Danfoss VLT5000 Frequency converter Power Supply Drive plate 175Z1213 DT16
Lipp high pressure Inverter drive board main board LP-00-41A-E
Lipp High voltage inverter Interface board Communication board LP-00-52B-B
Danfoss Frequency converter FC-302PK37T5E20H1XG 0.37KW
European DC governor 591C/4500/5/3/0/1/0/00/000
AB Frequency converter PF400 main board CPU board Control panel 2945401704SK-U1-MCBP-A1
AB Frequency converter parts 74100-071-5
AB Frequency converter PF700S 327650-A03 CPU board / main board 315KW/600KW
Vacon Frequency converter Fan R2E280AE5205
AB Frequency converter 700 series main board 314891-A01 179790-A01 20-DA1-A0
SIEI Inverter main board Control panel CPU board Interface Communication board ECS 1935 SBI-PDP-33
SIEI Frequency converter CPU main board RV33-4NV 4.H 3.6 edition PV33
European DC governor 591C/1800/5/3/0/1/0/41/000
D2D160-BE02-14 centrifugal Fan
AB Frequency converter PF525 11KW 400V 25B-D024N114
Magmett Inverter drive board /D14T113GM1/ IGBT module /11KW
NORD Frequency converter SK700E-112-340-A-ATO 11KW
SKiiP 613GB123CT AB Frequency converter 700S/ module
Senlan governor BT40S22KWT 22KW
European governor 591/1/1800/5/1/3/0/1/0/0110/180
100%Brand New
We can supply the competitive price for you !!!
QUALITY FIRST - COMPETITIVE PRICE !!
---
---