EPRO PR6423/004-111 CON041 NWE IN STOCK
EPRO PR6423/004-111 CON041 NWE IN STOCK
2030.0~2120.0 USD
Min. Order:
1 Piece/Pieces
Place of Origin:
Fujian, China (Mainland)
Means of Transport:
Ocean, Air, Land
Product Description
Country of origin:
Germany
EPRO PR6423/004-111 CON041 NWE IN STOCK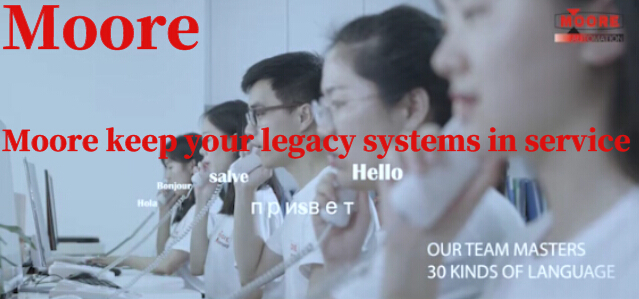 Manager: Jessica | Email: sales*mvme.cn ( change * to @ )
Skype: jessica01235483 | Phone/WhatsApp: 86-18030235311
1. Q:How long warranty does Moore can provide ?
A: Carnation can provide 1 year warranty !
2. Q:How about the payment terms ?
A: We frequently use T/T.
3. Q:What about your shipping terms ?
A: We can ship by DHL,UPS,FEDEX,ARAMAX,TNT,and so on
4. Q:What about your lead time ?
A: We have many items in stock , 3-5 days you will receive it .

Moore provides economical and efficient spare automatic control parts for industrial automation market to meet your operation
Budget. We provide a large stock of spare parts.
Improving the Availability of Process Automation Parts
We provide control systems to provide comprehensive control components for all your automation safety and process requirements.
Have the best order cycle support to achieve investment protection and maximum return on previous asset investments
Industrial Automation Control Systems and Components Provide Reliable Solutions for Your Business
If you can't find the products you need, please contact us. We will help you find the right self for your system Motorized parts.
The drive provided by Moore can help you improve energy consumption while optimizing process control. Our products are available used in a variety of industries or applications
Improve quality and increase production, while reducing costs to provide the best value for your facilities.
Contact us for out-of-stock parts, or if you can't find the parts you need, we can order them for you.
Moore also provides robotic controller components to provide inexpensive solutions for your controller.
If you can't find the product you want, please contact us for help. We are happy to help!
We will find spare parts that best meet your needs and meet your budget.
Jessica | sales*mvme.cn ( change * to @ ) | 18030235311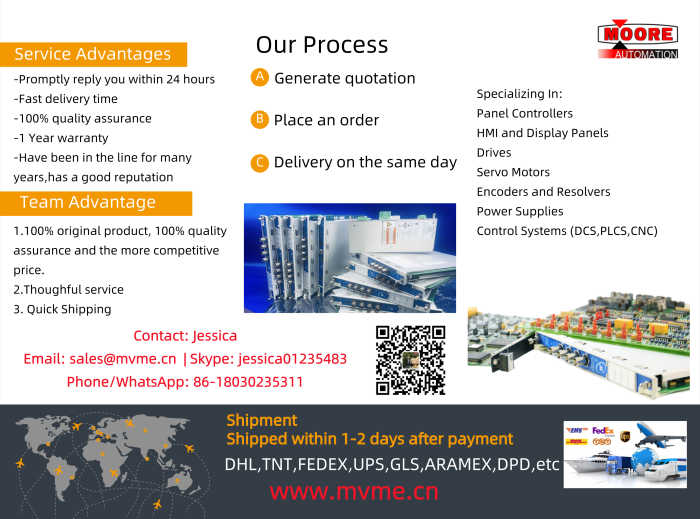 Distributed control system (DCS)
Programmable Logic Controller (PLC)
Remote input / output module (RTU)
Industrial PC (IPC)
Industrial low-frequency screen
Lowcapacity hard drives for industrial use SCSI (50,68,80Pin)
AnyBus (Gateway)
Human-machine interface
Industrial control related ancillary products

| | |
| --- | --- |
| GE | DS200DSPCH1A DS200DSPCH1ADA |
| GE | DS200VPBLG1AEE 151X1212CC01SA01 |
| GE | IS200DSPXH1D IS200DSPXH1DBC |
| GE | IS200EBKPG1BAA 151X1207BB01SA01 |
| GE | IS200EGDMH1A IS200EGDMH1AAB |
| GE | IS200EISBH1A IS200EISBH1AAA |
| GE | IS200EMIOH1A IS200EMIOH1ACA |
| GE | IS200EPBPG1ACD 151X1207BC02SA01 |
| GE | IS200EPDMG1B IS200EPDMG1BAA |
| GE | IS200EPSMG1A IS200EPSMG1ADC |
| GE | IS200EPSMG2A IS200EPSMG2ADC |
| GE | IS200ERDDH1A IS200ERDDH1ABA |
| GE | IS200ERIOH1A IS200ERIOH1AAA |
| GE | IS200EROCH1A IS200EROCH1ABB |
| GE | IS200ESELH1A IS200ESELH1AAA |
| ABB | DI811 3BSE008552R1 |
| ABB | 07DC92 GJR5252200R0101 |
| ABB | DSQC334 3HAB5845-1 |
| ABB | TPC-1570H 3BHE031734R1011 |
| ABB | SC610 3BSE001552R1 |
| ABB | HIEE320639R1 HI024049-313 LT 8978B V1 |
| ABB | HIEE400109R1 HI022755-310 CS A465 AE01 |
| ABB | UA C326 AE01 HIEE401481R0001 |
| ABB | 086369-001 |
| ABB | CS31 FPR3315101R1032 |
| ABB | 3HAC14549-3 |
| ABB | RLM01 3BDZ000398R1 |
| ABB | 3HNA013638-001 SMU-03 |
| ABB | PMA324BE PM A324 BE HIEE400923R0001 |
| ABB | GDB021BE GD B021 BE HIEE300766R1 |
| ABB | PPC322BE PP C322 BE HIEE300900R0001 |
| HONEYWELL | TK-OAV061 |
| HONEYWELL | 51401497-100 |
| HONEYWELL | 51403519-160 K4LCN-16 |
| HONEYWELL | FSC 10024/H/F |
| HONEYWELL | CC-PCF901 51405047-175 |
| HONEYWELL | CC-PDOB01 51405043-176 |
| HONEYWELL | 51402573-150 |
| HONEYWELL | 05701-A-0361 |
| HONEYWELL | 05704-A-0121 |
| HONEYWELL | FC-PDB-0824P |
| HONEYWELL | MC-IOLX02 51304419-150 |
| HONEYWELL | 51309218-175 MC-TAMR03 |
| HONEYWELL | 10201/2/1 FC-SDO-0824 |
| HONEYWELL | 8C-PAIMA1 51454473-175 |
| HONEYWELL | 8C-TDODA1 51307149-175 |
| BENTLY NEVADA | 3300/30 |
| BENTLY NEVADA | 136483-01 |
| BENTLY NEVADA | 81544-01 |
| BENTLY NEVADA | 82365-01 |
| BENTLY NEVADA | 82367-01 |
| BENTLY NEVADA | 3077-755A 9907-147N 5501-303L |
| BENTLY NEVADA | 3500/62 163179-03 |
| BENTLY NEVADA | 84147-01 |
| BENTLY NEVADA | 3500/33 |
| BENTLY NEVADA | 130944-01 |
| BENTLY NEVADA | 40113-02 |
| BENTLY NEVADA | 330104-00-07-05-02-00 |
| BENTLY NEVADA | 330130-085-01-00 |
| BENTLY NEVADA | 102044-00-18-10-02 |
| BENTLY NEVADA | 144181-50 |

---
---