EPRO PR6423/13R-010 Ddy Current Displacement Sensor
EPRO PR6423/13R-010 ddy current displacement sensor
2030.0~2120.0 USD
Min. Order:
1 Piece/Pieces
Place of Origin:
Fujian, China (Mainland)
Means of Transport:
Ocean, Air, Land
Product Description
Country of origin:
Germany
EPRO PR6423/13R-010 ddy current displacement sensor
We hope to go beyond the usual ways to meet your needs, focusing on economic and efficient collaboration.
Moore Spare Parts Center is a reliable partner in delivery. We are committed to building long-term partnerships to identify your common opportunities for cost savings.
We are happy to translate these opportunities into working methods and services that ensure the best efficiency of partnerships.

-Promptly reply you within 24 hours
-Fast delivery time
-100% quality assurance
-1 Year warranty
-Have been in the line for many years,has a good reputation

Manager: Jessica
Skype: jessica01235483
Phone/WhatsApp: 86-18030235311
Email: sales*mvme.cn ( change * to @ )
Allen-Bradley (1746-IB32,1747-L533,1756-ENBT,1756-L61,1769-OF4,1771-IBN,1785-L40B )
Bently Nevada (3500/94,3500/53,3500/22M,3500/42M,330180-90-00 )
Honeywell (TK-PRS021,TC-FPDXX2,CC-TCNT01,8C-PAIH51,51309355-001,10006/2/1 )
ABB (07KT97 WT97,AI835,CI854AK01,DSQC639,DO810,PM861AK01,SNAT603 )
Triconex (3625,3503E,3008,TCM 4353,4351B, 4409)
ICS Triplex (T8310,T8431,T8461, T8451,T8110B,T8403,T3481)
Jessica | sales*mvme.cn ( change * to @ ) | 18030235311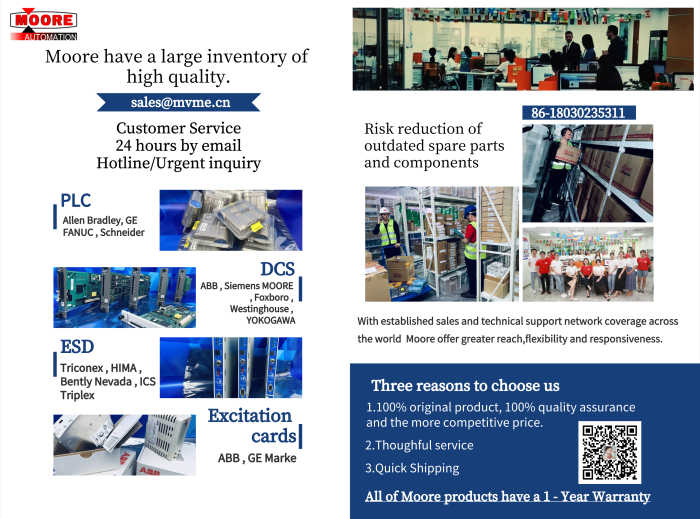 Siemens TD400C monitor 6AV6 640-0AA00-0AX0
Vacon (VACON) Inverter fan Drive transformer PP10057 FR10
AB700 series Power Supply Drive plate 316279-A03
INVT High voltage inverter power unit communication main board control Drive plate HU60A-A 3515A V05
A5E00173192Siemens Frequency converter M440-430 rectification SCR trigger board Starting board charging board
Schneider Frequency converter ATV71 main board 15KW 16252990112A03
ABB Multi drive inverter ACS800 Rectifier unit transformer RT500-30605 0-230V 500VA
Schneider Soft start ATS22 Power supply board BBV14407_A01
Zhiguang High voltage inverter control Communication board Interface board master controller configuration HVFOUTP31
Lipp High voltage inverter main board Drive plate LP-00-11A-C
Danfoss Frequency converter power Power Supply board 130B6024 DT5
AB Frequency converter 160KW 20DC300A0ENNBNANE
European Frequency converter 15/18.5KW EV500-0150C/0185P-T4
Schneider Soft start Drive plate BBV14423-A02 BBV14424-A02
Danfoss VLT5000 series Inverter drive board 175Z1213 DT15R0
ABB Frequency converter ACS800 reactor E202612 H:ki F-1 ACHO5720 64409689
EP-4640A-C2Fuji Frequency converter 6MBI450UE-120-04 power Drive plate
Delta Frequency converter VFD-B series VFD110B43A 380v 11kw
Danfoss VLT5000 Frequency converter Power Supply Drive plate 175Z1213 DT16
Lipp high pressure Inverter drive board main board LP-00-41A-E
Lipp High voltage inverter Interface board Communication board LP-00-52B-B
Danfoss Frequency converter FC-302PK37T5E20H1XG 0.37KW
European DC governor 591C/4500/5/3/0/1/0/00/000
AB Frequency converter PF400 main board CPU board Control panel 2945401704SK-U1-MCBP-A1
AB Frequency converter parts 74100-071-5
AB Frequency converter PF700S 327650-A03 CPU board / main board 315KW/600KW
Vacon Frequency converter Fan R2E280AE5205
AB Frequency converter 700 series main board 314891-A01 179790-A01 20-DA1-A0
SIEI Inverter main board Control panel CPU board Interface Communication board ECS 1935 SBI-PDP-33
SIEI Frequency converter CPU main board RV33-4NV 4.H 3.6 edition PV33
European DC governor 591C/1800/5/3/0/1/0/41/000
D2D160-BE02-14 centrifugal Fan
AB Frequency converter PF525 11KW 400V 25B-D024N114
Magmett Inverter drive board /D14T113GM1/ IGBT module /11KW
NORD Frequency converter SK700E-112-340-A-ATO 11KW
SKiiP 613GB123CT AB Frequency converter 700S/ module
Senlan governor BT40S22KWT 22KW
European governor 591/1/1800/5/1/3/0/1/0/0110/180
AB Rockwell Frequency converter 753 Control panel main board CPU board PN-43652
semikron module SKiM205GD128D
NORD Frequency converter D-22941 SK700E-751-340-A 7.5KW
Jessica | sales*mvme.cn ( change * to @ ) | 18030235311
Customer Service
24 hours by email
Hotline/Urgent inquiry
---
---