ET-125-RS422 | STAHL | POWER MODULE
ET-125-RS422 | STAHL | POWER MODULE
1.0 USD
Min. Order:
1 Piece/Pieces
Place of Origin:
Fujian, China (Mainland)
Production Capacity:
55555
Packing:
New carton packaging
Product Description
ET-125-RS422 | STAHL | POWER MODULE
Shipping Date:
· In-stock products: Same day shipping Mon. through Fri. by 6:00 pm EST
· Order products: Shipping date is specified in the Product Details page
Carriers:
· US Orders: FedEx, UPS,
· International Orders: FedEx, UPS, TNT, Express Mail International
* Blind Shipping is available for approved customer accounts
* Orders can be picked up at our Own Location
Contact:Jessica Skype:jessica01235483
Email: sales*mvme.cn (please change * to @)
Q Q:2851195444 TEL:86-592-5856209
Mobile Phone:86-18030235311(WhatsApp)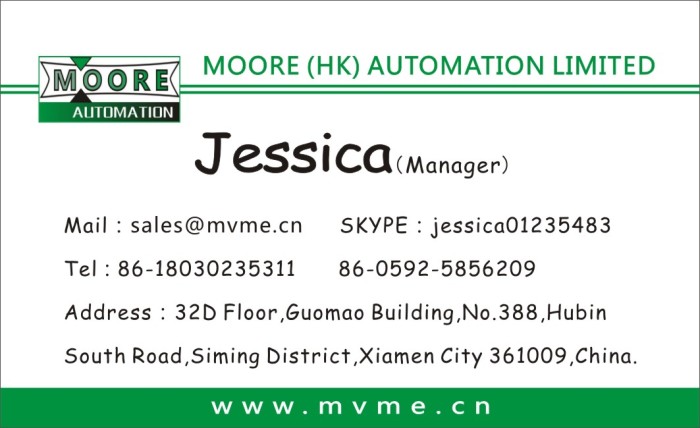 MOORE's large stock is the core of our supply.
Our large stock of industrial products is ready for delivery, which is the core of our supply. It contains more than 400,000 electronic products, such as PLC, HMI, drivers, servo and CNC devices, IPC and PG.
Whether new or out of production, from the smallest module to the complete configuration. We have products that have not been available for many years, the latest technology and all other products in between.
Market insight, technology development and customer demand enable us to buy strategically, so we seldom need to transfer business.
If items happen to be out of stock, we will search our preferred supplier network for you.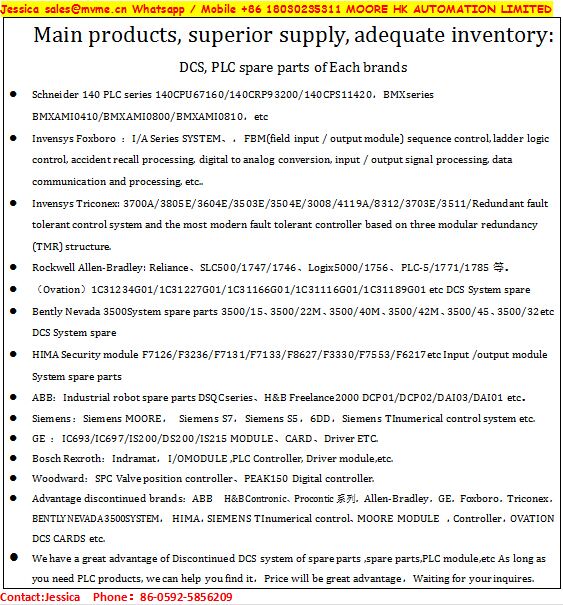 Emerson 775XD11I7WA3WK9
NR&D CNOE-211
Protronix ELD4894-7/PTX
Yokogawa EJX630A FBS7N-01DDNSS25X2T06
Yokogawa EJX630A FDS7N-01DDNSS25X2T15M15
Yokogawa YTA320 FA4DNX1SS25
GE Fanuc IC694MDL940A
Honeywell 620-0041
Modicon / Gould AS-B354-001
Yaskawa JAPMC-AN2310-E
Rosemount 775XD21I7WA3WK9
Allen Bradley 1771-IF PLC-5
Siemens 6ES7407-0RA00-0AA0
Yokogawa AAI141-H00
Sick PLS101-112
Siemens 6FC9338-1AB
Yaskawa JEPMC-MC200A
Siemens LFL1.635-110V
Cutler Hammer SIZE 5
Allen Bradley 1771-CFM PLC-5
Emerson 73-610-115
Reliance Electric 762'18-30
GE Fanuc F31X133PRUAPG1
GE Fanuc 531X133PRUAMG1
Siemens 6ES5 308-3UC11
ProSoft RLX-IHW-A
Allen Bradley 1771-VHSC
ABB M102-M-1NTA911124R0901
FSC 10020/1/2
Allen Bradley 1771-IBN
Pepperl and Fuchs 10002/1/2
| | |
| --- | --- |
| Westinghouse | 5X00109G02 |
| Westinghouse | 5X00119G01 |
| Westinghouse | 5X00121G01 |
| Westinghouse | 5X00167G01 |
| Westinghouse | 5X00270G01 |
| Westinghouse | 5X00273G01 |
| Westinghouse | 5X00300G01 |
| Westinghouse | 5X00419G01 |
| Westinghouse | 5X00419G02 |
| Westinghouse | 5X00489G01 |
| Westinghouse | 7379A21G01 |
| Westinghouse | 7379A21G02 |
| Westinghouse | IC31224G01 |
| Westinghouse | 5X00062G01 |
| Westinghouse | 1C31174G01 |
| Westinghouse | 1C31227G02 |
| Westinghouse | 5X00357G04 |
| Westinghouse | 1C31161G02 |
| Westinghouse | 1C31164G02 |
| Westinghouse | 5X00622G01 |
Our company has many products in stock,which are immediately available.The warranty is 1 years which apply to all the new products.If you purchase one more parts from us,we can make a discount to you.
If you have any question pls do not hesitate to contact us.We can supply all kind of the automaiton parts,if you want to purchase parts pls send the parts model to my mail, I will prompt reply you.
Hope anyone enquire from us.
---
---