Emerson DeltaV KJ3222X1-BA1 12P2532X112 INPUT MODULE
Emerson DeltaV KJ3222X1-BA1 12P2532X112 INPUT MODULE
1.0 USD
Min. Order:
1 Piece/Pieces
Place of Origin:
Fujian, China (Mainland)
Production Capacity:
55555
Packing:
New carton packaging
Product Description
Emerson DeltaV KJ3222X1-BA1 12P2532X112 INPUT MODULE


Sale manager: Jessica
Skype: jessica01235483
Phone/WhatsApp: 86-18030235311
Email: sales*mvme.cn ( change * to @ )

We are an independent distributor of electronic components and industrial control parts. We are a customer oriented company and
provide high quality and performance parts.
Our main products Allen Bradley, Bently Nevada GE, Honeywell, ABB, Fanuc, Invensys Triconex,Bachmann and more PLC DCS TSI spare parts.
QUALITY SERVICE PROVIDED TO OVER 150,000 SATISFIED CUSTOMERS
Established for over 15years, MOORE believes in providing the best quality customer service in the industry. As a factory automation wholesale distributor we offer and deliver products worldwide.
PLCs -DCS-Drives-HMIs & more
At MOORE , we go the extra mile to guarantee satisfaction for our customers. We want your machinery or facility up and running at its highest level of performance. We are here to help.
Our Services
MOORE is an independent factory automation distributor. We sell factory new, new surplus and remanufactured products. Amikon can find the part you need; all you have to do is ask!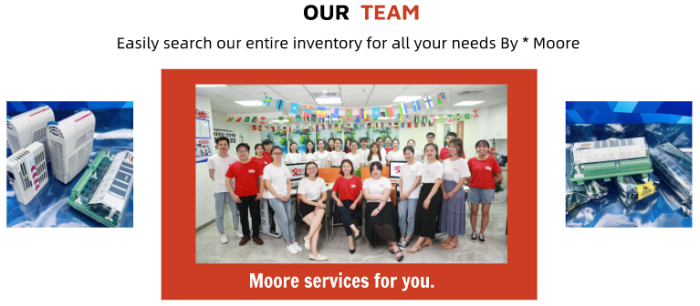 1 All our products are new and original, and good quality.
2 Our prices are very competitive.
3 We have large quantity in stock, so we could help the customers to get the components which are difficult to get.
4 All inquiries will be valued and will replied in 24 hours.
5 Fast shipping, and good after-sale service
6 We will ship the items within 1-3 working days after the payment is received.
7 High quality control, all the goods will be tested one by one before shipment.
8 Good package to protect the products.
Jessica | sales*mvme.cn ( change * to @ ) | 18030235311

Allen-Bradley (1746,1747,1756,1769,1794,2711P..)
Triconex Invensys (3008,3664,3805E.3704E,3700A 4351B...)
YOKOGAWA (CP345,CP451-10,AMM12C,AAI141-S00...)
ABB (07KT98 WT98,07KT97 WT97,DSQC679,IMASI23,IMDSO14...)
Westinghouse (1C31194G01,1C31197G01,5X00106G01,1C31125G02...)
Bently Nevada (3500/42M ,3500/22M,3500/95.3500/15...)
Hima (F3330,F3236,F6217,F7126,F8621A....)
FOXBORO (FCP270,FBM203,FBM204,FBM217,FMB231...)
GE (IC693,IC697,IC695,IS200,IS215,DS200...)
BACHMANN (MPC240,CM202,DI232,MPC240,NT255,AIO288...)
SDCS-PIN-4 ABB DCS800 DC governor power board, trigger board, power board
SDCS-CON-3A ABB DCS400 DC governor Main Board
DCS400 Excitation module FIS-31/ FIS-3A
OVP-10 ABB DCS400 DC governor board
Vickers EEA-PAM-553-A-32 Proportional valve drive plate
SDCS-PIN-205A
ABB DCF504B-0060 Reversible excitation module
ABB SDCS-FEX-31 Excitation module Main Board
SDCS-PIN-51 Measuring plate ABB Detection board
SDCS-POW-4 ABB DC governor power board
ABB Power supply board SDCS-POW-1/ 1C
Moxa EDS-205 Switch
ABB SDCS-FEX-31B 3ADT312400R1001 excitation Main Board
ABB DCF504B0060-000000X Excitation module
3ADT220120R1 FIS-3A ABB DCS400 Excitation module
3BSE004939R1012 ABB SDCS-PIN-48 Thyristor pulse board, trigger board, drive board
ABB DCS400 DC governor drive board SDCS-PIN-3B
SDCS-IOB-3-COAT. 3ADT220090R0020. ABB DC governor expansion module
Temperature probe (thermocouple) Z/B70 ABB DC governor temperature sensor
ABB HF3B. 600/1A Current transformer, original DC governor
EUPEC Thyristor module TT250N16K
DCS800 DC governor ABB SDCS-CON-4 Main Board
SDCS-PIN-48 ABB DC governor pulse board, trigger board
DCS800-S02-0075-05 ABB DCS800 Reversible 75A DC governor
SDCS-PIN-48 ABB DC governor trigger board, drive board
SDCS-CON-2B ABB DCD500/600 Main Board
3ADT751004P0003 ABB 75A DC governor current sensor
SDCS-AMC-DC-2 ABB DCS600 DC governor program card communication card
DCS800-S01-0125-05 ABB DCS800 DC governor
SDCS-FEX-425INT SDCS-FEX-4aCOAT ABB DCS800 DC governor excitation
DCS400-PAN-A(ACS400-PAN-A)ABB Governor panel
SDCS-PIN-41 ABB Removal of drive board and pulse board of DC governor
SDCS-FEX-4 COAT ABB DCS800 Excitation module of DC governor Main Board
SDCS-PIN-205B ABB DC governor pulse board, trigger board
DCF503A0050-00000 ABB Irreversible 50A excitation module
Any support from us,please don't hesitate to contact us,
We will try my best to support you!

---
---