GE 531X179PLMAKG1 IN STOCK FOR SALE
GE 531X179PLMAKG1 IN STOCK FOR SALE
666.0~999.0 USD
Min. Order:
10 Piece/Pieces
Place of Origin:
Fujian, China (Mainland)
Means of Transport:
Ocean, Air, Land
Packing:
New carton packaging
Delivery Date:
3 days after payment
Product Description
1 PC New GE Fanuc 531X179PLMAKG1 PLC Module In Box
Contact:Jessica
Skype:jessica01235483
Email:sales*mvme.cn (please change * to @)
Mobile Phone:86-18030235311(WhatsApp)
Q Q:2851195444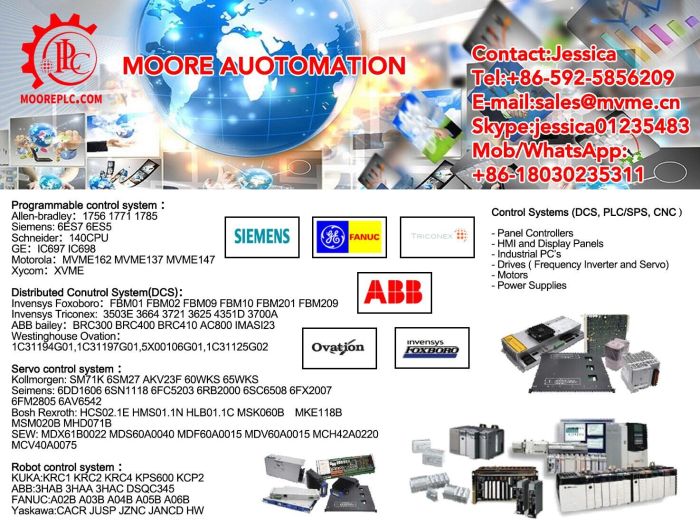 Moore Automation is China
A leading supplier of industrial automation components
Moore mission is to make your purchase of spare parts for any brand as fast and easy as possible. Our experienced sales team staff are ready to help you throughout the process. Let you save more time and money!
We provide new discontinued automation components for the factory (MRO).
Reduce your maintenance costs.
Extend the life of the control system.
We are based on a very basic but important principle;
Simplify the sales areas and distributors in the automation arena by providing impeccable, high-quality automation products!
We have a huge high-quality warehousing, to provide you with one-stop DCS PLC product procurement solutions to meet your needs.
The company is located in:
If you do not find the information you need to control the system components, please do not hesitate to contact me, I can find the source for you!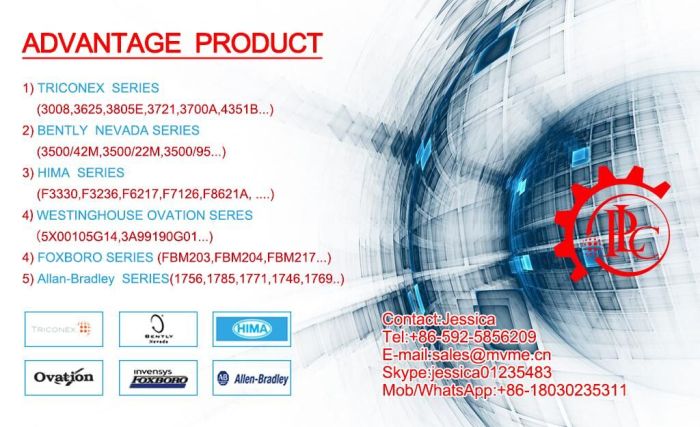 DCS Distributed Control System:
FOXBORO: I / A Series System: FBM (Field Input / Output Module) Sequence Control, Ladder Logic Control, Incident Recall Processing, D / A Conversion, I / O Signal Processing, Data Communication and Processing.
TRICONEX: Redundant Fault-Tolerant Control System, the most modern fault-tolerant controller based on Triple Modular Redundancy (TMR) architecture.
Westinghouse (Westinghouse):system, WDPF system spare parts.
Siemens: MOORE system spare parts.
Honeywell: TDC Series, QCS Series, S9000 Series Spare Parts.
ABB: ADVANT OCS, MOD30, MO300, Bailey INFI90, Master view 850, AC460, S100, S800 system spare parts.
MOTOROLA (MOTOROLA): MVME147 / 162/166/167/172/177/187 Spare Parts.
XYCOM: VME series bus board, programmable human-machine interface.
PLC programmable controller:
Allen-Bradley (Rockwell): 1756/1771/1785 series, Reliance Ryan.
Schneider: Modicon Quantum 140 processor, I / O modules, power modules, and more.
Siemens: S5 / S7 Series 200, 300, 400; 6AV / 6GK Series spare parts.
Servo control system:
FANUC (Fanuc): servo amplifier A06B, drive A06B, input and output modules A02B / A03B, PCB A16B / A20B.
Siemens: 6SN / 6FC / 6FX series, offering sales of CNC systems (810, 802D SL, 810D, 840D) and spare parts.
Yaskawa (Yaskawa): servo controller, servo motor, servo drive.
ABB Robots, FANUC Robots, YASKAWA Robots, KUKA Robots, Mitsubishi Robots, OTC Robots, Panasonic Robots, MOTOMA

IC695ALG600-AB
IC600CB527M
369B1874G0014
IC693BEM331L
IC693PWR321Z
IC600CP620L+IC660PM500L
IC694DSM314-AA
IC694ALG442A
IC695PBM300-BA
IC200UDR005-BD
HE693THM889 HE693THM889C
IC693DSM314-AC
IC693ALG392
IC693CMM321
IC693PRG300
L90N00VFHF8LH6MLXXNXXR7C
A02B-0076-K001
IC660EBA026
IC670CHS101
IC670ALG320
IC200PWB001
IC200GBI001
HE693SNP232A
IC697MDL350
IC697CHS790
IC697MDL750
IC697MDL654
IC697CMM711
HE693DNT250N
IC693MDL732
IC693CPU364-AC
IC670CHS001
IC600BF805
IC600BF905
IC600PM502
IC670CHS001
IC670ALG620
IC670ALG330
IC670GBI002
IC670MFP100
IC670ALG230
IC670ALG240
5136-DNP/5136-DNP-ISA
IC670ALG620
IC670MDL740
IC670MDL640
HE693STP100
IC693CPU363-BE
IC670MDL640
IC670MDL740
IC693CPU350
IC693PBM200-DE
IC693ACC334
IC200MDL940
IC649AEA102
IC693CPU374-GP
IC693UDR005EP1
IC693BEM321
IC693PCM300
IC693MDL742
IC693MDL640
HE693CBL150
IC697BEM713G
IC693ACC307A
IC660ELB905
IC694MDL740
IC693APU300
IC697MDL940
IC693CPU374-GP
IC200CHS002
IC693CHS399
IC693CPU323
IC694BEM340
IC693MDL310
IC693ALG222
IC693ALG220
IC693ALG221
IC697CMM742
IC693MDL240
IC693ALG223
75122-210-50K
IC660BBA026
HE693RTD600
D30E00HCHF8FH
IC693CPU360
IC693PCM311
IC693CPU360
IC693CPU340
HE693RTD601
HE693DAC420
IC693CHS392
IC697HSC700
IC697ACC702A
HE693ADC420
IC697BEM711
IC200ALG630
IC693CPU352
IC693CHS398
IC693UDR005FP1
IC693CPU321
IC693MDL741
IC200ALG431
D30E00HCHF8FH6CM6DPXXUXXWXX
T60D00HCHF8CH6GMXXP6GUXXW5E
F35D00HCHF8BH6GM8BP6GU8BW6G
IC200MDL750 + IC200CHS022
IC200MDL640
IC200MDD845D IC200MDD845
5136-PFB-VME
IC200CPU002
IC693NIU004
HE693PBM100
IC693CMM302
IC200PWR002
IC695PSD040F
IC694MDL645
IC694DSM324
IC693CPU313
IC695PSA040
HE693THM884
IC693PWR322
MIO-A-2-610
IC693CPU341
IC693MDR390
HE693STP104
IC693MDL241
IC693MDL340
IC693MDL930
IC693CPU311
IC693BEM320
HE693ASC900
IC693MDL730
IC693ALG221
IC693CHS393
IC693MDL740
IC693PWR321
IC697PWR710
IC660BBD024
IC697ALG440
IC693ALG390
IC693ALG391
IC697ALG230
IC693CPU
HE693STP111
IC697ALG320
IC693CPU351
IC693MDL752
IC693APU301
IC697MDL653
IC697BEM733
IC697CPU782-JD
IC697MDL340
IC600YB801
IC600BF905
IC693BEM340
IC697MDL250
IC695PSD040B
IC600PM503
IC600BF800
IC600BF805
IC693CPU331
IC693UDR001GP1
IC670CHS002
IC670MDL740
IC695CPU310
IC660BSM021
IC693PWR330
IC670MDL640
IC200PWR001
574-331-404
IC697BEM731
IC697PWR720C
IC200MDL741 + IC200CHS022
IC200ALG260 + IC200CHS022
IC200ETM001
IC200ERM002
IC693MDL645
IC693MDL646
IC693MDL753
IC200MDL241 + IC200CHS022
IC200ETM001
IC693APU300J
IC693CMM311
IC693CMM301M
IC693MDL940
IC200PWR101
IC200ERM001
IC693PCM301
IC693BEM331
IC200UDR005-AA
IC693UAL006BP1
IC693MDL655
IC693CHS391
IC693CHS397
IC693-APU300J
IC693PWR321
IC693CPU350
HONEYWELL SPYDER PUL4024S
OMRON SYSMAC C20H-C6DR-DE-V1
MASTER POWER TRANSMISSION DODGE 60241305
SCHNEIDER ELECTRIC MA-405-500
HEIDENHAIN ROC 413 ENCODER 788 418 4
BALDOR RELIANCE VM3616T ELECTRIC MOTOR 7.5 H.P. 3450 R.P.M. 3 PHASE 60 HZ
XP POWER ACC101
AIRPAX 080-321-4115 SERIES 300
HONEYWELL RM7895C-1012
GEORG FISCHER 175.315.564 DIAPHRAGM
SEMICONDUCTOR CIRCUITS EA23-100
HOUSING FILTER MIRROR ASSEMBLY BLOCK 49890
ELECTRO CAM PS-5238-11-ADR
SEALED BECK 20-3400-03
EFECTOR SI1006 FLOW SENSOR SID10ADBFKOW/LS-100-IRF
ALFA LAVAL 9612220210 VALVE BODY 6-9612-22-0210
SCHRADER BELLOWS L625-36-211
SEALED NEXEN 917300 5H50P-1
WTI NP5-10 HEAT EXCHANGER 10 PLATE, 232 PSI
ABB YL611001-BY/2 PC BOARD QHFB-210
DAYTON 6K578C JET PUMP MOTOR 1/3 HP, 115V
AMCI H25-FE TRANSDUCER
MAGNATROL 33D17 SOLENOID VALVE 120V, 60HZ, 45WATTS, 0.8PSI
HUNKAR LABS 311-3 AUTO
GATES TP-2800-14M-GT-40
ELECTRA-GEAR EL-BM818-10-L-56 GEAR REDUCER EL8180039.00
PHD R13R-4-090-A-D-E ROTARY ACTUATOR 08856719-01
ALLEN BRADLEY 12M03-00022-02
MAPLE SYSTEMS MAP320D-240B
CIRCLE SEAL L5332T-4PP-3000
REXROTH 4WE6J60/EW110N9K4/V VALVE W/ 4WEH16J70/6EW110N9ETSK4/V BASE
WARNER ELECTRIC 306-17-132
HUB CITY 0220-41145-9002 POWERATIO II GEAR REDUCER MODEL: 02TE, 68.512/1
SEALED ALLEN BRADLEY 1794-IE4X0E2
YAMATO SCALE EV716F
TAMAGAWA 500C/T-L3-5V TS5204 N 850
NORDSON 310340A39
RELIANCE ELECTRIC 0-51893-7 PC
WARNER & SWASEY 8940772C SERVO PREAMP BOARD 8940-67648
ABB T5S-400 CIRCUIT
DYNAPAR HC62536000015 ENCODER 3/8" SFT
AMICON APY50 LONGLIFE L. 1088050
EXERGEN IRT/C.3X-J-340F/170C
MODICON AS-EM85-000
MTS TEMPOSONICS GHT0180UD602FE2 G
DAYTON 4Z381B
REXROTH R978869479 RELIEF VALVE DB20-1-52/350V/12
CINCINNATI MILACRON MINISCRIBE 3-424-1987A
DANFOSS 131Z8983 DRIVE VLT2807PS2B20SBR1DBF00A00C1
FUJI ELECTRIC CPS-18FB
CROUSE HINDS ECHF28
DYNAPAR HC62550000541
ASCO 8300D9F SOLENOID VALVE 240/60
EAGLE SIGNAL TC204A612
AVTRON AV25 INCREMENTAL
KEYENCE LK-3101 LASER
FRANK W. MURPHY MARKIII-12/24-BCD
NORD SK63L/2TW MOTOR / GEARBOX SK 1SIS31VF-IEC63-63L/2
PARKER 1.75DXPSRMY07.00 CYLINDER 175DXPSRMY0700
PARKER L4152910253 VALVE
FANUC A860-0202-T010
EATON CUTLER HAMMER 99-2058-2
TEAC FMAMP 13352685-00B
AERO-MOTIVE MFG. 30E-03
BALDOR VL3513-50 ELECTRIC MOTOR RPM 2850 HP 1/2
NUMATICS 33SPA441O
ARMSTRONG 182202-660
EMC CONTROLS A16401 MUX
ABB ACS143-2K73 DRIVE 3.6 AMP 50/60 HZ
SUMITOMO CNHJS-6105Y-29
SEALED HONEYWELL M4185B-1058
DOVER FLEXO TI17B
SICK WT36-N410 SENSOR W/ SICK 6009866
DYNISCO DRM623 PSI
SIEMENS 6ES5-430-4UA14
SWAGELOK SS-6HNBF8
WINSMITH E20MDNS REDUCER 10.00 RATIO 1750 RPM E20MDNS21000B7
SUPERIOR ELECTRIC M093-LF08C5006 SLO-SYN STEPPING MOTOR W/ 300354-006
ALLEN BRADLEY 500L-COD93
ACROMAG 450T-FQ1-Y-1-DIN-NCR-C
SEALED ALLEN BRADLEY 150-C3NBR
SIEMENS 6ES7-314-1AE03-0AB0
PARKER R10-03CSS / M3 REGULATOR 3/8" R1003CSSM3
CINCINNATI MILACRON 3-525-0969A
SOLA 63-23-112-4 MICRO
ELECTRA-GEAR EL-BM818-25-R-56
PARKER M09561843 3W2P MANUAL VALVE 200 PSIG
PHOENIX CONTACT IBSSTME-24-BK-T
BANNER ENGINEERING 72476 ULTRASONIC SENSOR QT50UVR3WQ
BEI E25BA-6R-SB-2500-ABZC-7272-SM18-S
GAST 6AM-FRV-62
FIREYE 70D40 FLAME
HONEYWELL UDC2000 TEMPERATURE CONTROL DC200H-2-000-1F0000-0
MERCOID DWYER DPA-7033-153-62
PARKER M09561843 MANUAL VALVE


---
---