GE EX2100 Power Supply Module IS200EPSMG1ADC
GE EX2100 Power Supply Module IS200EPSMG1ADC
1.0 USD
Min. Order:
1 Piece/Pieces
Place of Origin:
Fujian, China (Mainland)
Production Capacity:
2222
Packing:
New carton packaging
Product Description
GE EX2100 Power Supply Module IS200EPSMG1ADC
Type of payment: T/T 100% Payment in Advance
Lead time: 2-3 working days
Minimum order quantity: 1 piece
Quantity available: 11
Courier partners: DHL, UPS, TNT, FedEx and EMS
Warranty: one year
Technical specification, manuals and data sheets: Available on request
To get our best price & fast quotation, pls send us e-mail now.
✈ Contact: Jessica
✈ Email: sales*mvme.cn (please change * to @)
✈ Skype: jessica01235483
✈ Mobile Phone: 86-18030235311(WhatsApp)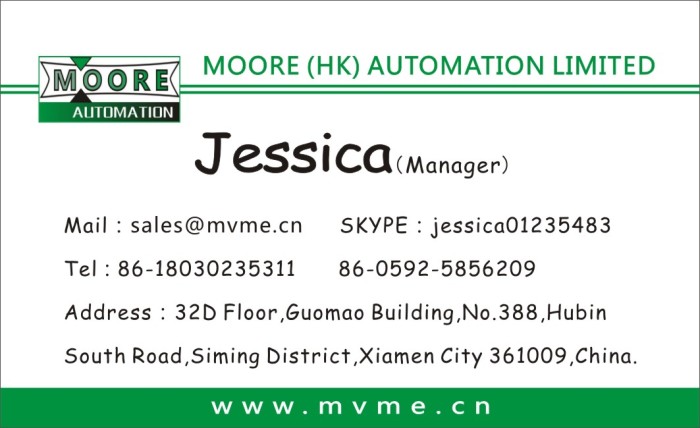 MOORE aims to provide customers with the best delivery time, quality and reliability as well as industrial accessories.
With the changing needs of the industry, we optimize our inventory according to the application needs of our customers. Our value is to develop and deliver products that improve process and business efficiency.
Our Mission: Make it easier for customers to buy industrial components
Vision :Reliable Global Supplier of Industrial Spare parts
Purpose:MOORE's goal is to become the industry's "Standard"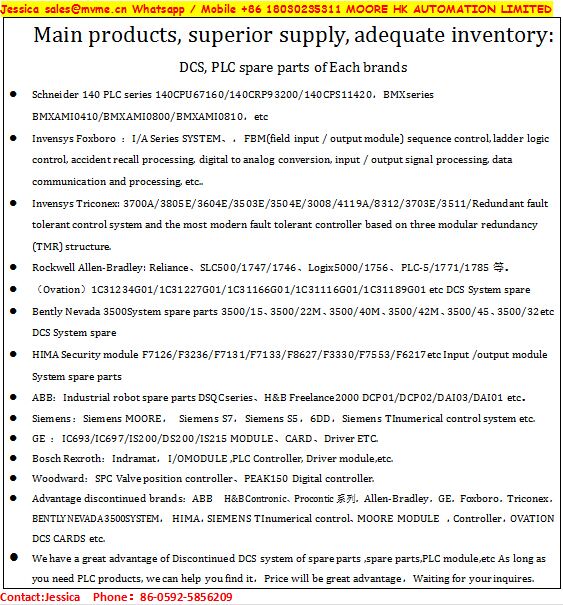 PLC 6ES7412-3HJ14-0AB0
CPU414-3DP,6ES7 414-3XJ00-0AB0,6ES7414-3XJ00-0AB0
CP1623,6GK1162-3AA00,6GK1 162-3AA00
6ES7 412-3HJ14-0AB0,6ES7412-3HJ14-0AB0
CPU416-3DP,6ES7 416-3XR05-0AB0,6ES7416-3XR05-0AB0
CPU412,6ES7 412-2EK06-0AB0,6ES7412-2EK06-0AB0
AB ,1734-TB,1734-RTB,1734-MB
AB 1756-OW16I/A,1756-OW16I
AB ,1756-OB16I/A,1756-OB16I
AB ,1756-OB32/B,1756-OB32/
6ES7 414-4HJ04-0AB0,6ES7414-4HJ04-0AB0
SM422,6ES7 422-1BL00-0AA0,6ES7422-1BL00-0AA0
FM458-1,6DD1607-0AA2,6DD1 607-0AA2
SM422,6ES7 422-1BH11-0AA0,6ES7422-1BH11-0AA0
CPU417-4H,6ES7 417-4HL04-0AB0,6ES7417-4HL04-0AB0
CPU414-4H PG,6ES7 414-4HR14-0AB0,6ES7414-4HR14-0AB0
PLC,6ES7417-4HL04-0AB0,6ES7 417-4HL04-0AB0
PLC,6ES7417-4HT14-0AB0,6ES7 417-4HT14-0AB0
CPU417,6ES7 417-4XT05-0AB0,6ES7417-4XT05-0AB0
PLC,6ES7414-5HM06-0AB0,6ES7 414-5HM06-0AB0
CPU410,6ES7 410-5HN08-0AB0,6ES7410-5HN08-0AB0
CPU417-4H,6ES7 417-4HT14-0AB0,6ES7417-4HT14-0AB0
PLC,6ES7417-5HT06-0AB0,6ES7 417-5HT06-0AB0
SIMADYN D,6SY8102-0LA03,6SY8 102-0LA03
CPU414,6ES7 414-4HM14-0AB0,6ES7414-4HM14-0AB0
CPU416,6ES7 416-3ER05-0AB0,6ES7416-3ER05-0AB0
| | |
| --- | --- |
| GE | IS200EISBH1A |
| GE | IS200DSPXH1D |
| GE | IS200ERIOH1A |
| GE | IS215ACLEH1A |
| GE | IS200EROCH1A |
| GE | IS200EPSMG2A |
| GE | IS200ERDDH1A |
| GE | IS200VPBLG1A |
| GE | IS200EBKPG1A |
| GE | DS200DSPCH1A |
| GE | IS215UCVEM01A |
| GE | IS200FCGDH1B |
| GE | IS200EPBPG1A |
| GE | IS200EMIOH1A |
| GE | IS200ESELH1A |
| GE | IS200EPSMG1A |
| GE | IS200EGDMH1A |
| GE | IS200EPDMG1B |
Our company has many products in stock,which are immediately available.The warranty is 1 years which apply to all the new products.If you purchase one more parts from us,we can make a discount to you.
If you have any question pls do not hesitate to contact us.We can supply all kind of the automaiton parts,if you want to purchase parts pls send the parts model to my mail, I will prompt reply you.
Hope anyone enquire from us.
---
---