Ge Relay Module UR 8FH
140.0~200.0 USD
Min. Order:
1 Piece/Pieces
Place of Origin:
Fujian, China (Mainland)
Means of Transport:
Ocean, Air, Land
Product Description
Ge Relay Module UR 8FH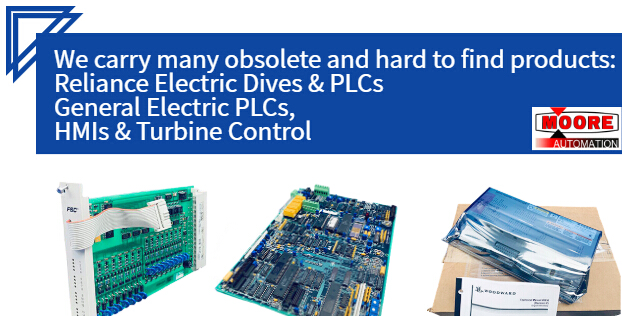 Manager: Jessica
Skype: jessica01235483
Phone/WhatsApp: 86-18030235311
Email: sales*mvme.cn ( change * to @ )

1) ControlLogix 1756 series controller
2) CompactLogix 1769 series controller
3) SLC 500 1747 1746 Series Controller
4) PLC-5 1771 1785 series controller
DCS modules:
1) AC800M series controller I/O module
2) AC800F series controller module
3) AC31 series controller module
4) 800xA series modules
5) Bailey INFI 90 module
6) DSQC robot module spare parts
7) Advant OCS system spare parts
PLC 3500 System Card,IC693,IC695,IC697,IC698 series
Siemens (Siemens):
1) Siemens MOORE
2) Siemens S5
3) Siemens S7 200series,300series,400series,so on.
Rexroth Indramat:I/O module, PLC controller, drive module

Our Mission: Make it easier for customers to buy industrial components
Moore's goal is to become the "Standard" of the industry.
We are a global leader in B-to-B industrial components.
Globally, we enable our customers to buy components by responding quickly and effectively to their needs.
It's easier.
Whatever their business is, our goal is to provide solutions that best suit their spare parts. By me
In our global business, our goal is to become a "Standard" - standard setter in our industry.
Warehouse facilities
Moore has warehouse facilities in important regions of the world, so thousands of hard-to-find stops
We can deliver all parts.
All our parts have been thoroughly tested and provided with 12-month warranty and special after-sales support. whether
When you need it, we will always provide services to ensure that the process of purchase and purchase is as smooth as possible.
Replacement of spare parts
Buying alternative automation components is not necessarily a costly and time-consuming process. In fact, this process can be
It is environmentally friendly and cost-effective.
Moore not only shortens the delivery time, but also helps you reduce carbon by making the whole replacement process economical and environmentally friendly footprint, at the same time, our next delivery shortens the downtime for you.
Jessica | sales*mvme.cn ( change * to @ ) | 18030235311

* Stock info will be informed before your order,To make everything under control.
* Original factory products.
* Sooner customer service in 1 hour
* Experienced technichal support team
* Original factory warranty for all goods from us
* 2000+ suppliers with us, we could help you to get nearly any industrial product which is difficult to find.
* Risk-free guarantee.If the item you purchase from our store are not perfect quality, simply return them to us for replacement or refund in one week.

MTS MPA-50-460-323 AMPLIFIER
NABTESCO RV-25E-121 NSFS
NABTESCO RV-550-192.42 HW9381006-C NSMP
NABTESCO RV-80E-81 NSFS
NACHI R0P851E-15M NSNP
NACHI ROP653-10 UNMP
NEMATRON IC85F1-8681AB00 15" CNC CONTROL SCREEN
NLI 093025-WD-1 NEMA SIZE 1 STARTER NSMP
NLI 093025-WD-2 NEMA SIZE 1 STARTER NSMP
NLI AIR MONITOR 72671 14" 10GA AIRFLO ELEMENT NSMP
NORDSON 1028303
OMRON F3SJ-A1199P14 NSMP
OMRON FH-1050 NSMP
OMRON FZ-SFC NSMP
OMRON MS4800S-30-1240-30X-30R (AS PICTURED) NSMP
OMRON OS3101-2-PN NSMP
Only 1 left!
or Best Offer
ORMEC AC SERVOMOTOR MAC-A110F/K1A
ORMEC ORN-50/CFEH V1.3D UNMP
PACIFIC SCIENTIFIEC SC905-001-01 UNMP
PANAMETRICS XMT868-2-11-00-0011 NSNP
PARKER 803-6008A NSNP
PARKER 890CD-53216SB0-000-1B000 BUS SERVO / VECTOR CONTROL
PARKER GV6-H20R REMAN
PARKER MPM1901BTG7G1N SERVO MOTOR
PARKER MPM1902CTJ7G1N ELECTRIC MOTOR
PARKER PA10T-133 UNMP
PARKER PA210T-133 NSMP
PARKER RS142-015-LH GEAR HEAD RATIO: 15:1
PARKER S106-205-E NSNP
PARKER TDA032EW09B2NXW NSMP
PARKER TEH050EL09B2NWU24 UNMP
PEPPERL+FUCHS IRI-KHD2-4.RX
PIAB MLL1200
POWER TEN P63D-15440 REV. R REMAN
Pre-Owned
PRO FACE 3180021-01 GP2500-TC11 OPERATOR TOUCH SCREEN PANEL
PROFACE 2780017-01
PRO-FACE 3280035-41 TOUCH SCREEN
PRO-FACE GP2600-TC11 NSMP

---
---