General Electric Mark IS220PSVOH1A Module
General Electric Mark IS220PSVOH1A Module
1.0 USD
Min. Order:
1 Piece/Pieces
Place of Origin:
Fujian, China (Mainland)
Means of Transport:
Ocean, Air, Land
Production Capacity:
123456
Packing:
New carton packaging
Product Description
General Electric Mark IS220PSVOH1A Module


Manager: Jessica
Skype: jessica01235483
Phone/WhatsApp: 86-18030235311
Email: sales*mvme.cn ( change * to @ )
Distributed control system (DCS)
Programmable Logic Controller (PLC)
Remote input / output module (RTU)
Industrial PC (IPC)
Industrial low-frequency screen
Lowcapacity hard drives for industrial use SCSI (50,68,80Pin)
AnyBus (Gateway)
Human-machine interface
Industrial control related ancillary products

MOORE provides economical and efficient spare automatic control parts for industrial automation market to meet your operation
Budget. We provide a large stock of spare parts.
Improving the Availability of Process Automation Parts
We provide control systems to provide comprehensive control components for all your automation safety and process requirements.
Have the best order cycle support to achieve investment protection and maximum return on previous asset investments
Industrial Automation Control Systems and Components Provide Reliable Solutions for Your Business
If you can't find the products you need, please contact us. We will help you find the right self for your system Motorized parts.
The drive provided byMOORE can help you improve energy consumption while optimizing process control. Our products are available used in a variety of industries or applications
Improve quality and increase production, while reducing costs to provide the best value for your facilities.
Contact us for out-of-stock parts, or if you can't find the parts you need, we can order them for you.
MOORE also provides robotic controller components to provide inexpensive solutions for your controller. Browse our official Robot Controller Components
If you can't find the product you want, please contact us for help. We are happy to help!
We will find spare parts that best meet your needs and meet your budget.
Products packed in brand new and original box. All will be shock-proof while shipping.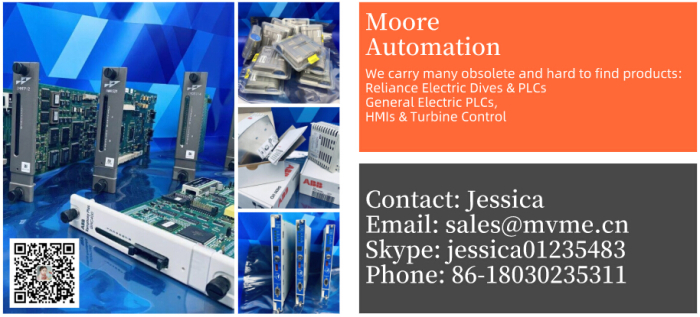 1)Quality is guarantee within 1 year from the date of shipment.
2)Pls inspects the goods carefully after you receive it. Any question, pls inform us 24 hours.
3)Pls take your time to use or test the parts, any quality problem, pls show the official test report and ship the parts back in the guarantee time.
4)Pls send your bank slip copy to us after your remittance.

FANUC A97L-0218-0396/100C-36 NSFS
FANUC DC SERVO MOTOR A06B-0642-B005
FIREYE 45RM2-1000 INFRARED SELF-CHECKING
FISHER DVC2000 32.24177SB 3000 PSI NSMP
FISHER-ROSEMOUNT DPR960 492880301 SINGLE STATION MICROCONTROLLER
FLOWSERVE LIMITORQUE L120-10 A-436047 A484MY 135763-001 NSNP
FOCKE S5-MC01
FOCKE S5MC028C (REPAIRED)
FOCKE S5MC064E
FOCKE S5MC064E CONTROL BOARD MODULE
FOXBORO P0960AW CP30 REV. 0H NSNP
FOXBORO P0960KA
FOXBORO P0960KA *NEW NO BOX *
FOXBORO RECORDER 123-FE (AS PICTURED)
FOXJET 2464034 NSMP
From United States
G&L 401-30250
G.E 5BC46AB2291A MOTOR 5000 RPM
GARDNER DENVER G-BH2 2BH20360-1AAPJ6-AA-Z NSNP
GE 36C774353AFG02
GE FANUC 18IT-MCU20032-001R00 UNMP
GE FANUC 20S A06B-0502-B242#7000 AC SERVO MOTOR
GE FANUC A06B-0128-B575#7076
GE FANUC A06B-0315-B274#7008
GE FANUC A06B-0371-B610#7076 NSNP
GE FANUC A06B-0502-B074#7000
GE FANUC A06B-0512-B701#7008 NSMP
GE FANUC A06B-0731-B200#3000 * NEW *
GE FANUC IC600CB526R EXP LOXIC CONTROL MODULE
GE FANUC IC660BBA101K-CA NSFS
GE FANUC IC693APU302S POSITION MODULE
GE FANUC IC693CPU351-FN (NO KEY)
GE FANUC IC697CPM25-CE
GE FANUC IC697CPX782-JD
GEMCO PROGRAMMABLE MODULE 1771-PLSB1
GENERAL ATOMIC ELJ001-0399-1D NSNP
GENERAL ATOMICS 04410860-001 04414501-001 REV. A NSMP
GENERAL ELECTRIC 0485L115G0008 NSNP
GENERAL ELECTRIC 0872D490G0003 NSNP
GENERAL ELECTRIC 125D3225G2 994D128-0 NSNP
GENERAL ELECTRIC 142C2302G1 143D1393G1 NSNP
Jessica | sales*mvme.cn ( change * to @ ) | 18030235311
---
---