HONEYWELL PXPR211 A New And Original High Quality In Stock
HONEYWELL PXPR211 A New and original High quality in stock
140.0~200.0 USD
Min. Order:
1 Piece/Pieces
Place of Origin:
Fujian, China (Mainland)
Means of Transport:
Ocean, Air, Land
Product Description
HONEYWELL 4DP7A PXPR211 POWER REGULATOR PCB CIRCUIT BOARD D528649
Contact:Jessica
Skype:jessica01235483
Email:sales*mvme.cn (please change * to @)
Mobile Phone:86-18030235311(WhatsApp)
Q Q:2851195444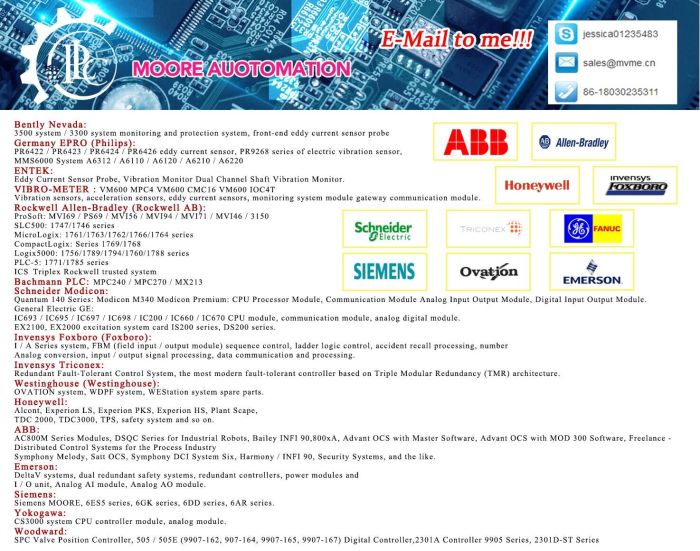 Moore Automation Decade focuses on global automation components search for Industrial Spare Parts (GPS) experts
We currently stock more than 50 million US dollars DCS card PLC module drivers, controllers, ready to be allocated.
All parts sold by Moore Automation have a 12-month warranty. And have gone through strict testing and certification
If you order more than one product, please contact us, we can provide you with a progressive discount.
We only use courier delivery parts. (DHL UPS)
If you find that other suppliers offer cheaper prices for the same product, we are also happy to offer you further discounts based on the price. If there are any other problems or products can not find the product, please feel free to contact us.
We are waiting for your inquiry.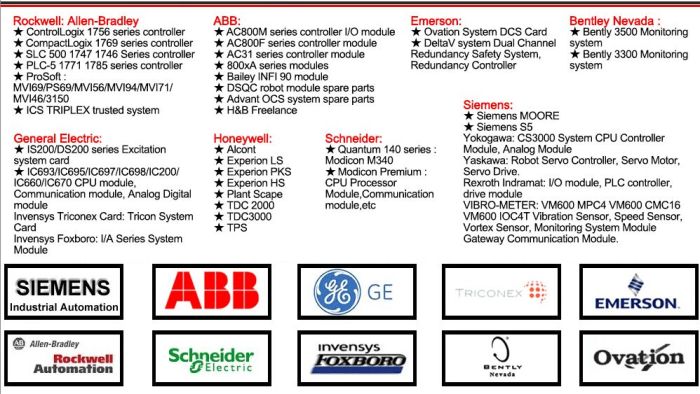 · Allen-Bradley CompactLogix :1769-L33ERMS , 1769-L36ERMS ,1769-L19ER-BB1B,
· Allen-Bradley ControlLogix : 1756-L73S , 1756-CN2R , 1756-RM2 , 1756-PA75R
· Allen-Bradley Input/Output (I/O) Modules : 1794-AENT , 1783-MS06T , 1786-RPFM
· Allen-Bradley Kinetix Servo Drive :1336-QOUT-SP13A , 1336F-B015-AA-EN,
· Allen-Bradley MicroLogix : 1764-24BWA , 1766-L32BXB , 1762-L40BWA , 1763-L16BBB
· Allen-Bradley PLC-5 : 1771-P7 , 1785-BCM ,1771-DXPS , 1771-P7 , 1771-ASB
· Allen-Bradley PanelView : 2711P-T12C6D2 , 2711P-T6C20D8 , 2711P-T15C4D8 ,
· Allen-Bradley SLC 500 : 1747-L541 ,1747-L542 , 1746-IM16 , 1746-A13 , 1746-P3
· ABB Advant OCS and Advant-800xA : DO810 ,SD831 ,AI810 TU830V1
· ABB Bailey INFI 90 : IMDSO14 , IMFEC12 , IMDSI22 , IMHSS03
· ABB Drives
· ABB H&B Freelance 2000 : AV31 AV 31 , LL02 LL 02 , RL01 RL 01
· ABB Master : DSTX120 57160001-MA , DSTD108P , DSTK183 2639603-BX
· ABB Operator Panel : PP835A , PP846A 3BSE042238R2
· ABB Procontic : CS31 , 07KT98 , 07SK90R1 ,07ZE63R302,
· ABB Robots : DSQC679, DSQC643,DSQC633,DSQC609

XC5010C
XH561 + XH562H
XF524A
XF523A
621-0007R
621-0010R
621-1100
XP502
51304427-100 MU-TDOR22
621-1160R
621-1160R
621-0007R
51304425-100 MU-TDPR02
51304441-125 MU-TDID12
51303997-100
T775E1056
51303982-400
51304685-200+51401598-200
51304483-100
51304518-200
XDL505
XD50-FCL
XD50-FC
51303979-400
51304518-150
51304685-150+51401598-150
51304685-100+51401598-100
XCL5010
51304493-250
51304493-150
51304419-100
51304501-100
51190916-104
51304493-100
51303979-550
51109693-100B
51201397-004
51401469-100
51304419-150
51201420-004
51201420003
RM7895 C 1012
51201420-005
51201420-002
51304487-100
51109806-002
51195479-200
51195153-005
51201397-002
51201421-100
51308111-002
W7704A1004
W7704D1016
51401216-100
XL50A-MMI-EP+XD50B-F
N2024-2POS
XFL523B
XFL524B
XSL514
T7412A1018
T7560A1000
T7560A1000
XSL511
DPT1000
DPT1000
DPS400
XSL513
DPS400
DPT50
XFL524B
XFL523B
621-9938RC
621-0025RC
HC900
XFL521B
TC-CCR011
TC-CCR013
51402573-150
51402573-250
TC-CCN013
TC-OAV081
TC-IAH161
900C52-0021
51305776-100
51308386-175
VLC-853C3
51401546-100 51401406-100
10M1007051
RJ45-RJ45
SDI-1624
51308371-175
51306733-175
51405040-175
51305381-500
51405038-375
VLC-853
51304260-200
51304487-100
900C32-0021
51304069-100
51304190-300
51401529-100C
900P02-0001
51303939-100
51401547-100
51303926-100
51304467-100
38001704-100
51304650-100
51304441-100
51401491-100
38001680-100
51304335-100 MU-TAOX12
51304338-100
51304084-100 /MU/MC-TP
51304493-200
51304672-150
51304672-100 MU-PAOX03
51304453-150 (MC-TAIH02)
51304386-100
900r12-0001
51309152-175 MC-PAOX03
51304754-100 MU-PAIH03
51304485-100
51304672-100
900G02-0001
900C53-0021
51304260-400
51303970-500
51304481-100
51304754-100 MU-PAIH03
51304632-100C
XL50
51304672-150
51304518-100
R24C
51109684-100
51305437-100
51304337-150 / MC-TAIH12
51304084-100 /MU/MC-TPIX12
80363969-100
621-0020RC
51304754-150 MC-PAIH03
51304584-200
51309204-175 /MCTLPA02
51304476-100 /MU-TAOX02
51201602-100
900A01-0002
51304362-350
51304453-100 /MU-TAIH02
51304476-125 /MU-TAOX02
51304831-100
51304516-200
51309152-175 MC-PAOX03
621-9928R
51304362-100 MU-PLAM02
51303979-500
51304516-200
51304584-200
621-3560RC
620-0059
621-9933C
51304493-200
T775
XL50 + XD50-FC
621-6550RC
621-0021RC
900G01-0001
900B01-0001
900C53-0001
900P01-0001
JMSC10
JMHM10
J-UDM00
900H02-0001
J-DIM00
51305406-100
J-PIM00
J-AOM10
620-0054
620-0080
620-0085
620-0056
620-0088
J-HAM10
620-0024
620-0027
620-0036
621-9939-C
FANUC A20B-0008-041003B, A350-0008-T414/03
YASKAWA SERVOPACK DRIVER CACR-PR15BC 3CSY103
NSK DD MOTOR DRIVERESKYB3CF1-02
NSK DD MOTOR DRIVERESLYA2CF1-02
A-B ALLEN-BRADLEY 1.5KW DRIVER CSD3-15BX2 CSMH-15BH1ASM3
YASKAWA SERVO DRIVERSGDB-30ADS
YASKAWA AC SERVO MOTOR SGMDH-22A2A-YR132.2KW 2000
SANYO DENKI SERVO AMPLIFIER DRIVER PY0A050T1FC1P01
SANYO DENKY SERVO AMPLIFIER 67ZA030A571S00
NEC AC SERVO DRIVERASU02-4A P003-2063
FANUC SERVO AMPLIFIER A06B-6066-H234 A2
SHINKO BM-3020E3B AC
SIEMENS SIMODRIVE 611 6SN1145-1BA00-0BA0
NIKON 4S602-352-1-1272 STAGE ENCODER RMN1000, 2251R012P
FANUC SPINDLE AMPLIFIER A06B-6078-H206H500
PANASONIC AC SERVO DRIVE ADKC060BPFADA
FANUC SPINDLE AMPLIFIER A06B-6078-H206H500
SANYO DENKI BA010FXD-S106B
MITSUBISHI AC SERVODRIVE MR-J2S-200B, MOTOR HC-SFS202
FANUC AC SERVO MOTORBM 0.5/4000,A06B-0115-B0750008
MITSUBISHI AC SERVODRIVE,MOTOR,MR-J2S-200B 2KW, HC-SFS152B
MITSUBISHI AC SERVOMOTOR DRIVER MR-J2S-200A,HC-SFS152B
PANASONIC SERVO DRIVER MFDDTA390L01 3KW
HEIDENHAIN ENCODER ERN 1381.001-2048,FOR1PH7131-2NF02-0BC2
SIEMENS SIMODRIVE 6SN1123-1AB00-0BA1,6SN1118-0DM21-0AA0
YASKAWA SERVOPACK ACSERVO DRIVE SGDA-04VS, MOTOR SGMP-04A3TE81
FAULHABER 2842S012C001G 610 485,MINIMOTOR SA 23/1 246:1, NIKON 4425i
YASKAWA SERVOPACK SGDM-05ADA,SGMGH-05ACA6C,
SCHNEIDER ELECTRIC SERVO DRIVER LXM32AU60N4
FAULHABER 2842P012C-610 001G-611,MINIMOTOR SA 23/1 246:1, NIKON 4425i
MITSUBISHI AC SERVOMOTOR HF-SP202B
PARKER EME SERVO MOTOR HDY115C6-88S1
SANYO DENKI BA010FXD-S106B
MITSUBISHI AC SERVOMOTOR HF-SP152B
PANASONIC AC SERVO DRIVER MSDA153D1A32
PANASONIC AC SERVO DRIVER MFDA153D1A37
SAMSUNG 200W SERVO PACK,DRIVER MOTOR 3-AXIS
YASKAWA SERVO 200W,3-AXIS,DRIVER MOTOR,SGDA-02ASP,SGMP-02A312
SAMSUNG 200W SERVO PACK,DRIVER MOTOR 3-AXIS
YASKAWA SERVOPACK DRIVER CACR-PR05BC 3ESY100
YASKAWA SERVOPACK DRIVER CACR-PR05BC 3ESY101
SCHNEIDER ELECTRIC SERVO DRIVER LXM32AD30N4
MITSUBIAHI AC SERVO MR-J2S-350A,HC-SFS301+CABLE
YASKAWA ELECTRIC SERVOPACK CPCR-PR15BC3CSY170B
PANASONIC AC MSDA153D1A11,MSMA152D1H
SANYO DENKI BA010FXD-S105B
YASKAWA SERVOPACK DRIVER SGDS-20A05A
YASKAWA SERVOPACK ACSERVO DRIVE CACR-PR03AH3FU
YASKAWA SERVOPACK SGDA-04VS, MOTOR SGMP-04A3TE81
PANASONIC AC SERVO MSDA153D1A11,MSMA152D1C
FANUC A06B-0221-B000AC SERVO MOTOR ENCODER A860-2000-T301
ROCKWELL OEMAX AC SERVO MOTOR RSMF-55BQ1ATK3 5.5KW
PANASONIC AC SERVO DRIVE MSDA253A1A 2.5KW
YOKOGAWA DYNASERV DDSERVO ACTUATOR SR1015B82
YASKAWA SERVOPACK DRIVER SGDH-15AEY213
YASKAWA SERVOPACK DRIVER JUSP-WS30AA,JUSP-WSCD30AA,JUSP-WSCA30AA,JUSP-WSCB30AA
YASKAWA SERVOPACK DRIVER SGDS-08A12A 750W MOTOR SGMAS-06ACA21
YASKAWA AC SERVO MOTOR SGMCS-02B3A11 42W200V,
HARMONIC DRIVE SYSTEMS HA-655-4 DRIVER HA-655-4-200,ADJ:FHA-40C-160-E250-C
FAULHABER 2842S012C001G 610 485,MINIMOTOR SA 23/1 246:1, NIKON 4425i
YASKAWA SERVO DRIVE SGDV-200A01A 3KW
MINIMOTOR SA 22/2K 17.2:1 NIKON 4425i
PANASONIC AC SERVO MOTOR MQMA042A1C, FCMS-A25-ZS35-119
PANASONIC AC SERVO DRIVER MUDA083A2A38
YOKOGAWA DYNASERV DD SERVO ACTUATOR SR1050A02 -2P0/95S0794
NSK ESLYB1AF3-04
PANASONIC AC SERVO DRIVE MFDDTB3A2L01 5.0KW
PANASONIC AC SERVO DRIVE MDD103A1V
INDRAMAT BRUSHLESS SERVODRIVE 71C-0-N S-3-C/095-B-0//S01
YASKAWA JUSP-WSCB60AA,JUSP-WSCA60AA WS60AA,FUJI 6R1TI30Y-080,6MBP200RA060-06
YASKAWA SERVOPACK JUSP-WSCB 30AA,JUSP-WSCA30AA,JUSP-WSCD 30AA,JUSP-WS30AA,
MINIMOTOR SA 22/2K 3.1:1 NIKON 4425i
MINIMOTOR SA 22/2K 17.2:1 NIKON 4425i
YOKOGAWA DYNASERV DDSERVO ACTUATOR SR1050A02 -2P0/95S0794
CHIBA PRECISION SFJ1/6.00, TORMAX TC-234413G
PANASONIC AC SERVO DRIVER MFDA083D1A37
YASKAWA AC SERVO MOTOR SJME-04AMB4C
---
---