Honeywell 51202329-202 I/O Link Cable Pair 4 Drop 9in Pitch
Honeywell 51202329-202 I/O Link Cable Pair 4 Drop 9in pitch
140.0~200.0 USD
Min. Order:
1 Piece/Pieces
Place of Origin:
Fujian, China (Mainland)
Means of Transport:
Ocean, Air, Land
Product Description
Country of origin:
Austria
Honeywell 51202329-202 I/O Link Cable Pair 4 Drop 9in pitch
✈ Contact: Jessica
✈ Email: sales*mvme.cn (please change * to @)
✈ Skype: jessica01235483
✈ Mobile Phone: 86-18030235311(WhatsApp)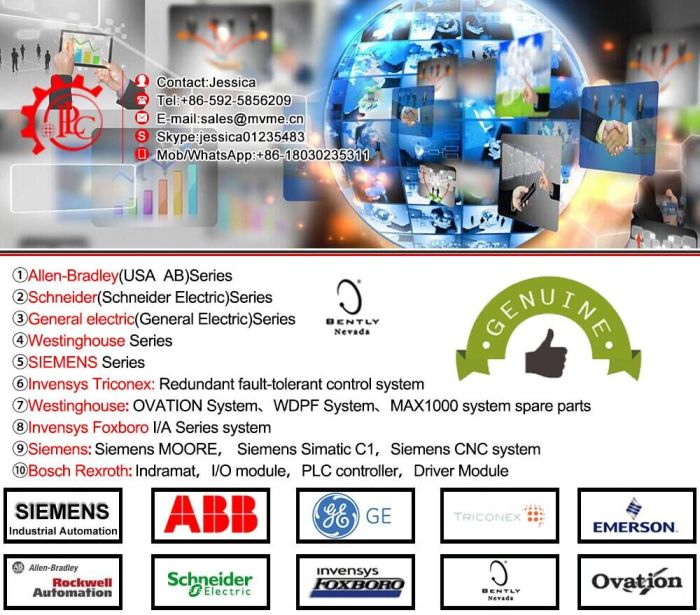 MOORE is a global sales organization engaged in industrial automation parts.
In the field of industrial automation, MOORE is committed to becoming the most reliable, wide range of parts and components, and the happiest partner in the world.
This means that our "trading is a transaction" attitude, unique knowledge and excellent customer service.
In order to achieve this goal, we will continue to innovate and invest in all kinds of shutdown parts solutions facing today's commercial market.
We provide industrial automation products for global customers. We currently serve more than 10,000 customers in more than 100 countries/regions.
Electronic failure usually means that production stops or sometimes even the whole production process. This may lead to capital losses.
At MOORE , we have the right inventory to help you. We are your sustainable support partner for the maintenance of industrial equipment in the system.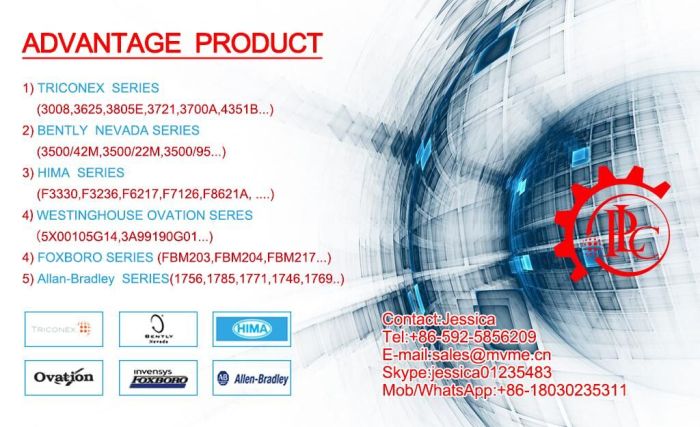 Siemens 6ep1 344-1al11
Siemens 3NP506, 3ZX1012-0NP50-1AA1 63A
Siemens 6ES7972-0AB01-0XA0 / 6ES7 972-0AB01-0XA0
Siemens 3TH42 62-0AD0 / 3TH4262-0AD0
Siemens 6ES7322-1HF01-0AA0 / 6ES7 322-1HF01-0AA0
Siemens 3rt1044-1bb40
Telemecanique KBC 16cb40
Siemens 6FC5250-3AX20-6AH0
Siemens 6ES5935-8ME11 / 6ES5 935-8ME11
KUKA KRC2 KPC-Board 00-108-699
Telemecanique Starter ld4-lc.30
Festo Druckregelventil LRP-1/4-0,7 159500
Festo Feinstfilter LFMA-D-MIDI-A
Siemens 426118.0018.010903
Siemens 6ES7151-1BA00-0AB0 / 6ES7 151-1BA00-0AB0
Siemens 63A 3VE4200-0CP00
Siemens 6SN1114-0NB00-0AA1
Siemens 6ES7132-4BB30-0AB0
SEW Eurodrive EMV-Modul EF 075-503
Bender Differenzstrom-überwachungsger?t RCMA472LY-21
Siemens 6ES7138-4FB02-0AB0, KUKA 00130349 00-130-349
SEW Eurodrive Bedienger?t FBG31C-01
Pilz Sicherheitsrelais PNOZ X2.1 2S
Rexroth Indramat Inline-Funktionsklemme R-IB IL24 DO 2-2A 289294
Siemens 6FC5114-0AA02-0AA0 / 6FC51140AA020AA0
Siemens 6FC5247-0AA00-0AA3
Pepperl+Fuchs Schaltverst?rker KFD2-SOT2
Artis Typ KU4
Siemens 6ES7194-4CA50-0AA0 + 6ES7142-4BD00-0AA0
Siemens 6ES7158-0AD01-0XA0 / 6ES7 158-0AD01-0XA0
Siemens 6ES7953-8LG00-0AA0
Siemens 6ES7323-1BL00-0AA0 6ES7 323-1BL00-0AA0
| | |
| --- | --- |
| Bently Nevada | 350500-00-00-00-11-00 |
| Bently Nevada | 330103-00-04-05-02-00 |
| Bently Nevada | 330106-05-30-15-02-00 |
| Bently Nevada | 330103-00-05-05-02-00 |
| Bently Nevada | 330103-05-10-02-00 |
| Bently Nevada | 330130-080-00-00 |
| Bently Nevada | 330180-91-00 |
| Bently Nevada | 330180-51-CN |
| Bently Nevada | 330180-51-00 |
| Bently Nevada | 330180-91-CN |
| Bently Nevada | 330180-080-00-00 |
| Bently Nevada | 330103-00-06-10-02-CN |
| Bently Nevada | 330103-00-07-05-02-00 |
| Bently Nevada | 330103-05-15-05-02-00 |
| Bently Nevada | 3300/55 |
| Bently Nevada | 320087-A06 |
| Bently Nevada | 3300/14 |
| Bently Nevada | 330130-080-00-05 |
| Bently Nevada | 330850-90-00 |
| Bently Nevada | 3500/42 125672-02 |
| Bently Nevada | 3500/42M 140734-02 |
| Bently Nevada | 3500/40M 176449-01 |
---
---