Honeywell CC-PAIH01 PWA MODULE HART HLAI G3 CE CC
Honeywell CC-PAIH01 PWA MODULE HART HLAI G3 CE CC
140.0~200.0 USD
Min. Order:
1 Piece/Pieces
Place of Origin:
Fujian, China (Mainland)
Means of Transport:
Ocean, Air, Land
Product Description
Country of origin:
Austria
Honeywell CC-PAIH01 PWA MODULE HART HLAI G3 CE CC
✈ Contact: Jessica
✈ Email: sales*mvme.cn (please change * to @)
✈ Skype: jessica01235483
✈ Mobile Phone: 86-18030235311(WhatsApp)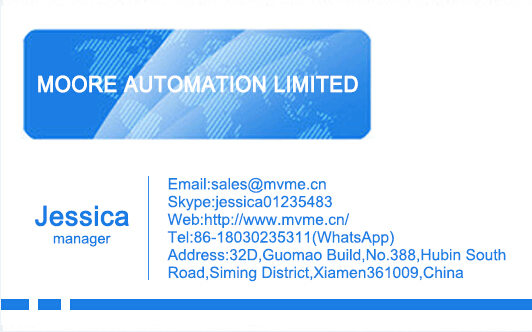 Are you looking for a suitable sustainable partner to ensure that your industrial electronic equipment runs smoothly or maintains in case of failure?
If so, MOORE is your best choice.
We are spare parts specialists in industrial automation
Inventory: A large number of new and discontinued parts with a wide range of brand names.
Economic Benefits: Competitive Prices and Specific Distributor Discounts
Reliability: Each product is tested and guaranteed for at least 12 months.
Speed: Rapid response, efficient delivery.
Professional: Solid business organization, well-trained engineers.
International: Global network of partners and preferred suppliers
give me a inquiry, i will get you back immediately or in 9 hours.
if you have a large purchase, we can make a discount.

high efficiency application

good quality with long life span

specifications:

new+original +one year warranty

Hot sell and Big discount !!!!
More details please contact us !!!
RADWELL 999-001-0760
ASEA BROWN BOVERI 0-54339-1
FANUC IC752SPL006
ASEA BROWN BOVERI 76876-52A
ALLEN BRADLEY 2711-T10C20
SIEMENS HJD63F400
SCHNEIDER ELECTRIC MC402
ALLEN BRADLEY 1756-L73
SIEMENS 6FM1-726-3BA00
ASEA BROWN BOVERI 57310001-MP
SIEMENS 6AV7-244-6EA03-0GT0
ASEA BROWN BOVERI 57310001-MP/2
OMRON F350-C12-E
ALLEN BRADLEY 1771-DMC4
OMRON Z300-S2T
GENERAL ELECTRIC L90D00HCHF8AH6IW7K
DET TRONICS R7494B5001
GENERAL ELECTRIC DS2020LPPA341A
ALLEN BRADLEY 2711-B5A20
ALLEN BRADLEY 150-A135NCD
ASEA BROWN BOVERI 613440-5E
EMERSON 01984-2347-0041
ALLEN BRADLEY 2711P-T12C4D6
WESTINGHOUSE 149D835G01
MARPOSS 882I330930
SIEMENS MMB-3
ASEA BROWN BOVERI 38C59
ALLEN BRADLEY 5250-LP1
ASEA BROWN BOVERI S6HQ600EW
| | |
| --- | --- |
| Honeywell | 51196694-928/U1 |
| Honeywell | 51199932-200 |
| Honeywell | 51308301-175 CC-TCF901 |
| Honeywell | 51308307-175 CC-TCNT01 |
| Honeywell | 51308353-175 CC-TAOX11 |
| Honeywell | 51308363-175 CC-TAIX01 |
| Honeywell | 51308365-175 CC-TAIX11 |
| Honeywell | 51308373-175 CC-TD0B11 |
| Honeywell | 51308376-175 CC-TDOR11 |
| Honeywell | 51308380-175 CC-SDOR01 |
| Honeywell | 51308386-175 CC-TDIL01 |
| Honeywell | 51405038-175 CC-PAIH01 |
| Honeywell | 51405039-175 CC-PA0H01 |
| Honeywell | 51405040-175 CC-PDIL01 |
| Honeywell | 51405043-175 CC-PD0B01 |
| Honeywell | 51405047-175 CC-PCF901 |
| Honeywell | CC-PAOH01 51405039-175 |
Sales serves:


1.We supply a large number of prompt goods.
2.New packaging and factory sealed

---
---