Honeywell CC-PDIL01 Digital Input 24V Module
Honeywell CC-PDIL01 Digital Input 24V Module
1900.0~2000.0 USD
Min. Order:
1 Piece/Pieces
Place of Origin:
Fujian, China (Mainland)
Means of Transport:
Ocean, Air, Land
Packing:
New carton packaging
Product Description
Honeywell CC-PDIL01 Digital Input 24V Module
Contact:Jessica
Skype:jessica01235483
Email:sales*mvme.cn (please change * to @)
Mobile Phone:86-18030235311(WhatsApp)
Wechat:hu18030235311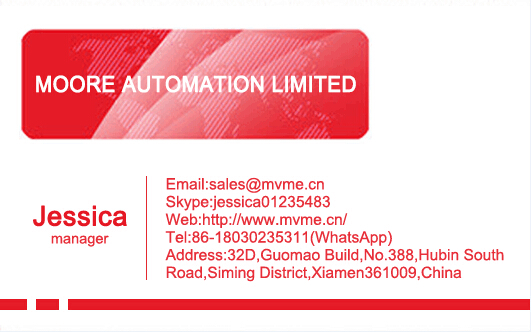 Two mechanical keys are used to configure the MTU for different types of I/O modules. This is only a mechanical configuration and it does not affect the functionality of the MTU or the I/O module. Each key has six positions, which gives a total number of 36 different configurations. The configuration can be changed with a screwdriver.
The MTU can be mounted on a standard DIN rail. It has a mechanical latch that locks the MTU to the DIN rail. The latch can be released with a screwdriver.
The MTU has a mechanical locking mechanism that locks the module in its position. This mechanism also gives the signal BLOCK to the I/O module that keeps the module in its init state until it is locked in its position.
The top part of the MTU can be removed to replace the termination board even with the system running. Such a need can be caused by a damaged terminal screw. The MTUs are available in tree versions (Compact, Extended and Redundant).
3BHT300005R1 AI620
3BSE008062R1 PM633
3BHT300019R1 SA610
3BHT300008R1 AO610
TP854 3BSE025349R1
TU846 3BSE022460R1
TU844 3BSE021445R1
PS24-EX SA910S
IEMMU21
IEMMU01
SPAJ140C-AA
PHARPS32200000
IMFEC11
IMMFP12
3BSE030220R1 CI854AK01
3BSE023676R1 AO845
3BSE003785R1 /TK515
3BSC950030R1 /TK513
TB802A/3BSE013219R1
CI520V1 3BSE012869R1
3BSC950130R1 TK803V018
| | |
| --- | --- |
| HONEYWELL | 8C-TAZMA1 |
| HONEYWELL | 8C-TAZX51 |
| HONEYWELL | 8C-TDZLA1 |
| HONEYWELL | 8C-TOIL61 |
| HONEYWELL | 8C-TAZXB1 |
| HONEYWELL | 8C-TAOXB1 |
| HONEYWELL | 8C-TCNTA1-C |
| HONEYWELL | 8C-TAIOA1 |
| HONEYWELL | 8C-TAOXA1 |
| HONEYWELL | 8C-TAIXA1 |
| HONEYWELL | 51305381-500 |
| HONEYWELL | 51202329-402 |
| HONEYWELL | 51202329-212 |
| HONEYWELL | 51202335-300 |
| HONEYWELL | 51202329-606 |
| HONEYWELL | 51202329-616 |
| HONEYWELL | 51202330-200 |
| HONEYWELL | 51202343-001 |
| HONEYWELL | 51202329-112 |
| HONEYWELL | 51202329-732 |
| HONEYWELL | 51202329-602 |
| HONEYWELL | 51202329-202 |
| HONEYWELL | 51202329-102 |
| HONEYWELL | 51304465-500 |
we supply:
plc : ab,abb,ge,schneider
dcs : abb,siemens moore,foxboro,westinghouse,yokogawa
esd : triconex,hima,bently,ics
excitation cards : abb,ge marke

---
---