Honeywell CC-PDOB01 In Stock
Honeywell CC-PDOB01 In Stock
333.0~666.0 USD
Min. Order:
1 Piece/Pieces
Place of Origin:
Fujian, China (Mainland)
Means of Transport:
Ocean
Product Description
Honeywell CC-PDOB01 In Stock
Contact:Jessica
Skype:jessica01235483
Email:sales*mvme.cn (please change * to @)
Mobile Phone:86-18030235311(WhatsApp)
Q Q:2851195444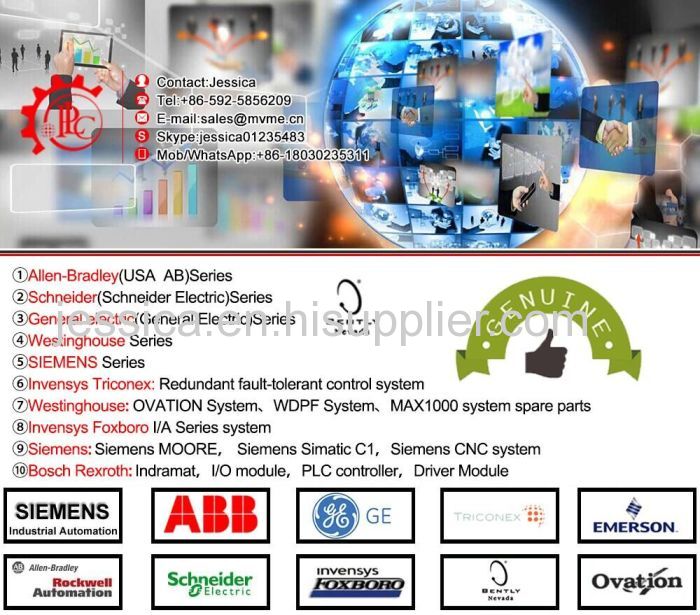 Moore Automation is China
A leading supplier of industrial automation components
Moore mission is to make your purchase of spare parts for any brand as fast and easy as possible. Our experienced sales team staff are ready to help you throughout the process. Let you save more time and money!
We provide new discontinued automation components for the factory (MRO).
Reduce your maintenance costs.
Extend the life of the control system.

DELTAV DC9430X1-CA2, 44B2733X022 ALARM INTERFACE UNIT
DELTAV KJ1501X1-BB1, 12P0678X022 SYSTEM PASSTHROUGH POWER SUPPLY 12/12VDC (DC/DC)
DELTAV KJ1501X1-BB1, 12P0678X032 SYSTEM PASSTHROUGH POWER SUPPLY 12/12VDC (DC/DC)
DELTAV KJ1501X1-BB1, 12P0678X032 SYSTEM PASSTHROUGH POWER SUPPLY 12/12VDC (DC/DC)
DELTAV KJ1501X1-BC1, VE5008, 12P2186X012 System Dual DC Power Supply (DC/DC)
DELTAV KJ1501X1-BC1, VE5008, 12P2186X012 System Dual DC Power Supply (DC/DC)
DELTAV KJ1700X1-BA1, VE6006, 12P1710X012 Media Converter
DELTAV KJ1700X1-BA1, VE6006, 12P1710X012 Media Converter
DELTAV KJ1700X1-BA1, VE6006, 12P1710X012 Media Converter
DELTAV KJ1700X1-BA1, VE6006, 12P1710X012 Media Converter
DELTAV KJ2002X1-CA1, 12P1509X042 M5 Controller
DELTAV KJ2002X1-CA1, 12P1509X042 M5 Controller
DELTAV KJ2002X1-CA1, 12P1509X042 M5 Controller
DELTAV KJ2002X1-CA1, VE3004, 12P1509X092 M5+ Controller
DELTAV KJ2002X1-CA1, VE3004, 12P1509X092 M5+ Controller
DELTAV KJ2002X1-CA1, VE3004, 12P1509X092 M5+ Controller
DELTAV KJ3001X1-BA1, VE4001S2T1, 12P0549X112 DI, 8-Channel, 24 VDC, Isolated Card
DELTAV KJ3001X1-BA1, VE4001S2T1, 12P0549X112 DI, 8-Channel, 24 VDC, Isolated Card
DELTAV KJ3001X1-BA1, VE4001S2T1, 12P0549X112 DI, 8-Channel, 24 VDC, Isolated Card
DELTAV KJ3001X1-BB1, VE4001S2T2, 12P0550X142 DI, 8-Channel, 24 VDC, Dry Contact Card
DELTAV KJ3001X1-BB1, VE4001S2T2, 12P0550X142 DI, 8-Channel, 24 VDC, Dry Contact Card
DELTAV KJ3001X1-BB1, VE4001S2T2, 12P0550X142 DI, 8-Channel, 24 VDC, Dry Contact Card
DELTAV KJ3001X1-BB1, VE4001S2T2, 12P0550X142 DI, 8-Channel, 24 VDC, Dry Contact Card
DELTAV KJ3001X1-BB1, VE4001S2T2, 12P0550X142 DI, 8-Channel, 24 VDC, Dry Contact Card
DELTAV KJ3001X1-BB1, VE4001S2T2, 12P0550X142 DI, 8-Channel, 24 VDC, Dry Contact Card
DELTAV KJ3001X1-BB1, VE4001S2T2, 12P0550X142 DI, 8-Channel, 24 VDC, Dry Contact Card
DELTAV KJ3001X1-BB1, VE4001S2T2, 12P0550X132 DI, 8-Channel, 24 VDC, Dry Contact Card
DELTAV KJ3001X1-BB1, VE4001S2T2, 12P0550X132 DI, 8-Channel, 24 VDC, Dry Contact Card

2760020-400
DSSR122
SDCS-PIN-48
TB805
RC513-FE-S1
SDCS-IOB-3
DO810 3BSE008510R1
TU810V1 Termination Unit 3BSE013230R1 PR: G 4
DI810 ABB input module 3BSE008508R1
AI810 ABB Input Module 3BSE008516R1
DO820 Output Module 3BSE008514R1
SDCS-POW-4-COAT Drive 3ADT315100R1001
CI810B ABB module 3BSE020520R1
SDCS-POW-4 3ADT315100R1001
SDCS-PIN48-SD PUL 3BSE004939R1012
TU810V1 Termination Unit 3BSE013230R1 PR: G G3
TU811V1 Termination Unit 3BSE013231R1 PR: J
DI821 ABB Digital Input Module 3BSE008550R1 PR: E 2
AO820 ABB Module 3BSE008546R1 PR: K 1
MB510 Interface Board 3BSE002540R1 PROGRAM CARD INTERFACE
CDO312R control panel
SB522V1 Battery 3BSC760015R1 12V 4.4Ah
TB806 3BSE008536R1
Trusted TMR Processor-T8110B
Trusted TMR Communication Interface -T8160
Trusted TMR Expander Interface-T8311
Trusted TMR Communications Interface -T8151B
Trusted TMR Expander Processor-T8310
Trusted TMR 24V dc Digital Input Module-T8403
Trusted TMR 120V dc Digital Input Module-T8423
Trusted TMR Analogue Input Module-T8431
Trusted TMR 24/48V dc Digital Output Module-T8461
Trusted TMR 120V dc Digital Output Module-T8471
Trusted TMR Analogue Output Module-T8480
Regent Digital Input Module 15-80VDC - T3411F
Regent Isolated Guarded Output Module - T3485
Regent Monitored Input 120VDC – T3488
Regent RTD Input Module – T3432
Regent Thermocouple – T3431
Regent 120VDC Input – T3418F
3500/25 key phase detection module 149369-01

3500 / 44M Gas Turbine Vibration Monitoring Module 176449-03
3500/92 Communication Gateway Module 136180-01
3500 / 40M Front Monitoring Module 176449-01
3500 / 22M Transient Data Interface Instrumentation 138607-01
3500/32 4-way relay 125712-01
3500 / 42M Front / Earthquake Monitoring Module
3500/15 power supply 127610-01
3500.00 Bently Nevada System Instrumentation Frame
3500/25 Bently Nevada Keyphasor module
3500/45 Bently Nevada Position Monitor Module
3500/33 Bently Nevada 16-channel relay module
3500/34 Bently Nevada TMR relay module
3500/50 Bently Nevada Speed Module
3500/53 Bently Nevada overspeed detection module
3500/60 Bently Nevada temperature monitor module
3500/61 Bently Nevada temperature monitor module
3500/62 Bently Nevada Process Variable Monitor Module
3500 / 64M Bently Nevada dynamic pressure monitor
3500/65 Bently Nevada16 channel temperature module
3500 / 70M Bently Nevada reciprocating compressor impact speed monitor
3500 / 72M Bently Nevada Piston Rod Position Monitor
3500 / 77M Bently Nevada Cylinder Pressure Monitor
3500/63 Bently Nevada gas monitor
3500/93 Bently Nevada LCD display device
3500/94 Bently Nevada VGA display device
Bentley TSI system hardware
3500 software
3500/01 3500/02 3500/03
3500/05 system framework
3500/06 protective box
3500/08 Troubleshooting Connection Panel
3500 internal barrier
3500 electrical insulation device interface
| | |
| --- | --- |
| PO-32L(PC)V | CONTEC |
| CVX-1243-MC2 OZ23 | CONVUM |
| FA-100EN | CORRECT |
| CTC 2207 | CTC |
| CTI 2501 901C-2501 | CTI |
| 2D78559 2D78559G01 | CUTLER-HAMMER |
| 4A55149H02 | CUTLER-HAMMER |
| FLB-60M-03 0190-19674 | DAIHEN |
| KF-5-10 | DAIKIN |
| CARD 175H3828 DT2 | DANFOSS |
| FCD 311 FCD311PT4P66STR1DCF00T62C0 | DANFOSS |
| AKM22C-ANMN2-00 | DANHER |
| PSE-KRT02012 | DELVOTEC |
| DIC-4-025-E-0000-01 DIC4025E000001 | DEMAG |
| PT-1DA | DIAVAC LIMITED |
| AT200-LP | DYNAX |
| 319100-0200B | E+H |
| FLOWTEC/319083-0200B | E+H |
| 21G2773B1STB44 | EAA |
| PW5115 1500I RM BLK | EATON |
| E45FL | EDL COMAT |
| DRIVE PS-5 | ELAU |
| MC-4/11/01/400 | ELAU |
| MC-4/11/05/230 | ELAU |
| MC-4/11/22/400 | ELAU |
| PMC-2/11/05/000/00/00/00/00/2K | ELAU |
| PMC-2/11/08/000/00/00/00/00/0K | ELAU |
| E650 | ELECTRO-CRAFT |
| 960177-02 | EMERSON |
| ES0350.M1A05L.27N0 | EMERSON |
| FX-490 | EMERSON |
| CON021/916-120 PR6426/000-030 | EPRO |
---
---