Honeywell CC-PWRR01(SPS5713) REDUNDANT POWER SUPPLY FOR C300 (TDI Power)
Honeywell CC-PWRR01(SPS5713) REDUNDANT POWER SUPPLY FOR C300 (TDI Power)
1.0 USD
Min. Order:
1 Piece/Pieces
Place of Origin:
Fujian, China (Mainland)
Production Capacity:
1234
Packing:
New carton packaging
Product Description
Honeywell CC-PWRR01(SPS5713) REDUNDANT POWER SUPPLY FOR C300 (TDI Power)
Type of payment: T/T 100% Payment in Advance
Lead time: 2-3 working days
Minimum order quantity: 1 piece
Quantity available: 100
Courier partners: DHL, UPS, TNT, FedEx and EMS
Warranty: Twelve months
Technical specification, manuals and data sheets: Available on request
To get our best price & fast quotation, pls send us e-mail now.
✿ Contact: Jessica
✿ Email: sales*mvme.cn (please change * to @)
✿ Skype: jessica01235483
✿ Mobile Phone: 86-18030235311(WhatsApp)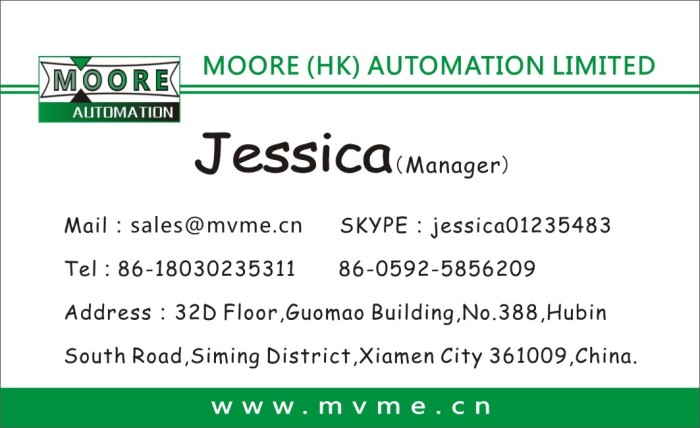 In the field of industrial automation, new technologies are rapidly introduced. Parts quickly become obsolete and scarce. In many cases, the original manufacturer can't even help.
The result is a decline in the availability of existing technologies and the professional services they need. This has led to investments in new electronic products and changes in the entire production line.
This is no longer needed, MOORE is here to serve you! Not only do we provide new spare parts, but we can also supply electronic parts that are out of production.
You can focus on your business while ensuring that your electronic products and systems continue to operate sustainably.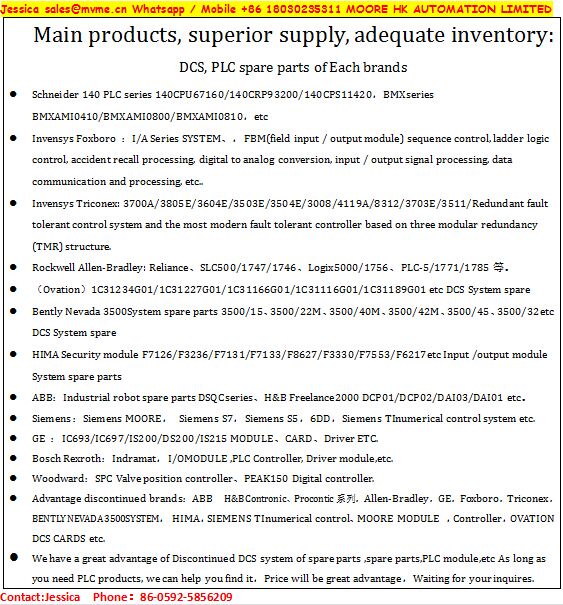 Lam Research 716-140118-001 8
Ulvac Technologies EM1562-153-05B
Tegal CR1324-00100
ASM 93000-07445
TEL Tokyo Electron 3D10-101276-V1
KLA Instruments 710-658807-00
Asahi 130NK 3-2 AVIS2 ERG AMP Nikon 4S587-011
Asahi 130NK 3-2A AVIS2 ERG AMP Nikon 4S013-374 4S587-011-1
Wafer Holdings Inc TNK7A0112
FMI 930V3 Electrostatic Chuck 300mm Monopolar Ceramic TEL-930V3-R
Brooks Automation 017-0266-01
West Coast Quartz 91-01627A
West Coast Quartz 91-01627RW Silicon Slab AMAT 0200-40013
Asahi 130NK 3-2A AVIS2 ERG Amplifier Nikon 4S587-011-1
iH80 NEW LOOK Edwards A533-50-945
TEL Tokyo Electron 849 CHP Chilling Hot Plate Process Station ACT12-200
TEL Tokyo Electron 849 CHP Chilling Hot Plate Process Station ACT12-200
MDX 10K AE Advanced Energy 2194-008-X
AMAT Applied Materials 0620-00516
Baldor 92B645730000 Motor with Camco Indexer 80RDM4H20-330 Gear D99XX5164
PTI 12612G01
AMAT Applied Materials 9090-00442 Decel PSU Resistor Chassis 9010-01409ITL
VAT 14046-PE44-AAL1
| | |
| --- | --- |
| Honeywell | 51308307-175 CC-TCNT01 |
| Honeywell | 51308353-175 CC-TAOX11 |
| Honeywell | 51308363-175 CC-TAIX01 |
| Honeywell | 51308365-175 CC-TAIX11 |
| Honeywell | 51308373-175 CC-TD0B11 |
| Honeywell | 51308376-175 CC-TDOR11 |
| Honeywell | 51308380-175 CC-SDOR01 |
| Honeywell | 51308386-175 CC-TDIL01 |
| Honeywell | 51405038-175 CC-PAIH01 |
| Honeywell | 51405039-175 CC-PA0H01 |
| Honeywell | 51405040-175 CC-PDIL01 |
| Honeywell | 51405043-175 CC-PD0B01 |
| Honeywell | 51405047-175 CC-PCF901 |
| Honeywell | 51304419-150 |
| Honeywell | 51304386-100 |
| Honeywell | 51303932-476 |
| Honeywell | 51308363-175 |
Our company has many products in stock,which are immediately available.The warranty is 1 years which apply to all the new products.If you purchase one more parts from us,we can make a discount to you.
If you have any question pls do not hesitate to contact us.We can supply all kind of the automaiton parts,if you want to purchase parts pls send the parts model to my mail, I will prompt reply you.
Hope anyone enquire from us.
---
---