Honeywell CC-TAIM01 PMIO LLMUX IOTA (64PT)
Honeywell CC-TAIM01 PMIO LLMUX IOTA (64PT)
1.0 USD
Min. Order:
1 Piece/Pieces
Place of Origin:
Fujian, China (Mainland)
Production Capacity:
1234
Packing:
New carton packaging
Product Description
Honeywell CC-TAIM01 PMIO LLMUX IOTA (64PT)
Type of payment: T/T 100% Payment in Advance
Lead time: 2-3 working days
Minimum order quantity: 1 piece
Quantity available: 250
Courier partners: DHL, UPS, TNT, FedEx and EMS
Warranty: one year
Technical specification, manuals and data sheets: Available on request
To get our best price & fast quotation, pls send us e-mail now.
✿ Contact: Jessica
✿ Email: sales*mvme.cn (please change * to @)
✿ Skype: jessica01235483
✿ Mobile Phone: 86-18030235311(WhatsApp)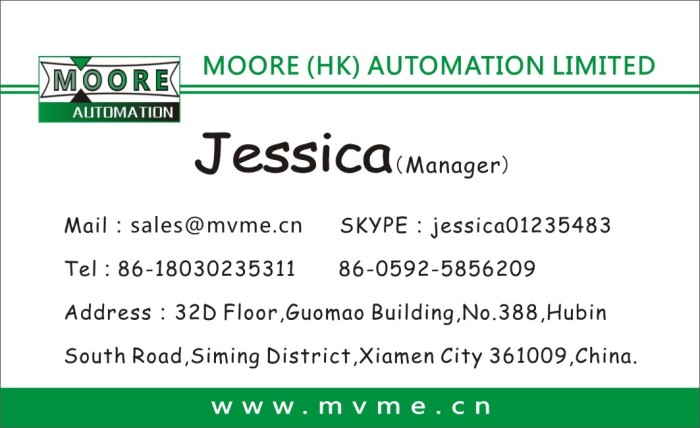 Our process
Finding a reliable and experienced supplier of automated parts can be a daunting task.
MOORE cooperates with more than 90,000 customers in 165 countries and regions around the world. With the help of the industry's leading service, speed and knowledge reserves, it's easy to buy automated spare parts.
Our sales team is on standby to help you with any form of consultation. You can ask questions by e-mail, telephone or using our inquiry form on the product page and the Contact Us page.
Generate quotation
We will reply to you within an average of 30 minutes and offer competitive quotations. Then, we will contact you to ensure that you are satisfied with the quotation and delivery date.
Place an order
If you feel satisfied, you can place the order immediately. After placing the order, you can enjoy new parts and get them into your hands.
One of our most advanced warehouse facilities will process and package your spare parts to ensure that you receive them in good condition.
Delivery on the same day
Your spare parts are usually delivered on the same day. After you receive spare parts, our after-sales support team can answer any questions you may encounter after purchase.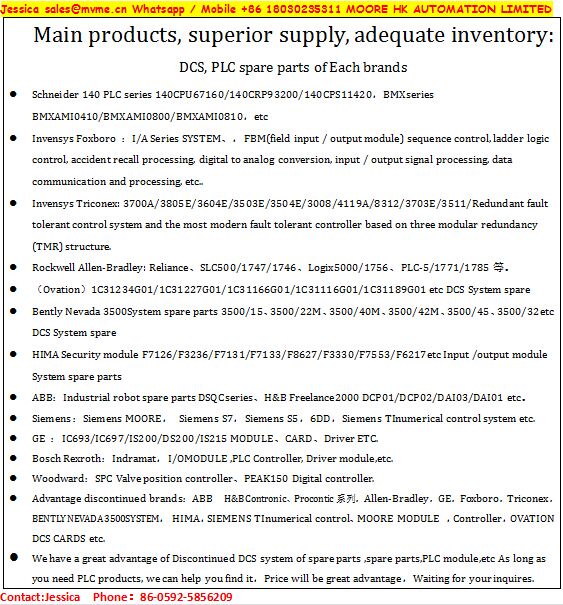 Applied Materials (AMAT) 0140-35926
Applied Materials (AMAT) 1950141
Applied Materials (AMAT) 0020-77292
Applied Materials AMAT Chemraz O-Ring, 3700-02425
Applied Materials AMAT Pressure Regulator, 3800-01231
Applied Materials (AMAT) 0200-35784
Applied Materials (AMAT) 70311183100
14811 APPLIED MATERIALS SCREW, INSULATOR 0015-20035
14830 APPLIED MATERIALS FLG 1-1/3 OD CF BLANK 0690-01583
14812 APPLIED MATERIALS PAD DC BIAS 0020-20119
14690 APPLIED MATERIALS HARN ASSY, 24 V POWER INTCNT 0140-76426
14688 APPLIED MATERIALS LIFT COVER B101, BLT, 101, HTESC 0021-04652
14605 APPLIED MATERIALS FTG PIPE NIP 3/8MNPT X 4.0L HEX SST 3300-04601
14947 APPLIED MATERIALS GASLINE MIXED,UPPER ISOLATOR,HT ESC 0050-75468
14923 APPLIED MATERIALS BRACE AC ENCLOSURE THROTTLE/GATE VALVE 0040-09680
14946 APPLIED MATERIALS GASLINE MIXED,LOWER ISOLATOR,HT ESC 0050-75469
14865 APPLIED MATERIALS HAMMER, HTR RETRACT INTLK 0020-42170
14873 APPLIED MATERIALS CABLE COVER, LDER BASE 0020-06670
13682 APPLIED MATERIALS CABLE ASSY, RF POWER, 10" 0150-20388
14958 APPLIED MATERIALS CAP, LAMP FEEDTHRU 0020-20523
14920 APPLIED MATERIALS CLAMP,EXHAUST,2 0020-37160
14922 APPLIED MATERIALS PULLEY MODIFIED 3MM MTRZD LFT 0015-20112
307-0402// AMAT APPLIED 0020-75219
APPLIED MATERIALS 0150-C7820 LAB/JP3
APPLIED MATERIALS 0040-64894
| | |
| --- | --- |
| Honeywell | FC-SDIL-1608 |
| Honeywell | FC-SDOL-0424 |
| Honeywell | FC-TSDI-16UNI |
| Honeywell | FC-SDO-0824 |
| Honeywell | 8C-TAIXA1 |
| Honeywell | 8C-TDILA1 |
| Honeywell | 8C-PAIHA1 |
| Honeywell | 8C-TAIXB1 |
| Honeywell | 8C-TAOXB1 |
| Honeywell | 8C-TAIMA1 |
| Honeywell | 51195199-010 |
| Honeywell | 51195153-005 |
| Honeywell | 51195153-902 |
| Honeywell | 51195153-001 |
| Honeywell | 51196041-100 |
| Honeywell | 51109693-100B |
| Honeywell | SAI-1620M |
Our company has many products in stock,which are immediately available.The warranty is 1 years which apply to all the new products.If you purchase one more parts from us,we can make a discount to you.
If you have any question pls do not hesitate to contact us.We can supply all kind of the automaiton parts,if you want to purchase parts pls send the parts model to my mail, I will prompt reply you.
Hope anyone enquire from us.
---
---