Honeywell CC-TAIX11 PWA AI IOTA RED 16 12IN CE CC
Honeywell CC-TAIX11 PWA AI IOTA RED 16 12IN CE CC
1.0 USD
Min. Order:
1 Piece/Pieces
Place of Origin:
Fujian, China (Mainland)
Production Capacity:
1234
Packing:
New carton packaging
Product Description
Honeywell CC-TAIX11 PWA,AI IOTA RED 16 12IN CE CC
Type of payment: T/T 100% Payment in Advance
Lead time: 2-3 working days
Minimum order quantity: 1 piece
Quantity available: 123
Courier partners: DHL, UPS, TNT, FedEx and EMS
Warranty: Twelve months
Technical specification, manuals and data sheets: Available on request
To get our best price & fast quotation, pls send us e-mail now.
✈ Contact: Jessica
✈ Email: sales*mvme.cn (please change * to @)
✈ Skype: jessica01235483
✈ Mobile Phone: 86-18030235311(WhatsApp)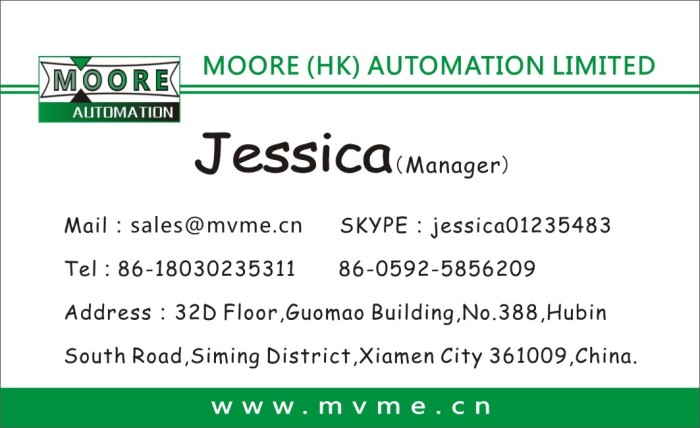 MOORE is a global sales organization engaged in industrial automation parts.
In the field of industrial automation, MOORE is committed to becoming the most reliable, wide range of parts and components, and the happiest partner in the world.
This means that our "trading is a transaction" attitude, unique knowledge and excellent customer service.
In order to achieve this goal, we will continue to innovate and invest in all kinds of shutdown parts solutions facing today's commercial market.
We provide industrial automation products for global customers. We currently serve more than 10,000 customers in more than 100 countries/regions.
Electronic failure usually means that production stops or sometimes even the whole production process. This may lead to capital losses.
At MOORE, we have the right inventory to help you. We are your sustainable support partner for the maintenance of industrial equipment in the system.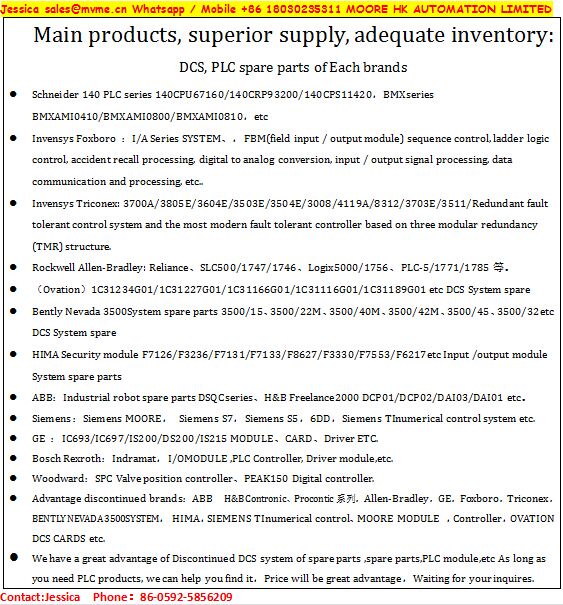 ALLEN BRADLEY 1785-L26B/E
ALLEN BRADLEY 1785-L26B
SIEMENS 6AV7-240-6EL04-0GN0
ALLEN BRADLEY 2711P-T10C4A2
SIEMENS 3900069484-1000
DET TRONICS R7404-B7001
NIDEC CORP FX-455
ASEA BROWN BOVERI INIIT-03
ASEA BROWN BOVERI DCF504A0050-0000000
ALLEN BRADLEY 2711P-T15C15D1
FUJI ELECTRIC FRN5.5VG7S-4
ALLEN BRADLEY 2711P-K10C4D7
BOSCH KSM01-2B-061C-35N-M1-HP0-SE-NN-D7-NN-FW
IMPERIAL 08124800
ALLEN BRADLEY 20DD014A3EYNA1CNL
HARMONIC DRIVE 472446-1
DME60-10AR-PV/E/C-F-21A3A3B
HONEYWELL XL-100-CU
SCHNEIDER ELECTRIC PK-M909-002
CONVERTEAM 8284-4002
BECK 12-8064-01
ALLEN BRADLEY 2711-K10C8
FANUC A16B-0160-0970
ASEA BROWN BOVERI 6SP44X-040CTAN
HONEYWELL 14507742-002/U
ALLEN BRADLEY 506309
GENERAL ELECTRIC 7486D52G3
GENERAL ELECTRIC 7486D52G2
ASEA BROWN BOVERI 57414-IE
ASEA BROWN BOVERI YT204001-KB
| | |
| --- | --- |
| Honeywell | 10024/H/F |
| Honeywell | 10006/2/1 |
| Honeywell | 10100/2/1 |
| Honeywell | 10106/2/1 |
| Honeywell | 10105/2/1 |
| Honeywell | FC-SAO-0220M |
| Honeywell | FC-SDIL-1608 |
| Honeywell | FC-SDOL-0424 |
| Honeywell | FC-TSDI-16UNI |
| Honeywell | FC-SDO-0824 |
| Honeywell | 8C-TAIXA1 |
| Honeywell | 8C-TDILA1 |
| Honeywell | 8C-PAIHA1 |
| Honeywell | 8C-TAIXB1 |
| Honeywell | 8C-TAOXB1 |
| Honeywell | 8C-TAIMA1 |
| Honeywell | 51195199-010 |
Our company has many products in stock,which are immediately available.The warranty is 1 years which apply to all the new products.If you purchase one more parts from us,we can make a discount to you.
If you have any question pls do not hesitate to contact us.We can supply all kind of the automaiton parts,if you want to purchase parts pls send the parts model to my mail, I will prompt reply you.
Hope anyone enquire from us.
---
---