Honeywell CC-TDOB11 Digital Output 24V IOTA Red (32)
Honeywell CC-TDOB11 Digital Output 24V IOTA Red (32)
1.0 USD
Min. Order:
1 Piece/Pieces
Place of Origin:
Fujian, China (Mainland)
Production Capacity:
1234
Packing:
New carton packaging
Product Description
Honeywell CC-TDOB11 Digital Output 24V IOTA Red (32)
Type of payment: T/T 100% Payment in Advance
Lead time: 2-3 working days
Minimum order quantity: 1 piece
Quantity available: 111
Courier partners: DHL, UPS, TNT, FedEx and EMS
Warranty: Twelve months
Technical specification, manuals and data sheets: Available on request
To get our best price & fast quotation, pls send us e-mail now.
✿ Contact: Jessica
✿ Email: sales*mvme.cn (please change * to @)
✿ Skype: jessica01235483
✿ Mobile Phone: 86-18030235311(WhatsApp)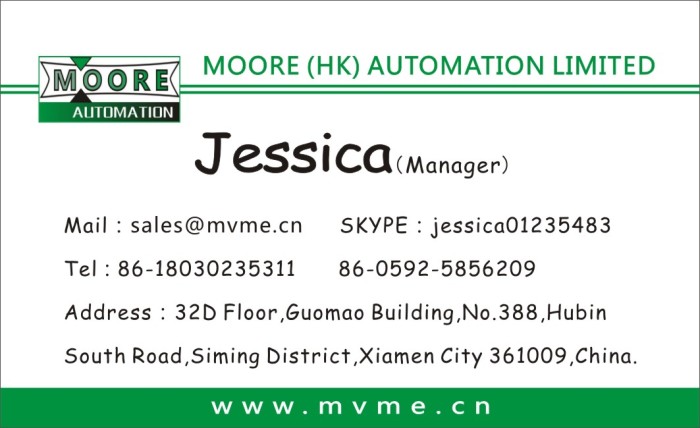 In the field of industrial automation, new technologies are rapidly introduced. Parts quickly become obsolete and scarce. In many cases, the original manufacturer can't even help.
The result is a decline in the availability of existing technologies and the professional services they need. This has led to investments in new electronic products and changes in the entire production line.
This is no longer needed, MOORE is here to serve you! Not only do we provide new spare parts, but we can also supply electronic parts that are out of production.
You can focus on your business while ensuring that your electronic products and systems continue to operate sustainably.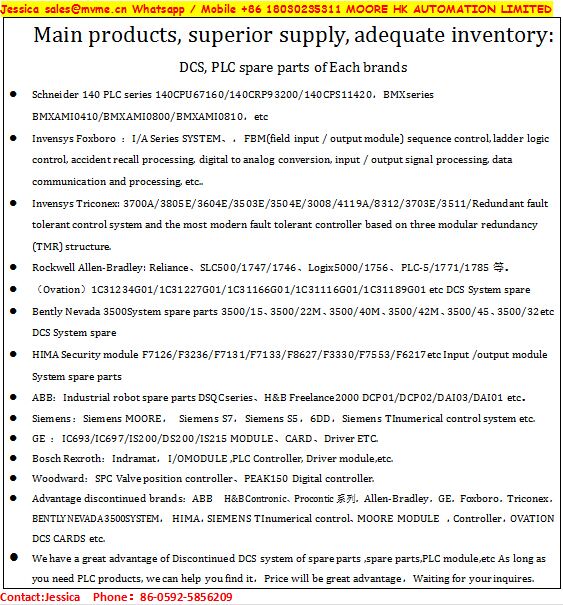 RF10S RFPP RF Power Products 7520709030
Seiko Seiki SCU-H1000C
ISP Series Anest Iwata ISP-500
ETO Ehrhorn Technological Operations ABX-X228-11
ETO Ehrhorn Technological Operations ABX-X228
MRC Materials Research A119715
RECIF Technologies SPPF50A60000
Brooks Automation 017-0950-01
ASM 1045-426-01
TEL Tokyo Electron PS Controller 3D81-000065-V1 3D81-000067-V1 T-3044SS
RF10M RFPP RF Power Products 7524140011
ASM 78-120442A07
Nihon Koshuha MBA-010-H-2
OEM-6B ENI OEM-6B-01M5
Kensington 4000D
Pearl Kogyo CF-500-400K(CE)
USHIO HB-251B/A Lamp Housing & HB-25103BY
Semitool 500R0409-01 50
Kensington 25-4000-0003-00
Pyramid 0500-00232 X-Scan Controller 0120-01840 9000-03062 AMAT 9000-04006
Genmark Automation 400800032
| | |
| --- | --- |
| Honeywell | TC-FPDXX2 |
| Honeywell | TC-PPD011 51309241-125 |
| Honeywell | TK-FTEB01 51309512-175 |
| Honeywell | TK-PPD011 51309241-175 |
| Honeywell | TK-PRS021 51404305-375 |
| Honeywell | 8C-PDILA1 51454471-175 |
| Honeywell | MTL4841 |
| Honeywell | MTL4842 |
| Honeywell | MTL8914-MT03 |
| Honeywell | MTL BU-THAI11 |
| Honeywell | MTL PB-THOX12 |
| Honeywell | MTL BPHM64 |
| Honeywell | RAEGuard 2 PID, FGM-2001 |
| Honeywell | SPXCDALMFX, 3001B1665 |
| Honeywell | 8C-TCNTA1 |
| Honeywell | 8C-TAIX51 |
| Honeywell | 8C-PAONO1 |
| Honeywell | 8C-PDIL51 |
Our company has many products in stock,which are immediately available.The warranty is 1 years which apply to all the new products.If you purchase one more parts from us,we can make a discount to you.
If you have any question pls do not hesitate to contact us.We can supply all kind of the automaiton parts,if you want to purchase parts pls send the parts model to my mail, I will prompt reply you.
Hope anyone enquire from us.
---
---