Honeywell FC-QPP-0002 CC V1.0 QUAD PROCESSOR PACK
Honeywell FC-QPP-0002 CC V1.0 QUAD PROCESSOR PACK
1.0 USD
Min. Order:
1 Piece/Pieces
Place of Origin:
Fujian, China (Mainland)
Production Capacity:
1234
Packing:
New carton packaging
Product Description
Honeywell FC-QPP-0002 CC V1.0 QUAD PROCESSOR PACK
Type of payment: T/T 100% Payment in Advance
Lead time: 2-3 working days
Minimum order quantity: 1 piece
Quantity available: 100
Courier partners: DHL, UPS, TNT, FedEx and EMS
Warranty: Twelve months
Technical specification, manuals and data sheets: Available on request
To get our best price & fast quotation, pls send us e-mail now.
✿ Contact: Jessica
✿ Email: sales*mvme.cn (please change * to @)
✿ Skype: jessica01235483
✿ Mobile Phone: 86-18030235311(WhatsApp)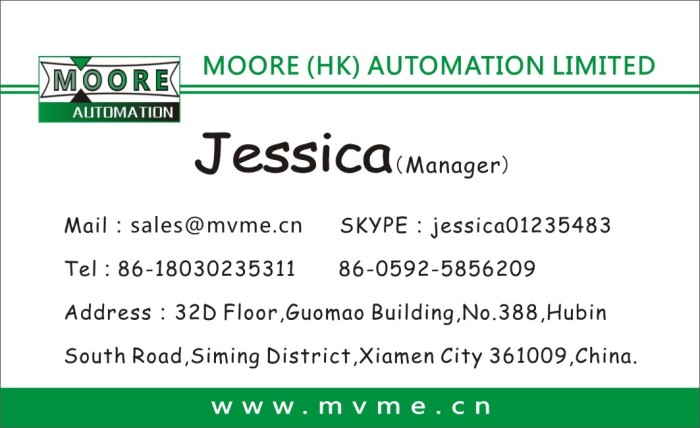 In the field of industrial automation, new technologies are rapidly introduced. Parts quickly become obsolete and scarce. In many cases, the original manufacturer can't even help.
The result is a decline in the availability of existing technologies and the professional services they need. This has led to investments in new electronic products and changes in the entire production line.
This is no longer needed, MOORE is here to serve you! Not only do we provide new spare parts, but we can also supply electronic parts that are out of production.
You can focus on your business while ensuring that your electronic products and systems continue to operate sustainably.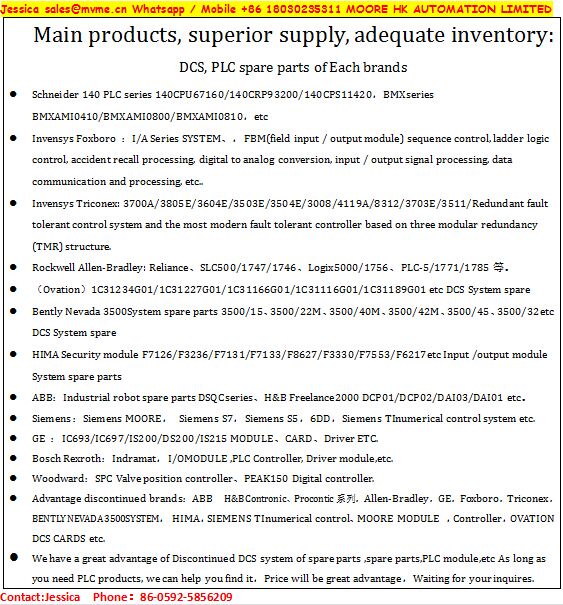 Asyst Technologies EMA 18-010968 G 4900
Advantest BPS-030208
TEL Tokyo Electron Drive Assembly PQL-INT PCB 3281-000151 P-8
STP-A3003CV Edwards PT43-96-040
Hamamatsu C7041-02 CCD VRA Fine Camera S7961-1008 Nikon NSR-S306C
Hamamatsu C8779A CCD VRA Fine Camera S8769A Nikon NSR-S306
Hamamatsu C7041 CCD VRA Fine Camera S7031-1008 Nikon NSR-S205C
Brooks Automation 002-0921-11
Nikon Reflectance Plate NSR-S306C
NSK 51161-802-001
Queensgate NS2300/D Position Sensor Unit Nikon 4S288-213-1 NSR-S307E
Panasonic LSC Automation Controller Module MINAS BP225-MJ
Brooks Automation 002-7090-08
Sony 1-677-707-13 LS Ctrl PCB DPR-LS22 Nikon 4S018-852-2
Hitachi CR-712T-AC
Hitachi CR-712VC
Brooks Automation 6-0000-4663-PC Wafer Robot AMAT 0195-02883
Nikon Reflectance Plate NSR-S204B
IPX 500A Edwards A409-14-977
Millipore INGENTPU0 Single Resist Pump Cart RTS5000
Pre-Owned
Yaskawa VS2B
RFPP RF Power Products AM-5
Heateflex Corporation RMA-12-088A
Agilent PTS03101
AMAT Applied Materials 9090-00923
| | |
| --- | --- |
| Honeywell | 51308376-175 CC-TDOR11 |
| Honeywell | 51308380-175 CC-SDOR01 |
| Honeywell | 51308386-175 CC-TDIL01 |
| Honeywell | 51405038-175 CC-PAIH01 |
| Honeywell | 51405039-175 CC-PA0H01 |
| Honeywell | 51405040-175 CC-PDIL01 |
| Honeywell | 51405043-175 CC-PD0B01 |
| Honeywell | 51405047-175 CC-PCF901 |
| Honeywell | CC-PAOH01 51405039-175 |
| Honeywell | CC-PAIH02 1405038-375 |
| Honeywell | CC-PCF901 51405047-175 |
| Honeywell | CC-PDIS01 51405042-175 |
| Honeywell | CC-PFB401 51405044-175 |
| Honeywell | CC-TCF9O1 51308301-175 |
| Honeywell | CC-TAOX11 51308353-175 |
| Honeywell | CC-PDIL01 51308388-175 |
| Honeywell | CC-TDOB01 51308373-175 |
Our company has many products in stock,which are immediately available.The warranty is 1 years which apply to all the new products.If you purchase one more parts from us,we can make a discount to you.
If you have any question pls do not hesitate to contact us.We can supply all kind of the automaiton parts,if you want to purchase parts pls send the parts model to my mail, I will prompt reply you.
Hope anyone enquire from us.
---
---