Honeywell FS-SICC-0001/L8 SYS INTER CAB TERM ON FTAS 8M
Honeywell FS-SICC-0001/L8 SYS INTER CAB TERM ON FTAS 8M
1900.0~2000.0 USD
Min. Order:
1 Piece/Pieces
Place of Origin:
Fujian, China (Mainland)
Means of Transport:
Ocean, Air, Land
Packing:
New carton packaging
Product Description
Honeywell FS-SICC-0001/L8 SYS INTER CAB TERM ON FTAS 8M
Contact:Jessica
Email:sales*mvme.cn (please change * to @)
Phone:+8618030235311
Skype:jessica01235483
Wechat:hu18030235311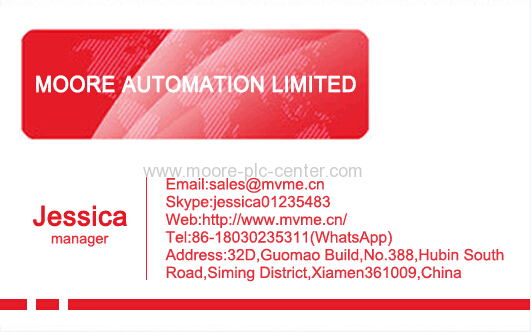 The AI843 Thermocouple/mV Input Module is part of the S800 I/O. It provides 8 differential input channels for Thermocouple/mV measurements. Measurement ranges configurable per channel are: -30 mV to +75 mV linear, or TC Types B, C, E, J, K, L, N, R, S, T and U. A separate Pt100 channel is used for "Cold Junction" (ambient) temperature measurements, thus serving as CJ-channel for Ch. 1...8..
The junction temperature may be measured locally on the MTUs screw terminals, or on a connection unit distant form the device. Alternatively, a fix junction temperature for the module may be set by the user (as parameter) or a junction temperature set by the application. Each input-channel can measure a mV type of signal source (Thermocouple or linear), and may be grounded or ungrounded. Full self-calibration is obtained by means of 0V and 30 mV references, which are regularly updated.
INPCT01
IMDSI02
IMFEC12
IEPAS02
INBIM02
IMDSO14
3BHB003230R0101
9280026.C
SC300E
HENF209568R0001
3BDH000022R1
3BDH000017R1
CP502
3BHT300002R1
3BHT300007R1
3BSC610042R1
3BHT300053R1
DSQC500
3HAC6377-1
RVC10-5A
MSR04X1
MDI64BNS
3BHT100010R1
| | |
| --- | --- |
| HONEYWELL | MTL4842 |
| HONEYWELL | MTL8914-MT03 |
| HONEYWELL | MTL BU-THAI11 |
| HONEYWELL | MTL PB-THOX12 |
| HONEYWELL | MTL BPHM64 |
| HONEYWELL | CC-TAID01 51306733-175 |
| HONEYWELL | CC-TAIM01 51305959-175 |
| HONEYWELL | CC-TCNT01 51308307-175 |
| HONEYWELL | CC-TAON01 51306519-175 |
| HONEYWELL | CC-PAIX02 51405038-475 |
| HONEYWELL | CC-PDOB01 51405043-175 |
| HONEYWELL | 51199932-200 |
| HONEYWELL | 51202330-300 |
| HONEYWELL | TK-FTEB01 |
| HONEYWELL | TK-PPD011 |
| HONEYWELL | TK-PRR021 |
| HONEYWELL | TV-FPD012 |
| HONEYWELL | CC-PWRR01 |
| HONEYWELL | MC-TAMT04 |
| HONEYWELL | MC-TLPA02 |
| HONEYWELL | CC-PAOH01 51405039-175 |
In stock
1 year warranty
Original and new packing
Delivery with DHL 3 days after payment

---
---